M For Montreal Wrap Up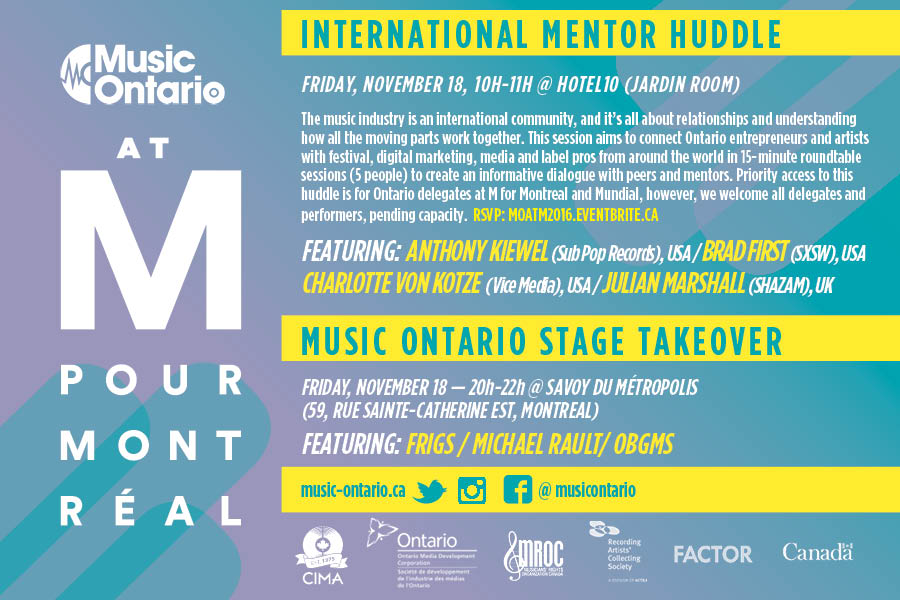 Posted on

November 24, 2016
MusicOntario joined forces with M for Montreal to organized three events for its festival: one focusing on professional development, a showcase and a Women in Music Canada Coffee Social.
MusicOntario @ M For Montreal: International Mentors Huddle: This session was aimed to connect Ontario entrepreneurs and artists with festival, digital marketing, media and label pros from around the world in 15-minute roundtable sessions (5 people with each mentor). It was to create an informative dialogue with peers and experts. Participants were encouraged to research each of the four mentors (below) and to develop big-picture questions (vs. individual pitches) to facilitate truly meaningful discussions and connections.
A big thanks to our panelist:
Anthony Kiewel, Brad First, Charlotte Von Kotze, and Julian Marshall
MusicOntario hosted the "Stage Takeover" where FRIGS, Michael Rault, and The OBGMs played a free showcase.
MusicOntario also sponsored Women In Music Canada's Drop-In Coffee Social for women attending M for Montreal. The first 30 attendees received giftbags with goodies from MAC and Kiehl's, and all guests were able to network with and get to know female peers over coffee, tea and pastries.