MusicOntario @ MEGAPHONO 2017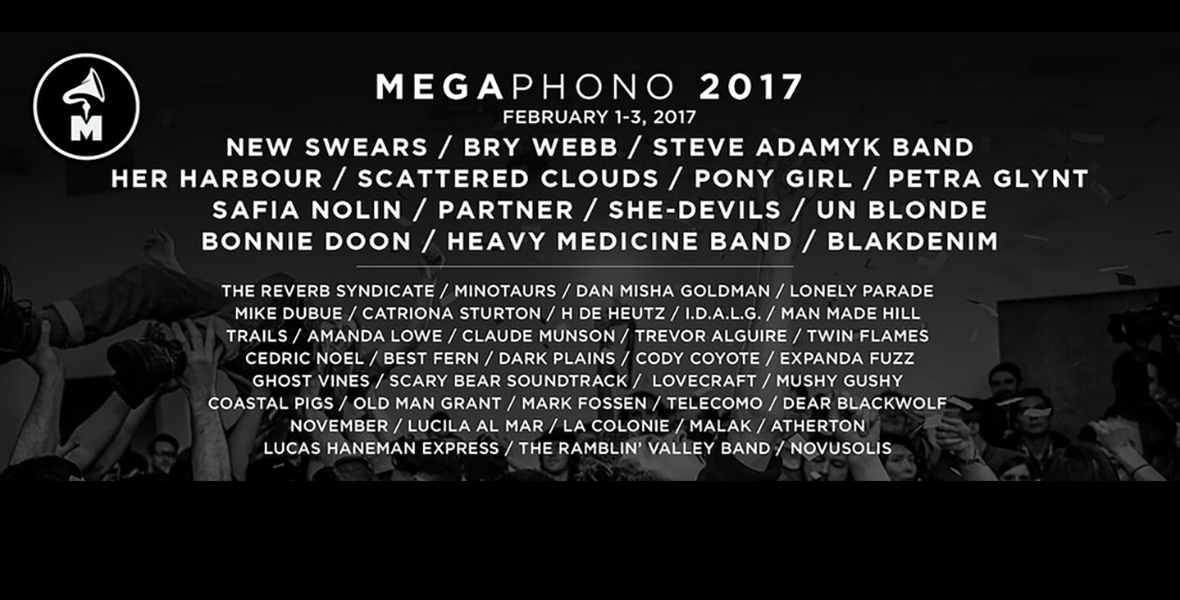 Posted on

January 31, 2017

Get The Best From Your Fest Panel
Where: Citizen, 207 Gilmour Street
When: Wednesday, February 1, 2017
Start Time: 10AM
Moderated by: Brian Hetherman (MusicOntario / CIMA)
Panelists: Grimur Atlason (Iceland Airwaves), Dan Seligman (POP Montreal), Emy Stantcheva (CIMA/MusicOntario), Mar Sellars (Mar on Music), Adele Slater (CODA Agency)
Description: The festival experience can be overwhelming, but have no fear! Hear from festival bookers and seasoned festival-goers about how to make the most out of music showcase festivals like MEGAPHONO, and how they are different beasts than traditional music festivals

PANELIST BIOS
GRIMUR ATLASON
Festival Manager // Iceland Airwaves, Reykjavik, IS
Grimur Atlason is the current manager of Iceland Airwaves music festival. The festival takes place in Reykjavik, Iceland during the first weekend of November every year. Over 200 acts performs 250 official shows over the course of 5 days. On top of that over 680 shows takes place 'off-venue' at Iceland Airwaves.
During his time as manager, Grimur has worked with PJ Harvey, Skepta, Warpaint, Flaming Lips, Of Monsters and Men, Hot Chip, Björk, Caribou, Sigur Rós, Robyn, Jon Hopkins, Ásgeir, The War on Drugs, Beach House, Kraftwerk, John Grant, FM Belfast, Haim and many others. Grimur has been promoting bands since he was 16. From his first gig with Happy Mondays to being manager of bands, he's worked with hundreds of bands such as Sonic Youth, David Byrne, St. Vincent, Morrissey, Antony and The Johnsons, Belle and Sebastian just to name a few.
DAN SELIGMAN
Director // POP Montreal, Montreal, CA
Daniel Seligman has been active in the Montreal music scene since 2000. He has managed Stars, The Unicorns and Socalled. In 2002 Seligman started POP Montreal and remains the festival's creative director. In 15 years the fest has worked with such acts as Bun B, Patti Smith, Arcade Fire and Malajube. Most recently, he co-founded the record label Club Roll Music. In 2013 Club Roll released records by AroarA, Jef Barbara, Karneef and in 2015 Club Roll will released the new record by Katie Moore.
MAR SELLARS
Management – PR – Radio // Mar On Music, Toronto, CA
Mar is a music publicist, artist manager and radio host with her own company Mar On Music. She works for Toronto record label Hand Drawn Dracula, as PR and project management. She also manages Partner & Goodbye Honolulu, puts on gigs in Toronto and writes for music blogs around the world. Her past includes BBC, touring Germany 7 times, CBC radio and being a European booking agent. She's lived in Vancouver, London and Berlin but now very happy to call Toronto her permanent home.
EMY STANTCHEVA
Marketing & Events Coordinator // MusicOntario / CIMA, Toronto, CA
Emy Stantcheva is the Marketing and Events Coordinator at the Canadian Independent Music Association (CIMA) and MusicOntario. Emy came to CIMA in January 2013 with seven years of experience working in music publicity and marketing, artist management, social media, festival and event planning and copy writing. As part of the CIMA team, Emy works on various domestic and international events, showcases and professional development initiatives, and programs and coordinates all things MusicOntario with Interim Manager, Brian Hetherman. A lifelong music junkie, Emy moonlights as Lifestyle Editor for Addicted Magazine.
ADELE SLATER
Booking Agent // CODA, London, UK
Adele is a booking agent at Coda, previously at WME, The Agency Group and promoter at Live Nation prior to that, booking all territories outside of North America, which includes UK, Europe, Japan, Asia, Australia, and South America. Current roster includes Perfume Genius, Asgeir, Japanese Breakfast, Liam Gallagher, Dream Wife and US Girls.
Speed Meetings Day 1
Where: Citizen, 207 Gilmour Street
When: Thursday, February 2, 2017
Start Time: 1:15PM
Like speed dating, but with international music buyers. Delegates participating in Thursday's speed meetings are listed below, bios are at www.megaphono.tv/delegates. 4 minutes are reserved with each of them to pitch your music, MEGAPHONO showcase, or project idea.
Delegates
Grimur Atlason, Iceland Airwaves
Dan Koplowitz, Friendly Fire Licensing
Peter Zwarich, River & Sky Festival
Beth Martinez, Danger Village
Kyle Cunjak, Shivering Songs Festival / Forward Music Group
Florent Clavel, Third Side Music
Byron Pascoe, Edwards PC Creative Law
Allison Outhit, FACTOR
Gareth Smith, Sub Pop Publishing
Dan Seligman, POP Montreal
Evan Whikehart, Secretly Group
James Boyle, Halifax Pop Explosion
Colin Mills, Ottawa Music Industry Coalition (OMIC)
Adele Slater, CODA
* SIGNUP REQUIRED; PLEASE EMAIL gianna@kelpmanagement.com TO SIGN UP (Subject Line: "Speed Meetings – Thursday")
Speed Meetings Day 2
Where:Citizen, 207 Gilmour Street
When: Friday, February 3, 2017
Start Time: 1:15PM
Like speed dating, but with international music buyers. Delegates participating in Friday's speed meetings are listed below, bios are at www.megaphono.tv/delegates. 4 minutes are reserved with each of them to pitch your music, MEGAPHONO showcase, or project idea.
Delegates
Amber Carew, ANTI-
Colleen Krueger, Flemish Eye / Landlocked MGMT
Alexandre Jacques, OPAK Productions
Jason Bissessar, Bonsound
Melanie Stone, Sonic Entertainment
Dane Sundseth, Bedlam MGMT
Carla Gillis, NOW Toronto
Mar Sellars, Mar On Music
Emy Stantcheva, CIMA/Music Ontario
Sarah Shoucri, POP Montreal
Jeff Waye, Third Side Music
Jason Burns, Arts and Crafts
Marilena Gaudio, NAC Presents
Kevin Pedersen, Dead Oceans
MusicOntario @ MEGAPHONO Presents:
Where:
Elmdale Tavern
(1084 Wellington St. W)
When:
Friday, February 3, 2017
Start Time:
3:30PM
Featuring:

Old Man Grant
Trevor Alguire
Twin Flames