MusicOntario at Folk Alliance International: Artist Lineup and Schedule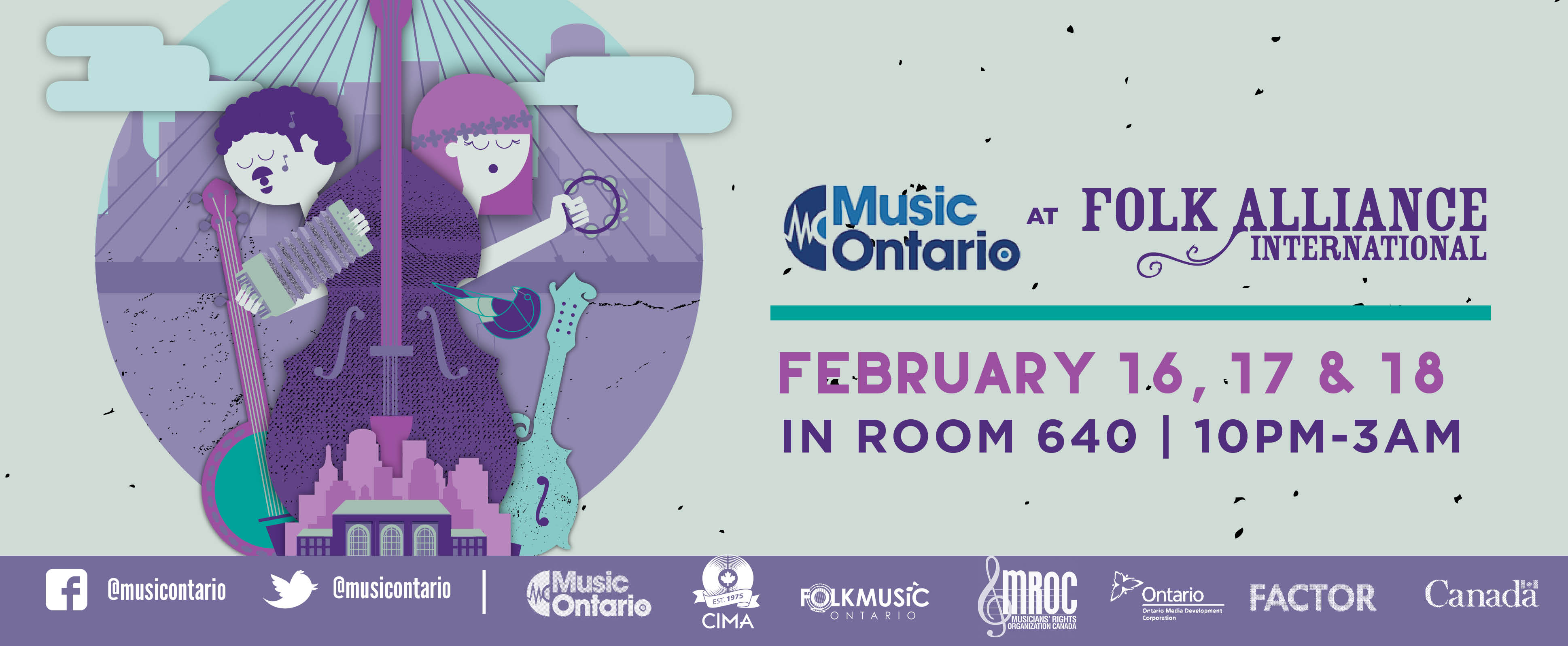 Posted on

February 10, 2017
MusicOntario is returning to Folk Allliance International in Kansas City, MO (February 15-19, 2017) for 3 nights of showcases at the Westin Crown Center in Room 640.
Check out the full schedule of showcasing artists below!
THURSDAY, FEBRUARY 16:


10:45PM: Tim Moxam
There's a comforting sense of familiarity in Tim Moxam's music, like the feeling of a soft summer breeze after the passing of a cold, grey winter. It's his soulful voice that floats over twangy acoustic guitar; his vivid storytelling of lost love; his breezy, warm atmospheric tones that swell and crash.

 Yet when it comes to conjuring Moxam's predecessors, contemporaries and influences – no one comes to mind. He exists in a world that deftly explores the space between country-rock and folk, with a talent for carving out memorable melodies in unlikely places. On his debut LP, Soft Summer, Moxam shows he's a singer-songwriter wholly of his own. 

Soft Summer is at turns passionate and tender, sorrowful and solem up-lifting and rollicking. It's a look inside Moxam'sn,  own life, encrypted in metaphors and melodies.
Website: http://www.timmoxam.com/

11:15PM: Skye Wallace
Skye Wallace is what happens when a classically trained singer with east coast roots discovers punk rock in their youth and writes folk music that makes you feel excited.  Hailed coast to coast as a "national treasure" (Sad Mag), Skye Wallace bases out of Toronto, Ontario. Her voice and sound, accompanied by her band, is a force to be reckoned with. Her newest album "Something Wicked", produced by Ottawa's Jim Bryson, is now available. CBC listed Something Wicked as the top 8 Albums You Need To Hear This Month, Noisey/Vice called it "fire" and CBC's Stephen Quinn called it a "kick ass record" - have a listen and see what all the fuss is about.
Website: http://www.skyewallace.com/

11:45PM: Big Little Lions
Big Little Lions are the award winning band from Cincinnati, OH and BC, Canada born out of a collaboration that won them a JUNO Award in 2014. Ever since they have been cranking out infectious folk pop songs that are jam-packed with emotion along with tight harmonies that sound like the product of two people working closely and side-by-side instead of living in different countries. Ensemble of the Year at the Canadian Folk Music Awards 2015
Website: http://biglittlelions.com/

12:15AM: Coco Love Acorn
Coco Love Alcorn has always followed her spirit, but never so literally as with her latest album, Wonderland. The songs spring from her personal journey, but true to her nature, Coco offers a universal interpretation that invites all listeners to jump in and sing along.
Website: https://www.cocolovealcorn.com/

12:45AM: Digging Roots
Digging Roots… for the last few years the JUNO winning genre-blurring indy band from the Toronto area have been touring North America and Europe. Having toured in 2016 for two months in Australian and four months in Canada, musical partners Raven and ShoShona have been finding the right balance of fairytale styled good fortune, old-fashioned hard work and the rare creative chemistry to make a go of it. Their JUNO nominated album 'For the Light' brings more global-blues infused songs and audience 'Round Dances' to their live performances. They've been in studios from Australia to Canada producing their latest album 'The Hunter & The Healer' and their latest single and video for their song 'AK47' is an anthem for love while also addressing the issue of gun violence.
Website: http://www.diggingrootsmusic.com/

1:15AM: Nick Sherman
Singer-songwriter, Nick Sherman, gives new meaning to "the voice in the wilderness," or rather, the voice from the wilderness. Nick's songs are characterized by an uneasy, yet always fluid transition between unabashed joy and sorrow. His gentle voice is rich with honesty and the vitality of youth, but tempered with world-weariness, atop his strong, simple guitar.
Website: http://www.nicksherman.ca/

1:45AM: Lion Bear Fox
Lion Bear Fox is the sound of a three-man musical brotherhood.  A trio of best friends dedicating themselves completely and authentically to a life of music, performance and human connection.  Three distinct and powerful voices blending together provides the ultimate vessel to bring their stories to life.  They believe that music heals and they want to heal you.  They are men of integrity in a disconcerting world.  They paint in all colours.  Three personalities, three men, finding their way – finding warmth in the world.  Lion.  Bear.  Fox.
Website: http://www.thelionthebearthefox.com/

2:15AM: David Newland
David Newland is a performer and songwriter with a passion for the Canadian experience. In November of 2015, David was named a Fellow of the Royal Canadian Geographical Society, a distinction that reflects a lifelong engagement with landscape and story.   David Newland's latest album, Give It A Whirl, has been played on CBC and on roots radio shows from coast to coast.    David is a frequent performer on the Ontario folk scene, including festivals like Mariposa, Summerfolk, Shelter Valley Folk Fest, Sound of Music, Live From the Rock, Eaglewood Folk Festival, Blue Skies, and more.   His current project, The Northwest Passage in Story and Song, has sold out theatres across southern Ontario, with more dates planned in 2017. David's upcoming Home Routes tour includes solo shows throughout Southern BC.. He is working on a new album, Northbound, featuring songs inspired by his six Arctic journeys with Adventure Canada.
Website: http://www.davidnewland.com/

FRIDAY, FEBRUARY 17:
10:45PM: Oh Susanna
In a career spanning almost two decades, Oh Susanna has released seven critically acclaimed records noted for their contemplative, thoughtful, folk-inspired songs that transport listeners into an imaginary emotional landscape. Whether applauding a young woman's need to stand tall in the face of dire circumstances, expressing love and tenderness to a dying loved one or embodying the anger of a soldier's widow, Oh Susanna's songs aim straight for the gut. The timeless themes of love, loss and longing are expressed in soaring melodies and vivid lyrics.
Website: http://ohsusanna.com/

11:15PM: Lonesome Ace Stringband
The Lonesome Ace Stringband brings grit, skill and abandon to old-time, Appalachian folk songs and fiddle/banjo tunes. Their debut album, "Old Time", was recorded in 2014, and was met with critical acclaim from the folk, old-time, and bluegrass community. In 2016, the band recorded their sophomore album "Gone For Evermore". Since 2008, LAS has held a weekend residency at Toronto's legendary Dakota Tavern. Often performing 10 sets of music in a weekend, the band has developed the kind of instinctual rapport, that only comes from seasoned musicians logging many hundreds of playing hours together. 2017 sees the band touring, Canada, Germany, and the U.S.A.
Website: https://www.lonesomeace.com/

11:45PM: Abigail Lapell
Abigail Lapell is an award-winning Canadian singer-songwriter based in Toronto. A fluid lyricist and multi-instrumentalist, Lapell draws freely from folk-roots, indie and punk-rock traditions. She has toured across North America, Europe and the U.K., performing on vocals, piano, harmonica and finger style guitar. Lapell has shared stages with the likes of tUnE-yArDs, Andy Shauf, the Duhks, First Aid Kit and the Lowest of the Low, and appeared at festivals including North by Northeast, Pop Montreal, Sappy Fest and In the Dead of Winter. She is the 2016 recipient of the Ontario Arts Council's Colleen Peterson Award. Abigail will release her sophomore album, Hide Nor Hair, in January 2017 through Coax Records/Outside Distribution
Website: https://www.abigaillapell.com/

12:15AM: Terra Lightfoot
Whether you're talking about her as a songwriter, guitarist or vocalist, one thing is indisputable: roots rocker Terra Lightfoot is a ferocious talent. Her songs tap into the raw emotion of hearts supercharged by love, lust, loneliness and temptation. Her playing melds expert finger-picking and distorted, hook-heavy melodies. And her elemental voice commands attention and awe, whether on slow-burning soul ballads or hard-charging rock numbers.  On stages in France, Germany, the UK, the US and across Canada, Lightfoot has performed alongside the likes of Emmylou Harris, Gordon Lightfoot, Ron Sexsmith, Built to Spill, The Both, Grace Potter, Bettye LaVette, Blue Rodeo, Randy Bachman, The Sadies, The Wood Brothers and Daniel Lanois.
Website: http://terralightfoot.com/

12:45AM: Ken Yates
Since first planting roots within the Canadian music scene in 2011, Ken Yates has grown a reputation as one of the country's brightest singer/songwriters. His sound offers the complete package—unforgettable melodies, emotionally charged storytelling, and top-notch guitar chops —all displayed on Yates' new album, Huntsville.      Produced by Jim Bryson (Weakerthans, Kathleen Edwards), Yates' second full-length effort is a major stylistic step forward, with its 11 tracks capturing his artistic evolution amid extensive touring over the past three years.
    "Keep Your Head Down," with its subtle, driving groove, opens the album like a train pulling out at dawn, with vast, open vistas lying ahead. Those come into focus on other key tracks such as      "Roll Me On Home" and "The Best Part Of Leaving." Yet, the album, echoes of the Canadian songwriting tradition, from Gordon Lightfoot to Bruce Cockburn to Ron Sexsmith, are apparent, proving that with Huntsville, Ken Yates is ready to join that exalted company.
    A native of London, Ontario, Yates studied at the prestigious Berklee College of Music in Boston. His first release, The Backseat EP, came out in 2011, followed by his full-length debut, twenty-three in 2013.
Website: http://www.kenyates.com/

1:15AM: The Young Novelists
The Young Novelists are a Toronto-based husband and wife duo who trade witty stories and bittersweet songs with harmonies reminiscent of Simon & Garfunkel and The Civil Wars. Their brand of "beautiful, soaring, rootsy Canadiana" has been connecting with audiences across Canada, the US, and Europe. Their sophomore album 'made us strangers' earned the band a Canadian Folk Music Award for New/Emerging Artist award, the Ontario Arts Council's Colleen Peterson Songwriting award, as well as a finalist spot in the 2016 NewSong competition.
Website: http://www.theyoungnovelists.com/

1:45AM: Suzie Vinnick
A Saskatoon native transplanted to the Niagara Region of Ontario, Suzie Vinnick is the proud owner of a gorgeous voice, prodigious guitar chops, and an engagingly candid performance style. Her most recent successes include a 2016 MapleBlues nomination for Female Vocalist of the Year; achieving finalist status in the Solo/Duo Category at the 2013 International Blues Challenge in Memphis, TN; and, being honored with the 2012 CBC Great Canadian Blues Award. She has won 10 Canadian MapleBlues Awards, 1 Canadian Folk Music Award for Contemporary Vocalist of the Year, been nominated for 3 Juno Awards and nominated for 21 MapleBlues Awards.  Suzie has toured nationally with Stuart McLean's The Vinyl Café and the John McDermott Band, and performed for Canadian Peacekeepers in Bosnia and the Persian Gulf. She was also the voice of Tim Horton's for 5 years.  Suzie is currently working on her 6th album to be released in the Spring of 2017.
Website: http://www.suzievinnick.com/

2:15AM: LGS (Le Groupe Swing)
Recognized throughout Canada as "french traditional music swindlers" LGS is a Juno nominated group that blends French-Canadian folk songs with elements of urban electro music, creating what their fans call Folktronica. The explosive duo released a new self titled album in Canada (March 2015). With this album the group has reinvented itself once again while staying true to its folk urban music roots.   After this release LGS climbed the charts on Montreal's number one hit radio station CKOI 96.9. "C OKAY" the first single was in the top 10 for 18 weeks, the second single "La Folie" was #1 for 4 consecutive weeks (July 2015). In addition to an illustrious 15 year career, LGS has been nominated at the Gala l'ADISQ for best traditional album (2004), nominated at the Juno's for Best Francophone Album of the Year (2009). From 2001 to 2015 LGS has won 12 "Trille Or" awards, including "Group of the Year" (2005, 2007, 2009 and 2011) and Best Live Performance (2001, 2005 and 2007). With more than 1.5 million YouTube views, critics are unanimous: one must see LGS live to fully understand the phenomenon. As the Franco-Ontarien saying goes: "Ça Swing dans la cabane"
Website: http://legroupeswing.com/

SATURDAY, FEBRUARY 18:

10:45PM: The Devin Cuddy Band
Devin Cuddy has always made music his way, and some might argue, the hard way. As the son of one of Canada's most beloved singer/songwriters, Blue Rodeo's Jim Cuddy, country rock has been the soundtrack to Devin's entire life—he was born the same week Blue Rodeo began recording its 1987 debut album, Outskirts. But from the moment Devin was drawn to playing music, he was determined to get as close as possible to the sources of all the sounds he loved, whether they were made by rock and roll's founding fathers, the Grand Ole Opry's honky tonk heroes, or Jelly Roll Morton and the kings of jazz.
Website: http://www.devincuddy.com/index.html

11:15PM: Alejandra Ribera
Alejandra Ribera has been writing about the unexpected places we find light since the release of her critically acclaimed debut album La boca. In her sophomore release THIS ISLAND, the award-wining songwriter continues her exploration of luminescence - this time leaving the depths of mythological waters and delving firmly into the experience of the human heart. She cites some unlikely influences as inspiring her approach to this recording - a speech by actress Tilda Swinton at the Rothko Chapel, a documentary about performance artist Marina Abramović and studying movement in Paris with one of Pina Bausch's earliest devotees. "There is this infinite potential that lies in that moment between suspension and release ... I wanted to put a sonic microscope on that moment and invite the listener into that intimate space normally reserved for those who create the music."
Website: http://alejandraribera.com/

11:45PM: AHI
Few artists leave such an impression that you'll never forget the exact moment you first heard them. With a voice like "gravel on silk", Canadian songwriter and independent recording artist AHI (pronounced "eye") is one of those rare finds.   From humble beginnings in Brampton, Ontario, AHI has taken his passion and his guitar over 50,000 miles, and his heartfelt live performances have captivated audiences at every turn. AHI's talent has been recognized by the JUNOs, Canada Council for the Arts, Songwriters Association of Canada, Nashville Songwriters Association International, and many more, establishing him as one of Canada's top emerging songwriters.   With the release of his debut album, We Made It Through The Wreckage, AHI blends folk, soul and rock to deliver a performance that will stop you in your tracks, with timeless songs that will hold you there and leave you wanting more.
Website: http://ahimusic.com/

12:15AM: Cécile Doo-Kingué
An exceptional stage presence, guitarist / singer-songwriter Cécile Doo-Kingué blends blues, afro-roots and soul to create a unique sound. Born and raised in New York City, first generation from Cameroon, she has lived in the USA, France, and is now an adopted Montrealer. Cécile Doo-Kingué is quickly earning a stellar reputation and a place alongside Canada's current roster of great guitarists. Powerful and raw, Cécile Doo-Kingué's guitar prowess, lyrics, and sound make for enthralling and intimate communion.
Website: https://www.cdkmusik.com/

12:45AM: The Slocan Ramblers
The Slocan Ramblers are Canada's young bluegrass band to watch. Rooted in the tradition, fearlessly creative, and possessing a bold, dynamic sound, The Slocans (2015 Edmonton Folk Fest Emerging Artist Award recipients), have quickly become a leading light of Canada's roots music scene, built on their reputation for energetic live shows, impeccable musicianship and their uncanny ability to convert anyone within earshot into a lifelong fan.
Website: http://slocanramblers.com/


1:15AM: Special Guest (TBA)
1:45AM: Winona Wilde
Winner of the 2015 BC Musician Magazine songwriting award and full-time roaddog, Winona Wilde has been slinging her folk-country all over Canada, the U.S & Europe since the release of her first album in 2013. Her clear voice and strength as a songwriter are showcased in her second album, You Lose Some, You Lose Some, which has been hailed as an instant classic. The album enjoyed national success on the college radio charts and is praised for its lyrical wit, fearless emotion and mastery of the genre. Originally from Peterborough, Ontario, she was always a voracious bookworm with a vivid imagination and a piano for a best friend. Her insatiable appetite for words and adventure, and years upon years of music instruction led her down a number of partially suitable career paths (Opera Singer, Lawyer, Dishwasher in that order) before finally landing, to everyone's delight, in this one.
Website: http://www.winonawilde.com/

2:15AM: Jessica Pearson and The East Wind
After their first international tour throughout Ireland, Jessica Pearson and the East Wind released their first single "Think of Me" in late 2016, which reflected a blend of country roots, bluegrass and folk with an infusion of their newly acquired Celtic sound. The band's music has been described as Nickel Creek meets Great Big Sea. The band's entire album will be released in the summer of 2017. Jessica Pearson and the East Wind's dynamic live shows take you on a journey through their lives with heartwarming harmonies, the liveliness of maritime kitchen parties, and intimate traditional melodies. The band is known for its strong audience engagement during shows and is planning their next tour for 2017.
Website: http://www.jessicapearsonmusic.com/