2017 Emerging Artist Music Mentorship Program, Supported by RBC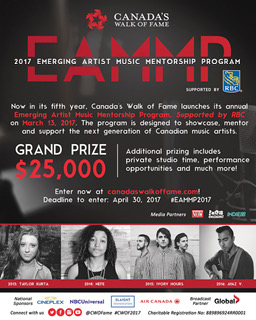 Posted on

March 14, 2017
2017 EMERGING ARTIST MUSIC MENTORSHIP PROGRAM
Supported by RBC
PROGRAM DETAILS
Canada`s Walk of Fame is looking for the country`s best young musicians – the Emerging Artist Music Mentorship Program, supported by RBC, is back for its fifth and biggest year yet! Submit a video or audio performance for your chance to win!
The winners will be chosen by a selection committee comprised of music and industry experts, and announced Summer 2017.
GRAND PRIZE



A Twenty-Five Thousand Dollar ($25,000 CDN) cash prize


Private studio recording time at Metalworks Studios


CWOF introduction to a minimum of one (1) established music artist


CWOF introductions to a minimum of two (2) music industry executives, which may include agents, managers, recording contract executives, and/or entertainment lawyers


Performance opportunities at Canada's Walk of Fame events


Music Industry Mentorship Sessions


Album cover artwork design


SIX ADDITIONAL PRIZES



A Second Place cash prize of $7,000 CDN


Five additional finalist cash prizes of $1,200 CDN


Music Industry Mentorship Sessions


A performance opportunity at Canada's Walk of Fame Event


Invitation to attend the 2017 Inductee Press Conference


The approximate value of the prize is over $100,000 CDN.
The deadline for submissions is April 30, 2017 at 11:59PM ET.
Eligible participants must be between the ages of 15-35 at the time of submission and demonstrate a commitment to pursuing a career in music.
For full details on how to enter, go to www.canadaswalkoffame.com. Shareable link: http://bit.ly/EAMMP17
@CWOFAME #EAMMP2017