Apply Now: 2017 Canadian Songwriter Challenge - Ontario Edition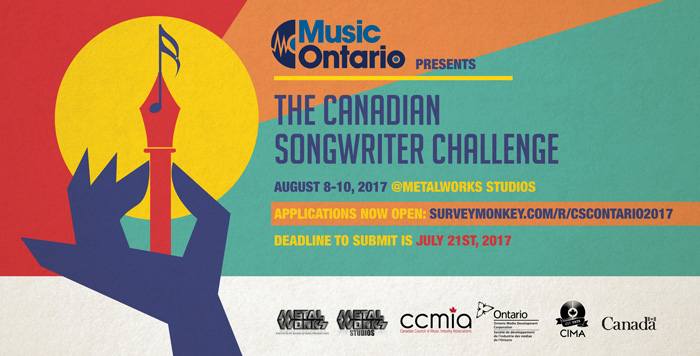 Posted on

June 30, 2017
MUSICONTARIO PRESENTS: THE 2017 CANADIAN SONGWRITER CHALLENGE
August 8-10, 2017 @ Metalworks Studios (3611 Mavis Rd, Mississauga, ON)
Welcome to the third annual Ontario edition of the Canadian Songwriter Challenge, in partnership with the Canadian Council of Music Industry Associations (CCMIA) and Bell Media! The Canadian Songwriter Challenge invites Music Industry Associations from each province to program unique songwriting retreats to develop local writers and their skills.
During each retreat (spanning anywhere from 2 to 5 days), artists receive mentoring in songwriting and co-writing, and have the opportunity to demo newly co-written works. Participants also have the opportunity to attend workshops on the business of songwriting, including demoing in a professional studio environment, live performance, publishing, marketing, and a variety of intellectual property topics from live performance to sync rights.
This year's Challenge will be hosted at Metalworks Recording Studios from August 8-10, 2017, where all co-writing, recording, and mentoring sessions will take place. Between 2015-2016, almost 300 Ontario-based artists applied to participate, and 2017 is sure to bring together another fantastic crop of Ontario songsmiths on the rise!
Past mentors include Gavin Brown, Liz Rodrigues, Donovan Woods, Nathan Ferraro, Mike Wise, Bill Bell, Shobha, Casey Marshall and Rob Wells.
Stay tuned to find out who the 2017 mentors are and learn more about the workshops in store for successful applicants!
Testimonials:
"The Canadian Songwriter Challenge was a blast! As someone who is used to writing solo acoustic, it was an amazing experience to go into a studio and have a demo recorded, produced & ready to go in a day. I made some lasting connections with some incredibly talented new writing partners, and I'm really proud of what we accomplished." – AHI, songwriter and participant
"Music Ontario and Metal Works Studios have put together a truly amazing event, I wish it wasn't over. I met and got to work with amazing people, people I wouldn't have otherwise had the opportunity to work with. It was so great to work with songwriters and producers who all brought something totally different into each room. Thank you so much, this last week has been big step in the right direction for my career." – Jordan Alexander, songwriter and participant
"Thank you to Music Ontario for such an awesome opportunity! I learned a lot working with other talented songwriters, as well as the producers who shared their expertise and talents with us. We also wrote some killer songs! I really enjoyed the experience and it was valuable to me as a songwriter and artist." – Angela Saini, songwriter and participant
"I was honoured and thankful to have been selected as one of the 6 in the Canadian Songwriters Challenge with Music Ontario. Getting to be at MetalWorks Studios 3 days in a row, surrounded by incredible talent, and mentors was a dream. I stepped out of my comfort zone and wrote music in various genres, and felt many energies, and creative jolts during this time. Every day, a new song was created and given life.
One of the songs I co-wrote that week is actually going to be my next single released to Country Radio in 2017. Aside from the music and the talent and wonderful friendships created. I felt we were looked after like royalty, right down to the food and the guest speakers. It was all tailored to our needs and incredibly well put together." - Brittany Brodie, songwriter and participant
"It was a privilege to be a producer for MusicOntario's 2016 Songwriting Challenge. If the remarkable talent I had the honour of working with is any indication of the future talent in songwriting, Canadian music is in great shape!" – Bill Bell, mentor and songwriter
"It was a great opportunity to meet other writers and producers that I might not have met otherwise. Great Pairings, I feel like it really made sense. Facilities and mentors were great. Thank you for having me!" – Kat Burns, songwriter and participant
"Great folks, in-depth and useful information. It felt that I was being welcomed into a very experienced group and could freely ask questions, even after the challenge was done" – Graydon James, songwriter and participant
"A potential great song and relationship were formed. The experience was great." – Liz Rodrigues, mentor and songwriter
"Meeting other talented writers in Ontario was awesome. It was organized and well run. It was great to learn a new sense of melody & harmony from my mentor." – Julian Taylor, songwriter and participant
"Working with Gavin was a great opportunity and having him as a contact could be very beneficial. The mentors were great and the location (Coalition Music in 2015) was awesome." – Maddy Rodriguez, songwriter and participant
"It's refreshing to see that MusicOntario chose to focus solely on songs for this particular challenge. We are constantly bombarded with the latest viral gimmicks and artists trying to find the quickest way to success without putting in the necessary work. It starts and ends with your songs. Everyone that participated in the Songwriter Challenge understood that, without a great song, you really have nothing. As Gavin Brown so eloquently put it: If it's not a hit, it's a hobby. It was a pleasure working with these incredibly talented Artists and Mentors." – Liam Killeen, Coalition Music (studios), Manager, USS.
Create your own user feedback survey