Apply now: Artist Entrepreneur Bootcamp for Indigenous performers & professionals with MusicOntario & CMI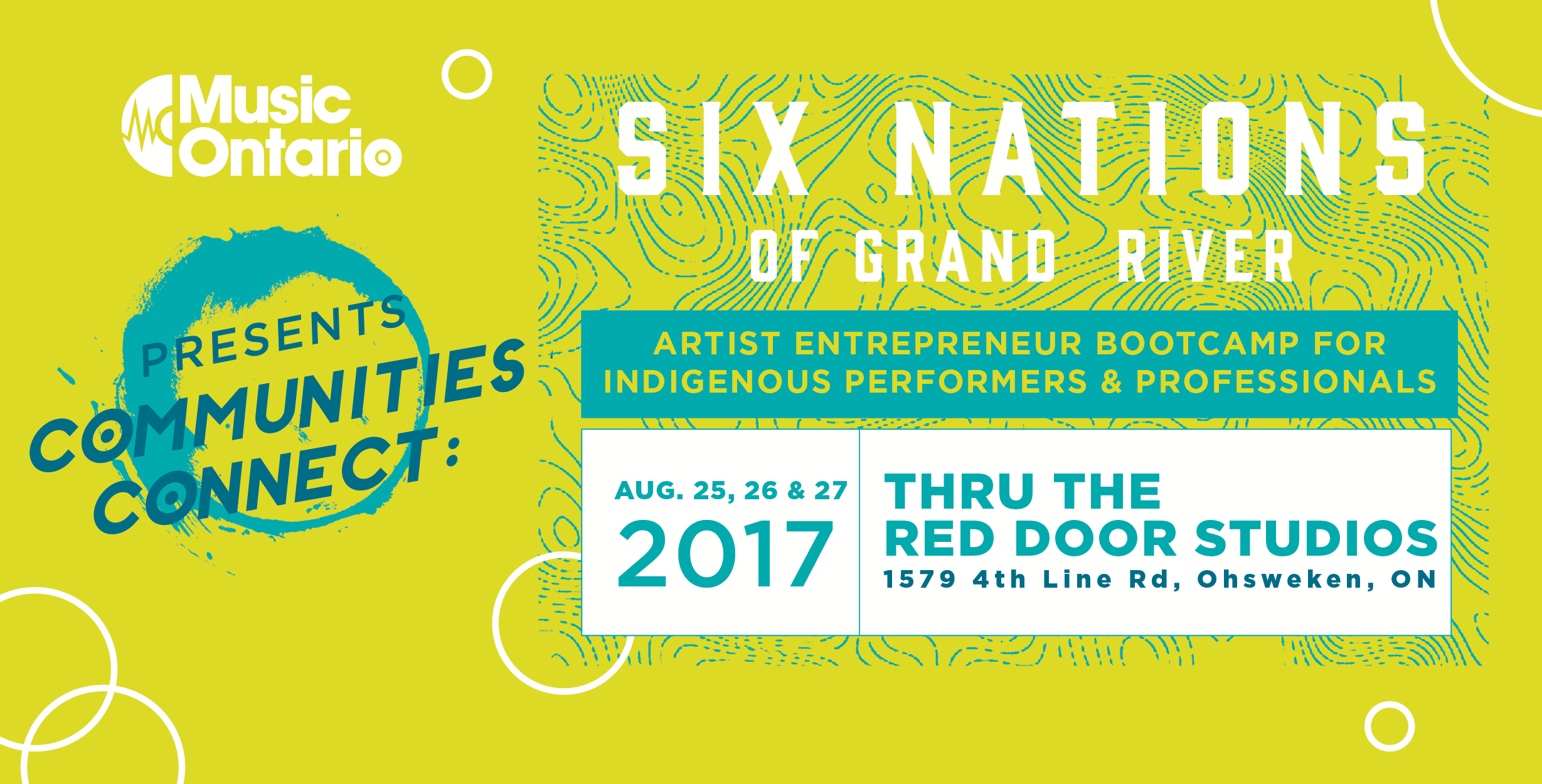 Posted on

August 3, 2017
MUSICONTARIO & CMI PRESENT: ARTIST ENTREPRENEUR BOOTCAMP FOR INDIGENOUS PERFORMERS & PROFESSIONALS
August 25-27, 2017 @ Six Nations & Thru the RedDoor Studios (1579 4th Line Rd., Ohsweken)
Apply: http://canadasmusicincubator.com/sixnations/
MusicOntario
&
Canada's Music Incubator (CMI)
are hosting an edition of CMI's
Artist Entrepreneur Bootcamp (AEB)
program exclusively for artists and music industry entrepreneurs with
First Nations, Inuit or Métis ancestry
, as part of MusicOntario's Community Connects program!
The two-day workshop, taking place at Thru the RedDoor Studios at Six Nations, is a condensed version of CMI's eight-week Artist Entrepreneur program, which provides professional development, resources, information, one-one-one and ongoing mentorship to new and emerging artists/professionals looking to build sustainable, thriving careers in the music industry.
CMI surveys all participants registered for the AEB in advance to gain a greater understanding of each person's needs. CMI and MusicOntario will identify key areas of professional development and customize the session in order to address the specific challenges of each participant.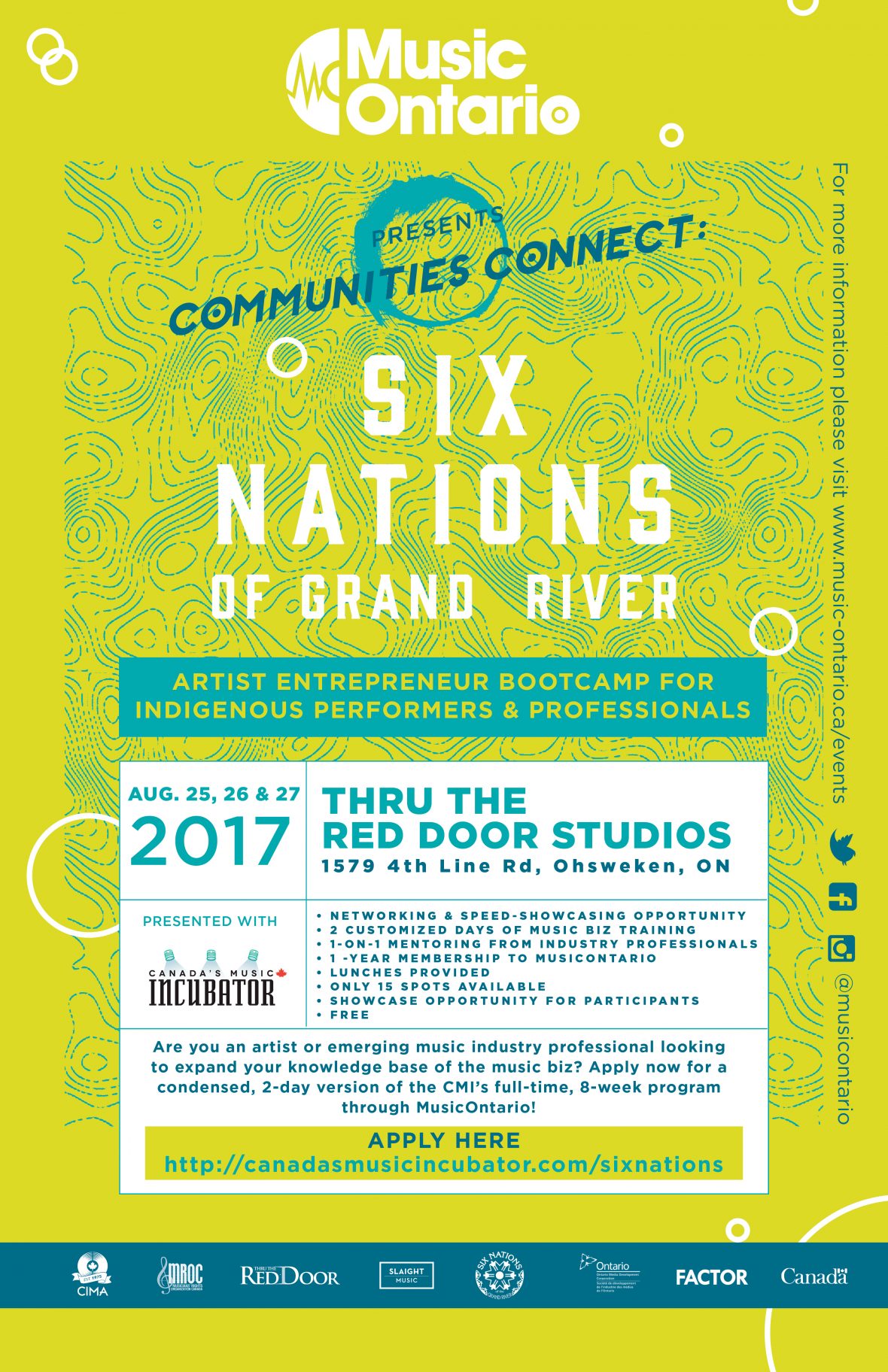 Topics covered will include:



Running Your Business


Royalties & Revenue Stream


Shows & Touring


Team Building


Music Licensing


Branding & Marketing


Funding


& much more!


Benefits of participation include:


2 days of customized music biz coaching


Free 1-year membership to MusicOntario


Complimentary lunches


1-on-1 mentorship and group networking


Ongoing access to CMI mentorship


All participants in this edition of the AEB are invited to join us for a showcase mixer on August 25, 2017, where artists will have the opportunity to perform two songs each. This allows everyone get to know each other and connect before the two workshop days. Showcase details and mentors to be announced shortly.
Schedule:
August 25 (TBA): Participant Showcase & Mixer @ (Venue TBA)
August 26 (9am-6pm): Workshop in session
August 27 (9am-3pm): Workshop in session
Each workshop day will be broken into several components: group discussion/activities, guest speakers and one-on-one mentorship sessions. A working lunch will be provided by MusicOntario.
CMI and MusicOntario want to ensure everyone who participates receives significant individual attention. For this reason, bootcamp size will be limited to 15 participants. If you are in a band, only one member (appointed by the group) will be able to attend the workshop. While this program is configured to best suit artists, it is also open to other music business entrepreneurs.
This program is made possible through the generous support of the Ontario Media Development Corporation (OMDC) through the Ontario Music Fund and Slaight Music.
MusicOntario would also like to thank Canada's Music Incubator for facilitating, Thru the RedDoor for the space, and Six Nations Tourism for support and guidance with this edition of the program!


To be considered, please complete this form by August 18, 2017: www.canadasmusicincubator.com/sixnations/
You must be available to be onsite at Thru the Red Door for both days of the AEB to be eligible.
About MusicOntario:
Launched in 2012, MusicOntario is a non-profit, membership-based provincial Music Industry Association and division of the Canadian Independent Music Association (CIMA), whose mission is to provide grassroots professional development, industry education, information, support and networking and showcasing opportunities to developing artists and emerging industry professionals in Ontario.
www.music-ontario.ca

About Canada's Music Incubator
Canada's Music Incubator (CMI) is a national not-for-profit organization based in Toronto providing customized and ongoing mentorship to artists and managers. Since 2012, CMI has delivered over 5,000 hours of professional development programming and mentored over 500 artists and managers spanning all genres of music.
http://canadasmusicincubator.com/