Tara Shannon & The Advance Care Planning Initiative in Canada, led by Canadian Hospice Palliative Care Association (CHPCA)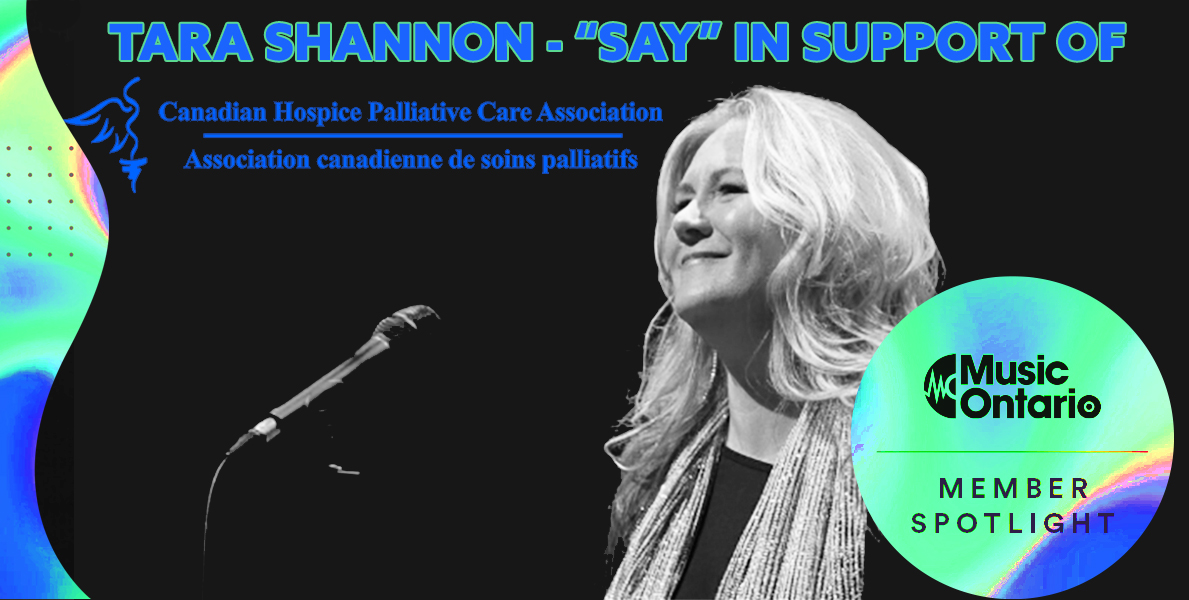 Posted on

July 28, 2020
Ottawa's Tara Shannon is not only an accomplished songwriter and creator in our industry, but she's taken her time, talent and skill to compose for a number of philanthropic causes. Most recently, that cause is Advance Care Planning in support of the Canadian Hospice Palliative Care Association, urging people to have tough conversations about end of life care sooner rather than later through the song "Say." Read on to learn more about Tara, this important cause, and to hear the moving track for yourselves!
ABOUT TARA SHANNON:
Canadian award winning artist and songwriter, Tara Shannon, is heading into her busiest year yet. Her latest project, "Say," in partnership with Advance Care Planning in support of Canadian Hospice Palliative Care Association showcases her work as a sought-after songwriter with a talent to capture the essence of a message. Previous campaigns such as "The Butterfly Child," in partnership with DEBRA Canada for her dear friend Jonathan Pitre and "Be You Girl," in partnership with Morguard Investments, have showcased Shannon's gift as a songwriter and reveal a philanthropist's heart.
Her previous single "Mutha," a song she co-wrote with Roxie Dean (Reba McEntire, Faith Hill, Jamie O'Neal) about her eventful life as a mother of seven children, garnered more than 150K video views, debuted at #2 on most active indie downloads and reached Top 50 on the Music Row Country Breakout chart in the US.
"Where The Light Comes In," Shannon's latest EP, was released in November, 2019 with a performance at the National Arts Centre in Ottawa. The first single, "Freedom" released to US radio in April, 2020 made the PlayMPE Top 20 Streams first week out and features the band WesternBoy from Nashville, TN.
Notable performances include Ottawa Bluesfest (main stage), National Arts Centre, Canadian Tire Centre (Tim Horton's Roar of the Rings), Inspire Awards (Saint-John), Amazing People Gala (Ottawa), CMA Fest (Nashville), United Way National Conference (Hamilton), Canada Without Poverty National Conference (Ottawa), Russell Arena (with Andre Philippe Gagnon).
ABOUT THE CHPCA:
The Canadian Hospice Palliative Care Association – the national voice for hospice palliative care in Canada – is dedicated to the pursuit of excellence in care for persons approaching death so that the burdens of suffering, loneliness and grief are lessened. The CHPCA operates in close partnership with other national organizations and continues to work to ensure that "that all Canadians have access to quality hospice palliative care."
A BIT MORE ABOUT THE NEW PROJECT…

What inspired this collaboration in support of CHPCA?
I was really touched when CHPCA reached out to see if I would write a song for their campaign. It's always such a compliment as a songwriter. I was intrigued by their program and I really loved the idea that they were trying to inspire conversation with loved ones around the issue of end of life care. It's not always easy or comfortable to talk about and I thought if my music can help people do that, then yeah, I'm in. It's such a great opportunity to affect people's lives in a positive way, and a potentially life changing way.
Any highlights and challenges from the process?
I think the first challenge was really getting inside the message CHPCA wanted to send. Finding the right tone. Knowing the focus of this song was meant to inspire conversation, we tried to get underneath why we shy away from the harder conversations and what would inspire us to have the conversation with our own loved ones. The message isn't about doom and gloom, or death. The message is "let's talk" and "tell me what matters to you."
After a lot of back and forth on different ways we could tell this story, my co-writer Hayley McLean and I settled on the idea that we know so much about the people we love, all the little things like their favorite food, how they take their coffee, that kind of thing but we don't always know the big stuff. End of life care is a big subject that we often don't talk about until we are in a health crisis. So we knew we wanted to tell the story from a conversational point of view and keep the focus on, "Hey, I know all this stuff about you, but I don't know the big stuff… I want to know the big stuff... I want to know the important stuff that really matters to you.. I need to know this stuff so I can take care you of you the way you want to be cared for..."
Anything else you want the world to know about this work and your musical journey?
I'm really proud to be part of such an important project. It's always an honour to write songs for people but this one was very special. I love performing the song and look forward to doing so in some key shows coming up later this year. It's interesting that the timing of this campaign coincided with COVID. The pandemic gave us an example of why this campaign is really important. Why it's really important to have these conversations when you are healthy, we don't know what a day will bring - so I hope it does inspire some to get the kit from Advance Care Planning and carve out time to connect with loved ones.
Knowing my music played a small part in that is very rewarding for me as an artist and songwriter. I am a big believer in the power of music to effect change.
ANYTHING ELSE YOU'D LIKE TO INCLUDE?
I have a new album out called Where The Light Comes In! Folks can check it out here.
Tara Shannon Socials: Facebook, Instagram and Twitter.
Tara Shannon website: https://www.tarashannonmusic.com/
Advance Care Planning/CHPCA Socials: Instagram, Twitter and Facebook
Advance Care Planning website: https://www.advancecareplanning.ca/

If you're a MusicOntario member, get in touch with Sam Rayner to find out how to apply to be featured!