Julian Taylor's "The Ridge" - MusicOntario Member Spotlight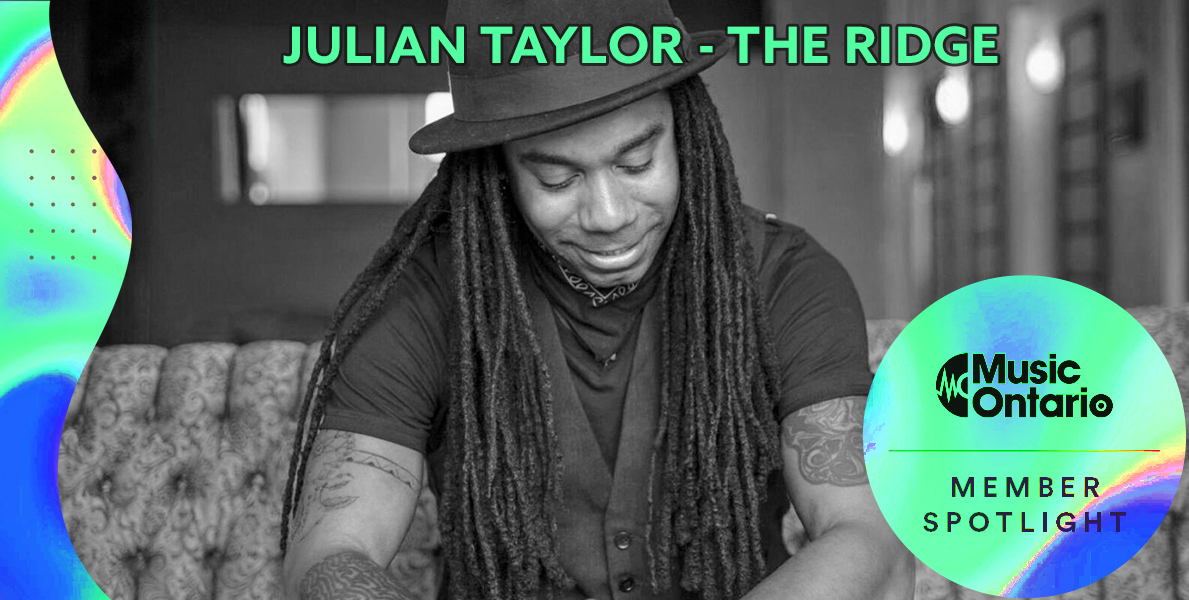 Posted on

September 1, 2020
JT is not only a veteran of Canada's music industry across many genres and disciplines, from rock to folk, and from artist, songwriter and performer, to mentor, host, friend and community leader, but he's a longtime member of MusicOntario! We've had the privilege to host his moving, heartfelt, and captivating performances at MusicOntario folk showcases internationally over the years, as well as through the Canadian Songwriter Challenge (CSC). Notably as a participant in CSC 2015, and as a mentor in CSC 2019, where he co-founded The Wolf Den music collective with Troy Junker, Thea May, and Mya Gomez, going on to release their resulting track "So Close" to charting success! Read on to learn more about his latest offering, "The Ridge," and even better, to hear it and see the official video!
ABOUT JULIAN TAYLOR & HIS NEW ALBUM "THE RIDGE"

Canadian singer, musician and songwriter Julian Taylor grew up in a musical family of West Indian and Mohawk descent. A Toronto music scene staple, Julian has been empowered to explore his own music and this can be heard progressively through his album releases over the last two decades. He's an indie artist and entrepreneur who's carved his own path creating genre-free music with a generosity of spirit and a strong belief in the healing powers of song. In 2020 Julian Taylor revisited his solo career with the release of his contemplative album 'The Ridge'. It is a beautiful album that has received rave reviews. It's been hailed as one of the strongest Americana records of the year by Glide Magazine drawing comparison to such legendary artists like Gordon Lightfoot, Bruce Springsteen, Willie Nelson and Jason Isbell.
American Songwriter premiered the first single calling it lyrically brilliant. Artists like William Prince, AHI, Justin Rutledge, and Jim Cuddy of Blue Rodeo have sung the album's praises. Choosing to release The Ridge during a pandemic created many challenges and opportunities. Julian felt strongly that people needed to hear the spirit and soul of his words, and that the music would soothe and connect with people.
Unable to tour and promote the album live, Julian's maintained a consistent performance schedule online being asked to perform and pre-record shows from home for many prestigious music publications, festivals and associations, most notably the Americana Music Association, Mariposa Folk Festival and Americana Highways to name a few. Julian's songs have also been used in numerous North American television shows and films, i.e.: Kim's Convenience, Haven, Private Eyes and Elementary and, he was invited to perform at the Olympic Games in both 2002 and 2010. Off stage, Taylor recently ventured into radio; when the Indigenous radio station ELMNT FM opened in Toronto in 2018, Taylor became the station's afternoon-drive host. Taylor is an example of an artist who's found success through perseverance and his ability to adapt but the real reason for all of his success is sheer talent. He's one of a kind and truly a world class singer, songwriter and performer.
2020 HIGHLIGHTS
July 2020 – "The Ridge" Album Release
The single "The Ridge" hit #1 on the Indigenous Music Countdown
UK BBC Radio 2 (June 2020) Playlisted – JTB album Desert Star: track 'Just A Little Bit'
'The Ridge' voted "Album of the Week" by Dutch radio show "Countryfile/The Americana Zone"
Radio airplay throughout Australia, Benelux, Canada, UK and USA
July 2020 – The Ridge debuted at #17 in the Euro Americana chart https://www.euroamericanachart.eu
The album "The Ridge" debuted at #12 on the Canadian Soundscan Chart: https://top40-charts.com
Ballad of a Troubadour – the album's 2nd release has over 600k streams and continues to trend.
https://open.spotify.com/artist/JulianTaylor · "The Ridge" hit #48 on Earshot – (The Canadian National Campus Charts)

2020 PERFORMANCES
Americana Music "Thriving Roots Festival"
Hillside Homeside 2020
Summer Solstice APTN
Ottawa Bluesfest – Drive In
Mariposa Folk Festival
Beaches Jazz Festival
Music Together
NAC's Canada Performs
QUOTES ABOUT "THE RIDGE"
"Lyrically, brilliantly 'The Ridge' exudes innocence." ~ American Songwriter
"A haunted recollection of a piece of heaven on earth. That follows in the exalted footsteps of the likes of Gordon Lightfoot" ~ Americana UK
"Musically and lyrically, the album brings to mind artists like Bruce Springsteen (especially his countrified recent solo album), Jason Isbell, and country-oriented troubadours like Joe Ely. The songs on The Ridge deal with themes that are especially poignant at this unbelievable time in history as Taylor draws from love, loss, and a yearning desire for the human race to prevail against numerous hardships. Musically, the album straddles the line between Americana, country and sweeping Heartland rock, but its lyrics and subsequent messages connect in a universal way. Yet, he has a remarkable gift for relaying tenderness, vulnerability, and heartfelt emotion." ~ Glide Magazine
"In these times, we could use a little heart and soul, and Julian Taylor's latest is all heart and soul. Warm wrap-around-you sounds with that velvety voice. A very beautiful record." ~ Jim Cuddy of Blue Rodeo
"...comforting... precise, thoughtful wordplay... These songs were dug for. One of the standouts is the timbre of Julian's voice. At times reminiscent of Neil Diamond, the title track presents a haunting incarnation of the late Willie Dunn. The songs are delivered honestly, and it presents itself as an easy keep amongst today's Americana." ~ William Prince (Canadian Singer-Songwriter)
"...refreshing... To see an artist unapologetically be themselves is exciting, and I can't wait for him to share this body of work." ~ AHI (Canadian Singer-Songwriter)
"...beautifully recorded, performed, and sung, but the real triumph is the raw honesty at the heart of these stories." ~ Rhett Miller (Old 97's)
"Goodness this hits as the real deal! I appreciate the timeless style. Honestly it feels like something Willie Nelson could have written. There's an authenticity to it that really wins the day." ~ Ears To The Ground
"With this single, Julian Taylor continues to go from strength to strength with his musical creativity. Once again, he demonstrates his natural ability to construct and convey beautiful messages through the power of song, to provoke thoughts and rediscover fond memories, and to genuinely touch souls" ~ Great Dark Wonder

LINKS
https://juliantaylormusic.ca/home
https://www.facebook.com/juliantaylormusic
https://www.instagram.com/juliantaylormusic/
https://twitter.com/jtaylorband
https://www.youtube.com/channel/JulianTaylor
https://www.patreon.com/juliantaylormusic

If you're a MusicOntario member, get in touch with Sam Rayner to find out how to apply to be featured!