Tanika Charles - MusicOntario Member Spotlight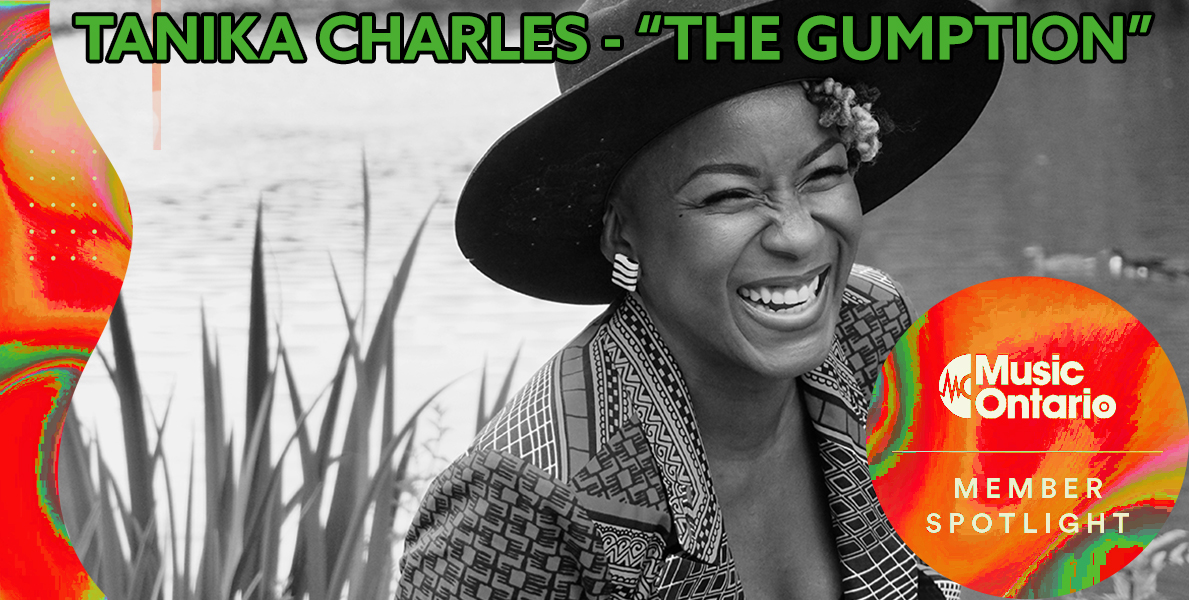 Posted on

November 17, 2020
Before the world went topsy turvy, we had the privilege of hosting Tanika Charles at MusicOntario's private showcase room at Folk Alliance International in New Orleans - truly a fortunate last hurrah for us before lockdown! A consummate professional who positively radiates warmth, Tanika absolutely lit up the Ontario suite with her stunning performance and effervescent ease in such a intimate and organic setting. In hindsight, something to appreciate even more now that tiny rooms filled with live music and eager ears are a way's away. Read on to learn more about "The Gumption," which was nominated for a JUNO *and* hit the Polaris long list.
ABOUT TANIKA CHARLES:
Formerly known as the best kept secret in soul music, Toronto-based singer Tanika Charles has become a staple of the scene both at home and abroad. Her music revels in honesty and attitude. Her live show is high energy and endearing. The 2x JUNO Award nominated and 2x Polaris Prize long-listed singer continues to win audiences over one stream, one Shazam, and one encore at a time.
Backed by her band The Wonderfuls, Tanika has embarked on 5 international tours across 9 countries since releasing Soul Run, including 70+ headlining performances. Together they oscillate between faithful recreations of her studio recordings and cross genre nods to rock, gospel and country influences. In 2019 she had the honour of being named the inaugural Polaris artist-in-residence for 2020 at the Studio Bell National Music Centre
A BIT MORE ABOUT THE "GUMPTION"
The Gumption was released on May 10, 2019. It was nominated for the 2020 Juno Award for R&B/Soul Recording of the Year and was long-listed for the 2019 Polaris Music Prize.
Personnel in the making of the record include:
Producers: DJ Kemo (The Rascalz, Kardinal Offishall), Chin Injeti (Bass is Base, Drake, 50 Cent), Daniel Lee (Hooded Fang, Phedre), Marlon James and Kevin Henkel.
Additional songwriters: Robert Bolton, Sean "D/SHON" Henderson
Additional musicians: Jeremy Morgan, Clayton Connell, Ben Foran, Lenny Solomon string quartet
Recording: Alex Gamble, Michael Warren
Mastering: Bryan Lowe
Videos: V.T. Nayani


Photo Taha Muharuma (@tahaphoto)
This was Tanika's second album, but really the first one she completed while working as a full time professional musician. That meant having strict label deadlines to meet while also juggling a busy touring schedule during the album creation window. It was great to finally work with Kemo and Chin (who Tanika has known for a long time), and also kind of kismet to be introduced to Kevin Henkel's production (who was responsible for 2 of the singles). In terms of the songwriting itself, this was the first time Tanika explored somewhat more political topics such as on "Upside Down" and "Look At Us Now".
If you liked The Gumption, wait until you hear what's coming next in 2021!
Instagram: https://www.instagram.com/tanika_charles/
Twitter: https://twitter.com/tanikacharles7
Facebook: https://www.facebook.com/TanikaCharlesMusic/
Website: https://tanikacharles.com
*Feature photo by Michael Warren (@ear2ear)
If you're a MusicOntario member, get in touch with Sam Rayner to find out how to apply to be featured!