Lido Pimienta - MusicOntario Member Spotlight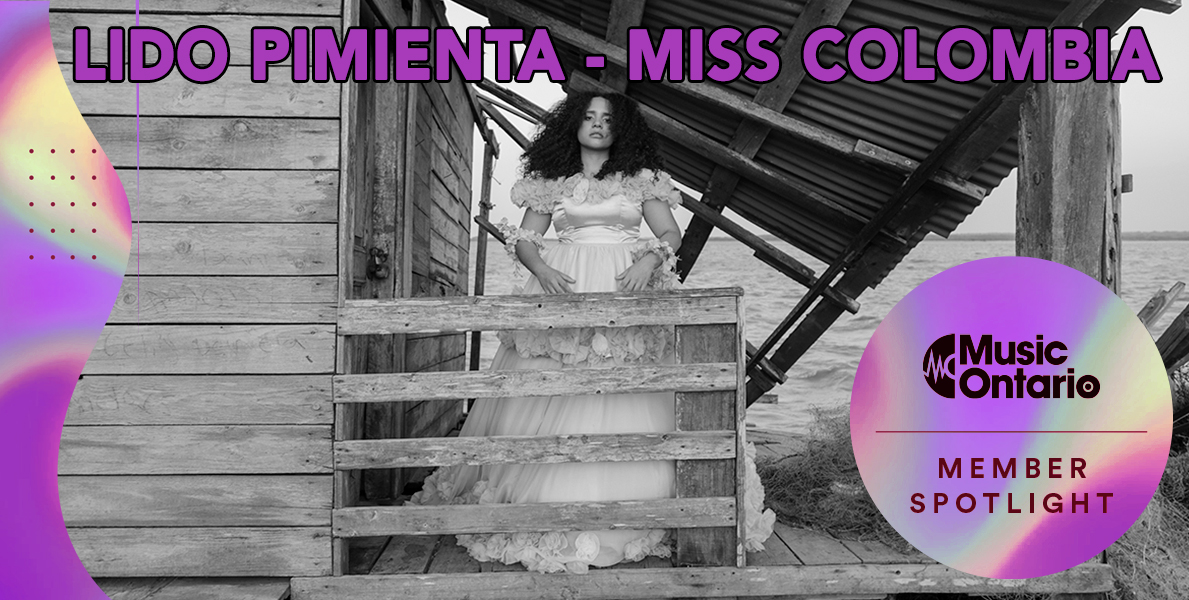 Posted on

December 1, 2020
Lido Pimienta is a paradigm of living and breathing your art, the principles that inform it, and staying true to vision, ethics, and community in the process. Building from the incredible success of 2016's "La Papessa," Lido and her team at Kelp brought her latest record, Miss Colombia, to life this year, which has garnered a GRAMMY nod. In a different world, we would have been hosting her at SXSW 2020, alas, we are happy to join in celebrating this massive milestone in an interdisciplinary career whose legend continues to unfold before us!

ABOUT LIDO PIMIENTA:
Lido Pimienta is a Toronto-based, Colombian-born musician, interdisciplinary artist, and curator. She has performed, exhibited, and curated around the world since 2002, exploring the politics of gender, race, motherhood, identity, and the construct of the Canadian landscape in the Latin American diaspora and vernacular.
Pimienta's new album Miss Colombia, which was released in April 2020, takes her ecstatic hybridity to a new level, building on the "nu" intersection of electronica and cumbia established by her first two albums, Color, released in 2010, and the 2016 Polaris Prize-winning La Papessa as Canadian album of the year.
Miss Colombia has garnered widespread acclaim including strong reviews from Pitchfork, NPR, Exclaim! And Rolling Stone, among many others. The album has also received significant awards season attention including nominations for the 2020 Grammy Award for Best Latin Rock or Alternative Album (to be awarded in 2021), the 2020 Latin Grammy Award for Best Alternative Music Album, and being shortlisted for the 2020 Polaris Music Prize.
Lido lives in the west end of Toronto with her family and is hard at work on her next album.
A BIT MORE ABOUT MISS COLOMBIA:

Lido Pimienta – Miss Colombia
Release Date: April 17, 2020

The album was recorded between Toronto, Ontario and Colombia and features contributions from many talented collaborators.
Pitchfork gave Miss Colombia an 8.0 rating, writing that it represents "a symbolic reclamation of [Lido's] crown." Lido recently collaborated with Ricky Reed on the song "Catch You". Lido also produced the official video for the song, with video direction from her collaborators Andres Landau and Gustavo Cerquera Benjumea. Stereogum made Miss Colombia the Album of the Week in late-April, gushing that it is "Some of the most uniquely stirring pop music in recent memory."
Several remix tracks from the album have been released including a version of "Eso Que Tu Haces" by Austra, and a reworked "Te Queria" by Chancha Via Circuito.
WEBSITE: https://lidopimienta.com/
BANDCAMP: https://lidopimienta.bandcamp.com/
SPOTIFY: https://open.spotify.com/artist/1IdkKQ9CM1i0wygfxY...
APPLE MUSIC: https://music.apple.com/us/artist/lido-pimienta/38...
FACEBOOK: https://www.facebook.com/Lido.Pimienta.Musica
INSTAGRAM: https://www.instagram.com/lidopimienta/
TWITTER: https://twitter.com/lidopimienta
VIDEOS:
*Photo credit: Daniella Murillo
If you're a MusicOntario member, get in touch with Sam Rayner to find out how to apply to be featured!