Adrian X's "Soulgazer" - MusicOntario Member Spotlight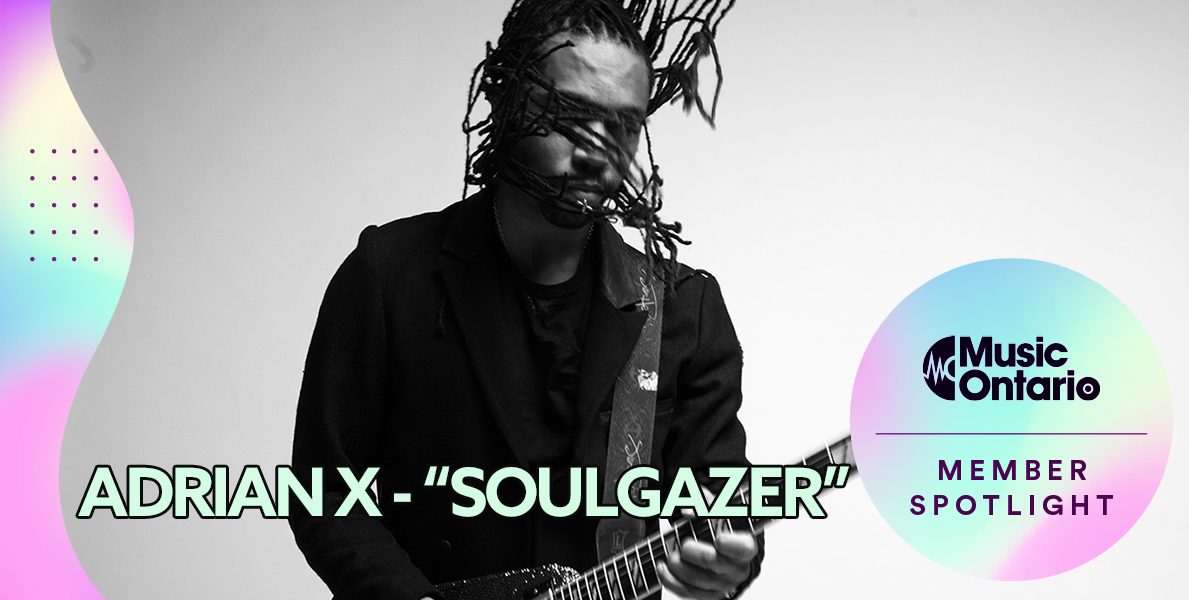 Posted on

December 8, 2020
An established member of the MO family, Adrian X has been a mentor for our Songwriter Challenge for years, harnessing years of commanding stages and audiences and his immaculate mastery of the guitar, with an incredible capacity to collaborate and draw songs out of young creators. Now, Adrian is centre stage again, celebrating the release of Soulgazer and its lead single, "X!" Read and listen on...

ABOUT ADRIAN X:
Defying the boundaries of genre through his far-reaching brand of Psychedelic RnB, Adrian X has been finessing fretboards since the age of nine and is undoubtedly one of Toronto's best kept secrets. A songwriter and producer with endorsements from the legendary Gibson guitar company and UK-based Victory Amps, Adrian represents his roots and the best of the city's diversity as a hand-picked touring guitarist for The Weeknd, Nelly Furtado, Kylie Minogue, PARTYNEXTDOOR, and as a member of the Grammy award winning team behind Drake's Take Care. The cherry on top of Adrian X's inimitable laid-back-yet-fiery sound, is an understated competitiveness that only sees him continue to reach new heights in an already soaring career.
ABOUT THE DEBUT RECORD, "SOULGAZER," & THE LEAD SINGLE "X.":
After a long year, and even longer wait, famed Toronto guitarist Adrian X finally released his debut album Soulgazer on October 30th across streaming platforms. If you're an R&B fan, or a musician who has been through "The Six", it is possible that you've already seen Adrian X at work, but not like this. Not only does Soulgazer give a home to Adrian's immense talent as a guitarist, it also showcases his skills as a producer of his unique and self-described brand of wild yet refined Psychedelic R&B.
X defies norms in every way; it is an amalgamation of progressive rock with tastes of metal, hip-hop beats and alchemical funk. It is a groovy and ambient jaunt through the cosmos, and simply drips with soul. With this debut, Adrian X manages to neatly condense his stadium-seeking sounds into an intergalactic experience, never skimping on substance or style throughout. X is psychedelic escapism in a record and we can't imagine a music lover needing anything more.
LISTEN now: https://www.gate.fm/pivOZm
Press release: https://drive.google.com/file/d/1TG9IhdikWUDyMWGLJ...
https://www.instagram.com/musicisageless
If you're a MusicOntario member, get in touch with Sam Rayner to find out how to apply to be featured!