Samantha Martin & Delta Sugar - MusicOntario Member Spotlight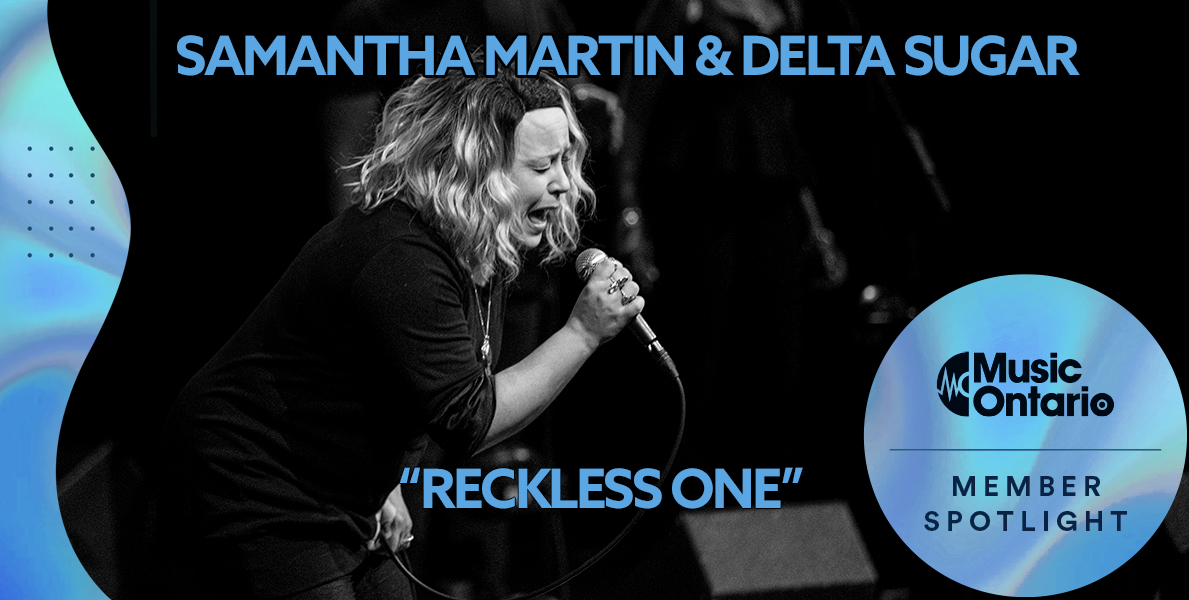 Posted on

February 9, 2021
To know Samantha Martin is to know a powerhouse: from her massive voice and soulful music with Delta Sugar, to her business savvy, fierce ethics, and supportive community ethos, she's a leader through and through. Not many are brave enough to forge a successful international touring career with a 12-piece band, but leave it to Sam. In the wake of COVID-19 devastating the music industry, SMDS have made the best of the time off the road to complete their latest opus, "Reckless One." Read on to listen!
ABOUT SAMANTHA MARTIN & DELTA SUGAR:

With the worldwide pandemic wrecking utter havoc upon the careers of many musicians, Samantha Martin and Delta Sugar elected to use their time off the road to finish recording, mix and master their latest tour-de-force, the astonishingly powerful, funky and deeply soulful The Reckless One.
The follow up to 2018's Juno-nominated Run To Me, The Reckless One represents another massive step forward for Samantha Martin as a songwriter, singer, arranger and band leader. Eleven of the album's twelve songs were either co-written or solely composed by the multi-talented, multi-faceted artist. The one non-original, a funk infused cover of Bob Dylan's "Meet Me in the Morning," fuses Dylan's lyric in a cataclysmic clash with the sensibilities of the Meters and the hurricane force of Howlin' Wolf and Tina Turner at their rawest. It simply has to be heard to be believed.
Produced by Darcy Yates and Renan Yildizdogan, The Reckless One demonstrably builds on the strengths of Samantha Martin and Delta Sugar's last album. Martin's lyrics, set to a panoply of intoxicating, ear worm melodies, tend to focus on the vicissitudes of love: desire, disappointment and, when everything works out, emotional and sexual satisfaction. The album's twelve tracks cover a lot of ground, including 12/8 gospel infused soul ballads such as "I've Got a Feeling" and "Better to Have Never," funk inflected tracks like "Love is All Around," stomping four-on-the-floor dance numbers epitomized by "Don't Have To" and the Wall of Sound influenced "Sacrifice." Subtleties and nuances abound as does neuron firing, soul tingling emotion. Over the course of the album the discerning listener will detect a panoply of influences ranging from Mavis Staples, Sharon Jones and Otis Redding to Booker T. and the MG's and the Memphis Horns. One track, "All That I Am," is even slightly reminiscent of early 70s Emotions.
The Reckless One has garnered hundreds of rave reviews and feature articles since the release on November 20, 2020. Sacrifice was Pick of The Week with Rolling Stone Country, and it has also reached #1 on both International Blues Broadcaster Association Charts, as well as #1 on Roots Music Report's "Top Canadian Albums", "Top Blues Album" and "Top Soul Blues Album."
Martin's first recording was an EP entitled Fade, issued in 2004. A year later she moved to Toronto and in 2008 released her debut full length album, Back Home. The eponymously titled Samantha Martin and the Haggard followed in 2012 before Martin decided to form the gospel and soul-based Delta Sugar.
Samantha Martin and Delta Sugar's debut release, 2015's Send the Nightingale, was a stripped-down affair consisting of Martin, her two co-singers, and two guitars. For 2018's Run to Me, Martin elected to record her emotionally wrought material with an expanded band, augmenting the core of Delta Sugar's gospel-infused harmonies with a full rhythm section, piano, organ and an ever-so-soulful horn section. The Reckless One continues in the same trajectory, further expanding the palate of sounds with vibes, mellotron, Wurlitzer, Hammond and Farfisa organs plus strings.
Send the Nightingale was a stunning achievement which garnered four Maple Blues nominations in 2016, was regularly featured on the CBC, topped the blues charts on Stingray radio and propelled the group onto the stages of all the major Canadian festivals and clubs coast to coast. Subsequent to the album's release, Martin was nominated three years in a row as Female Vocalist of the Year at the Maple Blues Awards. Continuing to build on the group's steam rolling momentum, in 2019 Run To Me garnered another four Maples Blues nominations, a Juno nomination (Canada's Grammy Awards) and paved the way for Samantha Martin and Delta Sugar's assault on European club and concert stages. Starting with a blitzkrieg attack consisting of 42 club dates in six weeks in early 2019, three tours and a year later the group was being booked at a number of major European festivals.
Martin is the lead singer, songwriter and focal point of the group. A dynamic front woman, she possesses a stunning voice that is capable of summoning up tidal waves of spine-tingling emotion in one instance while delicately bringing out the nuances of a gut-wrenching lyric in the next. A torrid force of nature, night after night she takes audiences to emotional peaks while leaving them stunned with her sheer pin-you-against-the-wall power.
While Martin is a powerhouse unto herself, the vocal alchemy of Delta Sugaris not the work of a single talent. In combination with what she likes to term her "co-vocalists," the vocal blend that Delta Sugar produces is pure, unadulterated gospel-tinged, neuron-tingling magic where the sum is even richer than the already soul-melting parts.
CLASSIC ROCK MAGAZINE UK - PICK OF THE WEEK
ROLLING STONE MAGAZINE'S PICK OF THE WEEK
#1 RECORD ON IBBA BLUES BROADCASTERS UK
"THE HURRICANE FORCE OF HOWLIN WOLF AND TINA TURNER. IT SIMPLY HAS TO BE HEARD TO BE BELIEVED" - ROB BOWMAN
"I DON'T CARE WHERE YOUR GENRE PREFERENCES LIE, THIS IS AN OUTSTANDING ALBUM ON ANY LEVEL" - RHYTHM & BOOZE
"INDISPENSABLE, SAMANTHA MARTIN, THE NEW SOUTHERN-SOUL TORNADO" - PARIS MOVE, FRANCE
"IT'S NOT FOR THE FAINT HEARTED, IT'S GOT BAGS OF BALLS" - BLUES AND SOUL MAGAZINE
DEBUT SINGLE ON THE AIRWAVES AT CBC, BBC - UK AND ABC - AUSTRALIA
"IT'S THAT GOOD, A SUPERB ALBUM" - BLUES IN BRITAIN
"RAW, POWERFUL, FUNKY" - JAZZIZM, NETHERLANDS
A BIT MORE ABOUT SMDS & RECKLESS ONE & THE CREW THAT MADE IT COME TO LIFE…
The album was released via Gypsy Soul Records on Nov 20, 2020
Producer: Renan Yildizdogan & Darcy Yates
Mixed by: Ross Hayes Citrullo & Renan Yildizdogan
Mastered by: Peter Lyman at Infrasonic Sound
Album Artwork: Dave Krovblit & Roberta Landreth
Label: Gypsy Soul Records
Distributor: Fontana North, FUGA, Proper Distribution
Canadian Agent: Julien Paquin at Paquin Artists
European Agent: Manny Montana at Teenage Head Music
UK Publicist: Peter Noble
GAS Publicist: Joerg Timp
Benelux Publicist: Hans Broere
Australian Publicist: Annie Johnson
Canadian Publicist: Amanda McCauley
US Publicist: The Syndicate
Digital Marketing: Sara Franczyk
European tour scheduled for June-July as well as November-December 2021. Our big challenge is that we need to tour this record to make a bigger impact as the band is renowned for their sell-out shows in Europe. We already had 2 full European tours and a support slot for a very big act cancelled in 2020 and 2021.
If you're a MusicOntario member, get in touch with Sam Rayner to find out how to apply to be featured!