Communities Connect (Hamilton): Take Your Songs from Zero to Hero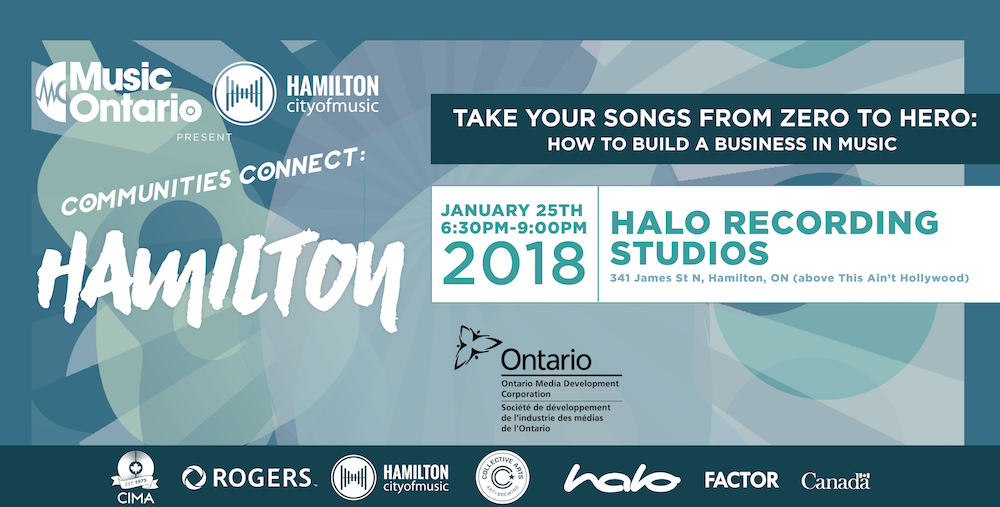 When

Thu 25th January 2018

Where

Halo Recording Studios - 341 James St N, Hamilton, ON L8L 1H3

Web

Tagged as
MusicOntario & Hamilton City of Music Present
Communities Connect Hamilton
Take Your Songs from Zero to Hero: How to Build a Business in Music
When: January 25, 2018
Where: HALO Studios (341 James St. N, Hamilton, ON)
"Take Your Songs from Zero to Hero: How to Build a Business in Music" will cover the ins and outs of navigating the business of music. Join our group of successful panelists as they discuss the opportunities and challenges faced by individuals in various aspects of the ever-changing music industry, as well as key advice on how to follow in their footsteps. From music management, indie labels, social media, sync and licensing, and making it as a professional musician, we'll cover all perspectives in this casual info session! The panel will be followed by a networking session and live showcase from Hamilton's own Gillian Nicola.
PANELISTS:
Madeline Wilson (Owner, Front Room Entertainment)
Artist Management, Concert Promotion and Special Event Production
Dre Pao (Artist & Social Media Specialist)
Independent musician with 2.5 million views on his first single "WithoutChya"
Brad Machry (Manager, Royalties & Licensing, True North Records | Host of Stringed Theories on CFMU 93.3FM)
Record Label, Distribution, Publishing - Catalog Management, Revenue Streams, Sync Licensing
Sherry Sinclaire (Owner, Sinclaire Creative Services)
30-year veteran of the music industry including work with Big Machine, Virgin Records, Universal Music, Bell Media
Hosted by: BRIAN WEST (Host: Afternoon Drive Y108 FM Hamilton)
Bonus: this event is FREE to attend!
Get your tickets here: https://communitiesconnectjan2018.eventbrite.ca