MusicOntario @ SXSW 2018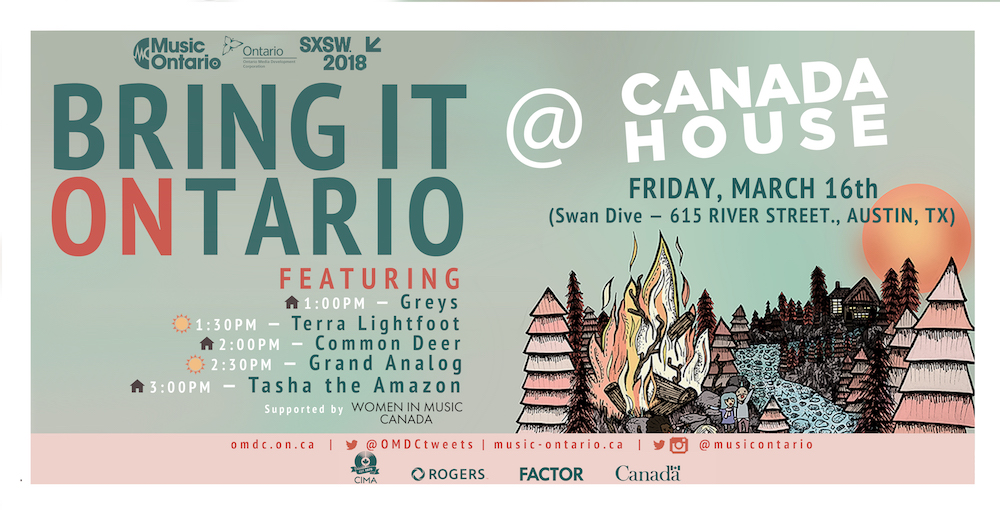 When

Fri 16th March 2018

Where

Austin, TX

Web
Bring It ONtario's set to sizzle at SXSW!
March 16, 2018 in Austin, Texas (Swan Dive - 615 Red River St)
MusicOntario and Ontario Media Development Corporation (OMDC) are excited to present an incredible lineup made-up of some of Ontario's finest artists at 2018's SXSW conference! Join us at Canada House for an afternoon filled with music, refreshments, snacks under the warmth of the hot Texan sun!
The full lineup is:
Friday, March 16, 2018
1:00pm Greys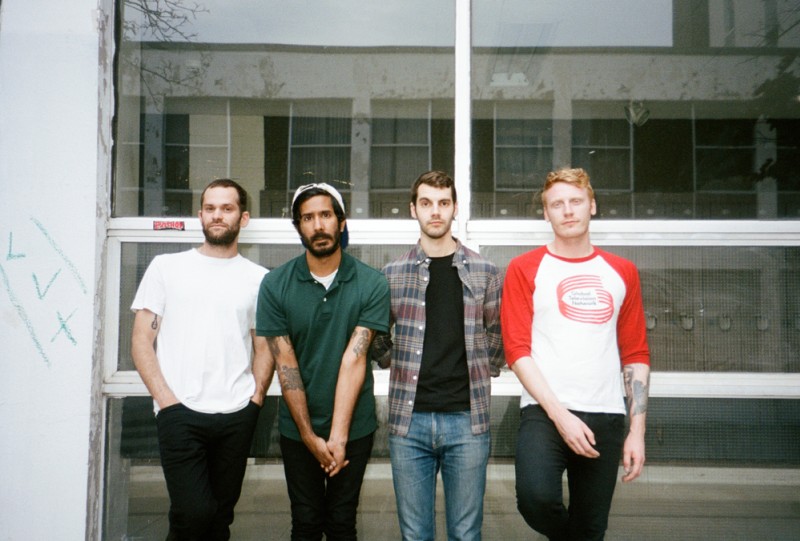 Greys are best known for their trademark onslaught of discordance, tempered with heavy guitar textures and subtle dynamics. They build a spacious and melody-driven environment atop their noise rock foundation; unprecedented atmospheric depth while never compromising their characteristic cacophony. Shehzaad Jiwani, Cam Graham, Colin Gillespie and Braden Craig fearlessly explore every musical extreme, simultaneously delivering their most intense and accessible moments, often within the same song. Jiwani's lyricism explores topical and pertinent social issues, while delving into interpersonal reflections, capturing ethereal moments with a genuine sincerity and vulnerability. Greys references call to mind groups as disparate as Sonic Youth, Portishead and Brian Eno without ever losing sight of what defines the band - a distinct mixture of melody and dissonance, order and chaos, volume and substance. Earning a reputation for endless touring and DIY work ethic, Greys have performed alongside the likes of Japandroids, White Lung, Bully, Preoccupations, Death From Above 1979 and many more. Greys push the boundaries of loud music and the expectations of a 21st century punk band.
1:30pm Terra Lightfoot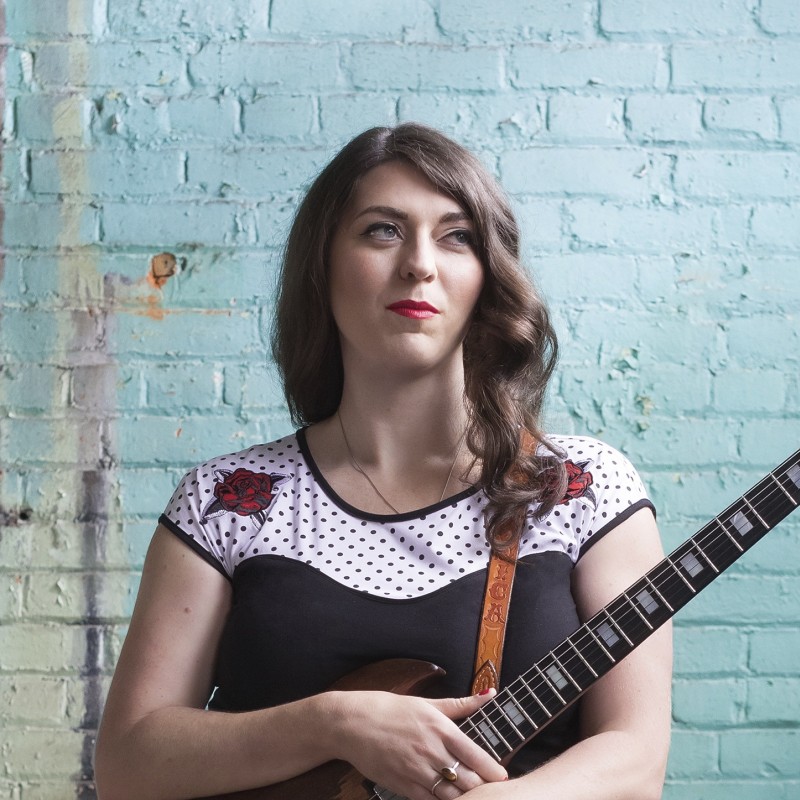 Whether you're talking about her as a songwriter, guitarist or vocalist, one thing is indisputable: roots rocker Terra Lightfoot is a ferocious talent. Terra released her self-titled debut album in 2011; its critically acclaimed follow-up, 2015's Every Time My Mind Runs Wild, marked the artist's arrival as a striking songwriter and compelling live performer. 2017 brought two new albums: the orchestral collaboration Live in Concert and her third studio album, New Mistakes. On the latter, Lightfoot offers up something rare: the kind of genuine document that can only come from a road-tested breed of songwriter and performer. Shot through with the guitarist-vocalist's powerful, bluesy soul, vivid lyrics and ferocious six-string virtuosity, it's an unforgettable outing — one that has won praise from the likes of No Depression, Pop Matters, Guitar Player, Twangville, and The Boot, and earned a nomination for a 2018 JUNO Award for Adult Alternative Album of the Year.
2:00pm Common Deer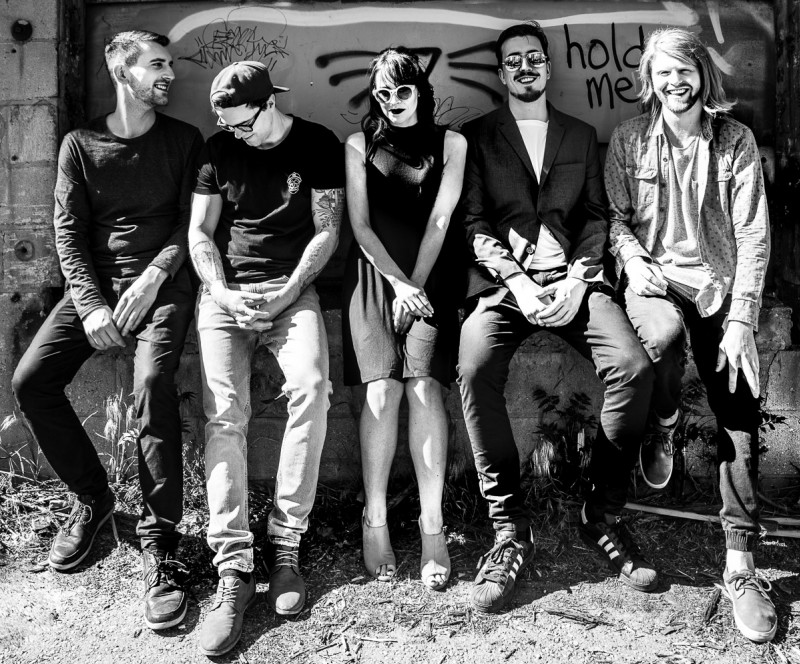 Some artists want to shine a light in the darkness. Common Deer come with an arsenal of floodlights.
As if two lead singers weren't enough, competing for an audience's attention is Adam, who juggles cello, synth and lead guitar; he is Common Deer's not-so-secret weapon. Together with Graham, their string arrangements elevate the band's sound beyond an everyday rock band; as a rhythm section, Liam and Connor also take an orchestral approach to their arrangements. There is never a dull moment on stage at a Common Deer show.
2:30pm Grand Analog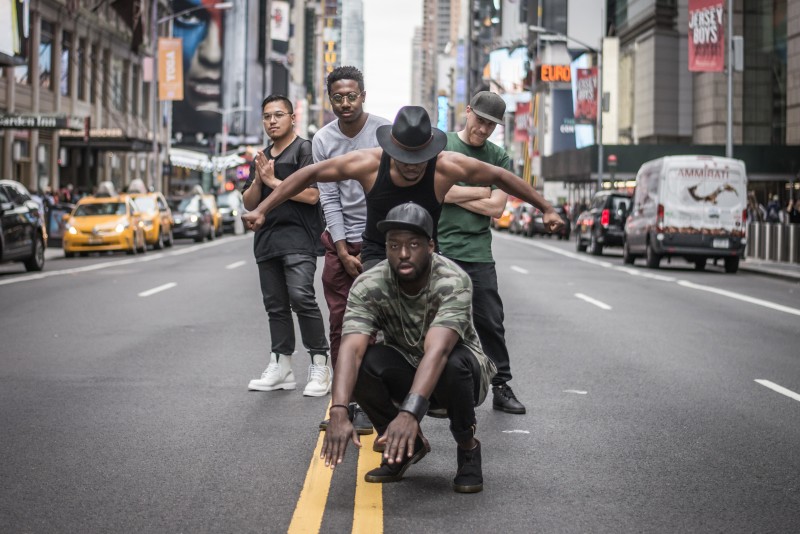 Grand Analog is a group of record collectors, musicians and beat junkies. Their sound is a beautiful mess of rap'n'roll, dub 'n' soul. Each personality in this collective brings something unique to the table. Odario and DJ Ofield blame their father, a reggae DJ, for cursing them with the love of music, bass and trouble. Warren Bray is the secret sauce on bass, TJ Garcia trips the light fantastic behind his drums and Aubrey McGhee reinvents the saxophone. Their critically acclaimed albums boast an infectious array of soundscapes "sweetening their hip-hop cocktail with everything they can get their hands on."
3:00pm Tasha the Amazon *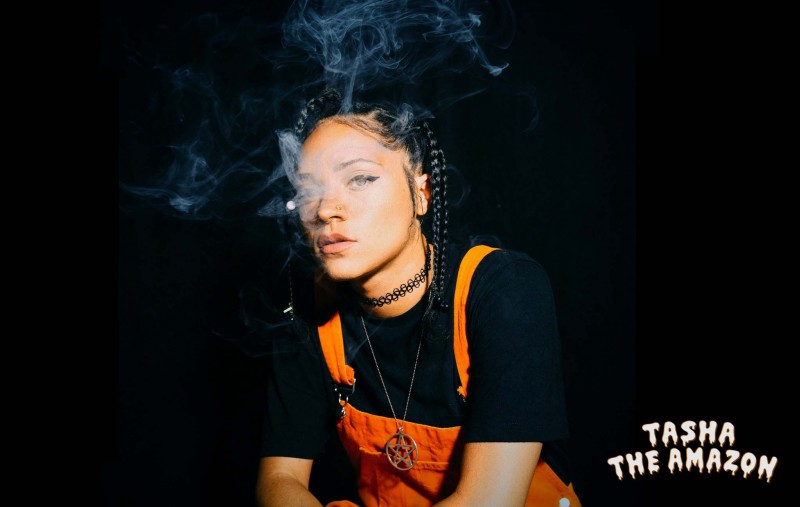 Toronto's Tasha the Amazon is an award-winning artist, producer and bad gyal. Notorious for rude stage antics and warehouse parties, VICE described her as "fearless and peerless". Billboard called her a buzzworthy "party starter". Respect Magazine called her sound "electrifying and rowdy". This reputation has elevated her to stages across Europe, Mexico, Canada, and the US.
The German-Jamaican powerhouse released her debut "FIDIYOOTDEM" to critical acclaim. Millions of streams later, Tasha dropped the EP "Die Every Day" in late 2016. An onslaught of dark anthems, the album was nominated for 'Rap Recording of the Year' at the 2017 Juno Awards, with songs featured on major playlists such as Apple Music's "A-List" and Dr. Dre's "Pharmacy". The single "Picasso Leaning" became the most uniquely popular song in Toronto on Spotify, and won an MMVA for "Best Hip Hop Video", the first female winner in the category's history.
Her new single "Ways" dropped via XXL in late 2017, with playlist buzz building to a new album this spring. Produced by herself and Danthrax (together, they form the duo Bass & Bakery), Tasha's music boldly represents the future of hip hop.
Meet the new school.
*Supported by Women In Music Canada
Listen now on Spotify!