MusicOntario & JAZZ.FM91 present Tune Up Toronto: Focus on Jazz 2018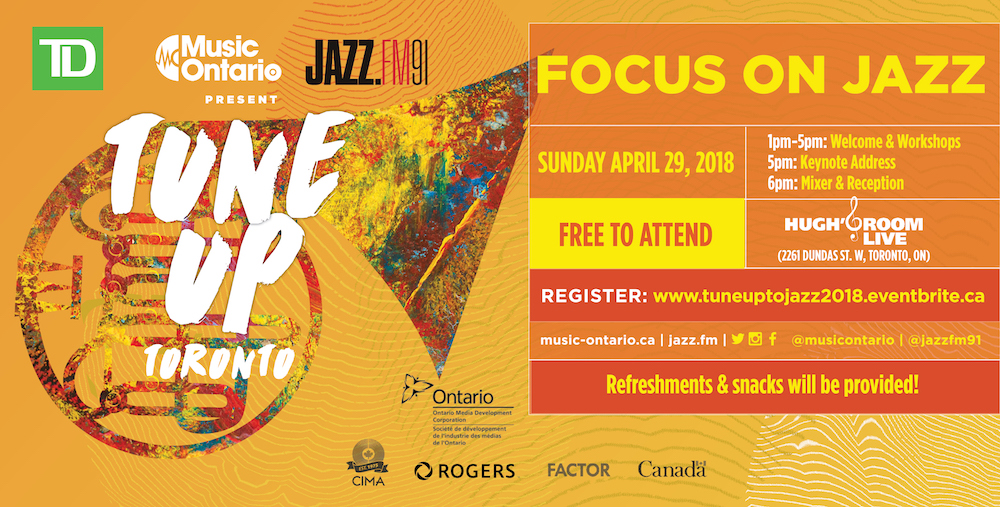 When

Sun 29th April 2018

Where

Hugh's Room Live - 2261 Dundas St. W, Toronto, ON

Web

Tagged as
MUSICONTARIO & JAZZ.FM91 PRESENT TUNE UP TORONTO: THE JAZZ WORKSHOP!
April 29, 2018, 1:00-7:00PM @ Hugh's Room Live - 2261 Dundas St W, Toronto, ON M6R 1X6
Price: FREE TO ATTEND
Tune Up Toronto is a MusicOntario workshop series designed to cater to the needs of local music communities, for artists and emerging music professionals alike. This edition of Tune Up TO teams up with TD and Jazz.FM91 and is exclusively designed for Ontario's JAZZ community, featuring a day of workshops and networking curated to advance your performing, recording and touring careers. Top players in the industry will give you the inside track on how to grow and thrive.
Schedule:
1:00 PM: Welcome
1:15 PM: Session 1 - Breaking Barriers: Mental Health in Music
Mental health has been an important topic in the music industry as of late, and rightfully so! Mental health issues can have a huge impact on your life and career. Studies have shown that working in the music industry can have a negative effect on your overall well-being, so we're here to discuss why that is, where you can find help, and what we can all do to improve our self-care while working in the industry we love.
Presentation by Dr. John Chong followed by panel and Q&A.
Panelists:
- Moderator: Rosalyn Dennett (Singer-songwriter & Musician)
- Mike Schwartz (Musician, Speaker, Influencer, and Author of "The Musician's Guide To The Rock Star Lifestyle")
- Dr. John Chong (Medical Director of the Musicians' Clinics of Canada)
- Teresa Cirillo (Vocal / Performance Mentoring, Studio E)
2:20 PM: Session 2 - From Passion to Profession! How to Make it in Music
Success occurs in many forms, and when it comes to the music industry, there are numerous routes available to take. As a musician, utilizing your skills in different ways and being open to new opportunities can lead to financial growth and better career stability. Join our group of talented musicians and hear how they've turned their passion into a profession, both on-stage and behind the scenes!
Presentation by Lara Solnicki followed by panel and Q&A.
Panelists:
- Moderator: David Wall (Director of Community Outreach and Education - Jazz.FM91)
- Lara Solnicki (Jazz Vocalist, Composer & Poet)
- Josh Grossman (Artistic Director - TD Toronto Jazz Fest)
- John Devenish (Musician, Actor & Jazz.FM91 host)
- Ernesto Cervini (Drummer & Composer)
3:35 PM: Session 3 - Connecting the Dots: The Business of Music
The music industry is a multi-faceted beast, and it can seem there is an endless amount of information to take in when building your career. To make it easier, we're bringing together some key players in the industry to discuss the need-to-know, nitty gritty details, including: the inner workings of labels, grant writing and digital marketing.
Presentation by Amanda Martinez followed by panel and Q&A.
Panelists:
- Moderator: Richard Fenton (Festival and Event Producer, Film & TV Producer & Record Producer)
- Amanda Martinez (Singer/Songwriter)
- Samantha Everts (Arts Administrator & Grantwriter, YouRockRed - Boutique Music Agency)
- Erin Kinghorn (Owner - eEK! Productions – Marketing, Funding, Digital Playlisting)
4:45pm: Break
5:00 PM: Keynote - An Interview with Larnell Lewis
6:00 PM: Reception