Communities Connect: London - CMAO R2I Tuneup Conference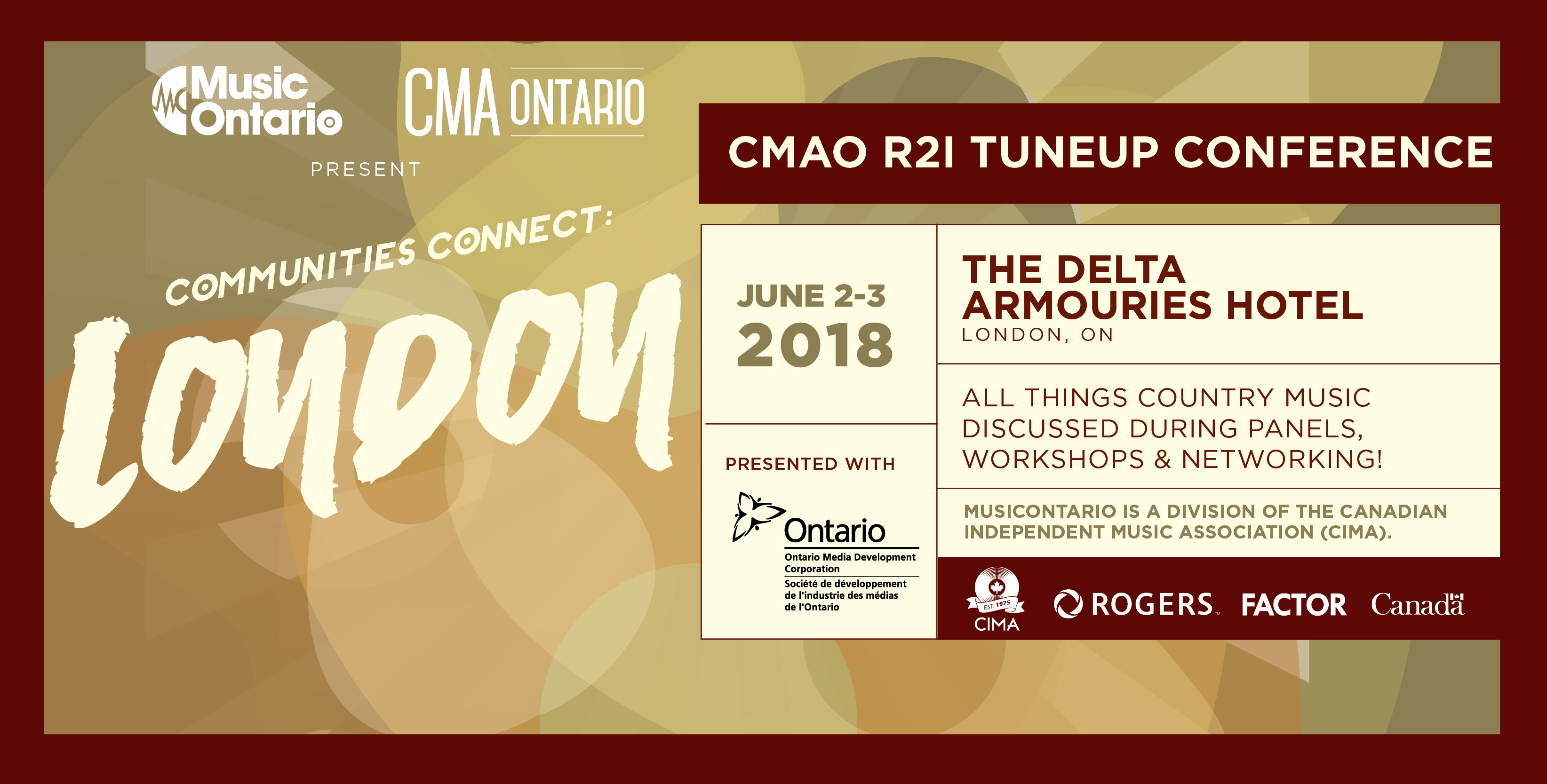 When

Sat 2nd, Sun 3rd June 2018

Where

The Delta Armouries Hotel (325 Dundas St, London, ON N6B 1T9)

Web
MusicOntario Communities Connect is all about bridging the gaps between Ontario's vibrant music markets! During our Community Development Research Project (CDRP), we asked musicians, artists and industry professionals across the province what types of support and education they hoped to have access to regionally. London, ON is hosting the Country Music Association of Ontario Awards in 2018, and we're going to provide crash courses on how smart artists can survive and thrive in today's competitive market with emphasis on building a fan base, online merchandising, tours and more!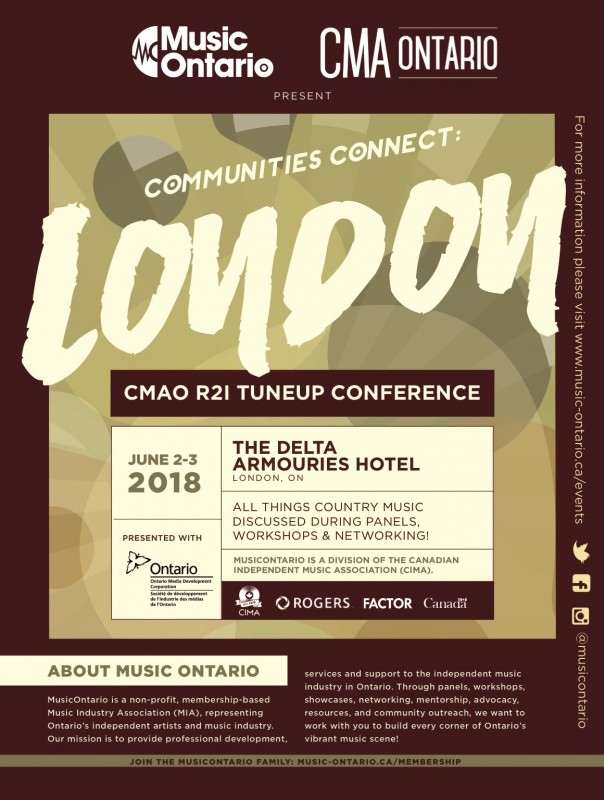 ---
Day 1 - June 2, 2018
8:00am - Registration
9:15am - Welcoming Address - Cathie Faint
9:20am - R2I Networking Roundtable: On The Fast Track To Success
Accelerate your career relationships. Join us for an interactive 90-minute session of roundtable discussions offering unique opportunities for learning and professional exchange. Get direct access to funders, agents, managers, labels, producers, talent buyers and festivals. Come prepared to engage in in-depth discussions, give and receive targeted feedback, meet colleagues with similar interests, and learn from the questions and experiences of your peers. Following the model of a typical "speed dating" session, you will have the opportunity to speak with key presenters and industry participants as you rotate around the room.
Bruce Good, Artist/Immediate Past President, CMAOntario (Facillitator)
Aaron Pritchett, Artist/Songwriter
Amanda Kingsland, National Music Director/COUNTRY Brand Program Director, COUNTRY 101.1
Andrew Karis, Administrator, ACTRA/RACS
Brian Allen, President, AMPLUS Productions
Cathie Faint, President, Catherine Faint Entertainment
Chuck Thompson, President, Thompson Entertainment
Demetri Manuel, Trackside Music Festival
Jason Barry, Producer/Writer/Musician/Studio Owner
Jennifer Goheen, Havelock Country Jamboree
Jodie Ferneyhough, CCS Rights Management
Kathryn Hummel, A&R/Marketing & Promotions, Royalty Records
Ken Boyer, Marketing Manager, Warner Music Canada
Kim Stoneburg, Tour Manager, Aaron Pritchett
Michelle Carpenter, Communications Office, TV Marketing, Research & Brand, CBC
Michelle Wright, Artist; Patrick Duffy, President, Attention Design Inc.
Paul Sanderson, Barrister & Solicitor, Sanderson Entertainment Law
Paul Shaver, Vice President/Head of Nielsen Music Canada
Sam Arraj CPA, CA, Seeds Chartered Professional Accountants
Stefanie Purificati, Agent, APA Canada
Steve Kassay, Vice President Programming, Durham Radio
Tracey Singer, Manager, Meghan Patrick
11:00am - The Business Of You: Turning Passion Into Profession
Evolving technological advancements have changed the music industry climate and quickly transformed how people consume music and how artists make it. To own their success, artists now need to be musical entrepreneurs. They need to develop their image and brand and know how to assess their value, raise money, manage their time and projects, cultivate engagement, and market their art – just like a business. Find out what it takes to manage yourself successfully – from the routine administrative tasks to strategic planning - and when "doing-it-with-others" outweighs "do-it-yourself".
Chuck Thompson, President, Thompson Entertainment (Moderator)
Tracey Singer, Manager, Meghan Patrick
Aideen O'Brien, Director Supervision & Publishing Canada, Music, Entertainment One
Paul Sanderson, Barrister & Solicitor, Sanderson Entertainment Law
Sam Arraj, CPA, Seeds & Co.
Andrew Karis, Administrator, ACTRA/RACS
12:30pm - AGM Lunch
This is your association and the opinion of every member counts. Join us in shaping the future of your CMAOntario at the 2018 Annual General Meeting. The AGM offers the opportunity to network with fellow members, engage with the association's goals, progress and possibilities, hear the visions of your association's leaders, and have a direct impact on the direction and decision-making of the association. Most importantly, members in good standing will have the chance to vote on the motions that come before the association and cast their votes for candidates running for the available seats on the CMAOntario Board of Directors. (Please confirm your planned attendance at the AGM.)
Cathie Faint, President, Catherine Faint Entertainment
Sam Arraj, Treasurer, CMAOntario
Brian Allen, Secretary, CMAOntario
2:00pm - Digital, Streaming And Radio: Navigating The Terrain Of Artist Discovery
Not so long ago, radio ruled the world of music discovery, pushing music to the fan. Now, streaming has become the main means of consumption, with fans driving the process. In a landscape dominated by services such as Spotify, Apple Music, Tidal and Amazon, it is possible to have a hit without radio – or much of the public – even noticing you. The opportunities for discovery are now global. With so many specialist playlists for acts to be added to, new artists are bypassing the gatekeepers and finding themselves generating repeat plays where they had none previously. But has streaming liberated new artists from the constraints of regimented radio playlists only to replace that system with a different set of gatekeepers? What tools are available for artists to move listeners along the fan acquisition pipeline, and when does it turn into revenue?
Paul Shaver, Vice President/Head of Nielsen Music Canada (Moderator)
Amanda Kingsland, National Music Director/COUNTRY Brand Program Director, COUNTRY 101.1
Alexandra Bellissimo, Manager, Digital Revenue Development/Streaming, Warner Music Canada
Mike Denney, President, MDM Recordings
Georges Tremblay, President, Believe Digital
3:45 - Demorama: A Live Feedback Session
A perennial favourite, the DEMORAMA LISTENING SESSION, provides you with the captive audience you've always wanted. Come listen as seasoned music professionals play and review select recordings from the CMAOntario audience, weigh in on song structure, lyric writing, chord progression, and share their initial reactions to your work. Get into their heads and learn what they listen for when hearing new demos and be part of the discussion about what makes a strong first impression and why. This is a chance for artists to meet and discuss their work with fellow songwriters, while getting personal feedback from a distinguished panel from both a craft and business point of view.
Dave Woods, Host, In the Country Podcast (Moderator)
Jason Barry, Producer/Writer/Musician/Studio Owner
Doug Oliver, Artist (Cold Creek County)/Producer
Bob Funk, Producer/Musician
5:15pm - Dinner Break
7:00pm - New Faces Showcase & Concert
---
Day 2 - June 3, 2018
8:30am - Registration
9:30am - Developing Your Image: The Big Reveal
Your brand is more than just your logo – it is your identity as a band or as an artist. It's how you first appear to people, how you market your music, how you're seen and considered. It's the thing people will recognize in an instant as you, as your look, as your creative output. Now more than ever, visual content is king. This includes not only your live performance, but your online and offline assets as well. (website, promotional photos, social media handles, profiles and communication, logos, video, album design, merchandise, etc.). Hear best practice advice on building a consistent brand through graphic design, imagery, and mission-specific language to elevate your memorability and audience awareness. This weekend 8 emerging artists had the opportunity to participate in a professional photo shoot with the eminent Rob Waymen. Here, the panel will demonstrate the difference a single good photo can make on your entire brand.
Stefanie Purificati, Agent, APA Canada (Moderator)
Patrick Duffy, President, Attention Design Inc.
Rob Waymen, Photographer
Antoine Moonen, Creative Direction+Design
11:15am - Getting The Most Out Of Phrasing, Rhythm And Rhyme: A Songwriting Workshop
Turning an observation or inspiration into a song can be like striking a match. Sometimes it leaps into flame, sometimes it sparks, fizzles and smokes. Sometimes you can't find a match. Whether you've been stuck writing the same song over and over, can't seem to finish an idea, or you're just looking for new ways to expand your sound, you'll find practical tools to help you grow as a musician and writer. In this session, we will discuss and demonstrate different ways to approach writing a song, navigating the curse of the second verse, writing alone vs. collaboration, and harnessing your muse.
Patricia Conroy, Artist/Songwriter (Moderator)
Jason McCoy, Artist/Songwriter
Aaron Pritchett, Artist/Songwriter
Tebey, Artist/Songwriter
1:00pm - SOCAN 101: The Ins And Outs Of Rights And Royalties (Luncheon Presentation) - Melissa Cameron Billions of new sound recording releases each month require both rights owners and music services to employ specialized software and systems to register and license works, and to account for and pay out on royalties - all on a global basis and at extremely high speed and volume. SOCAN and its predecessors have been administering the performing rights of Canadian songwriters, composers, lyricists, and music publishers for more than 80 years. That tradition continues today in an organization that is leading the way in the rapidly evolving music industry and is dedicated to upholding the fundamental truths that music has value and music creators and publishers deserve fair compensation for their work. In this lunch and networking session, SOCAN A&R Representative, Melissa Cameron-Passley will cover the basics about SOCAN, royalty administration, rights management, synch placements, registrations and licensing.
Register here: https://conference.cmaontario.ca/