MusicOntario & The Bout present Pack your bags & road cases: Breaking into the international marketplace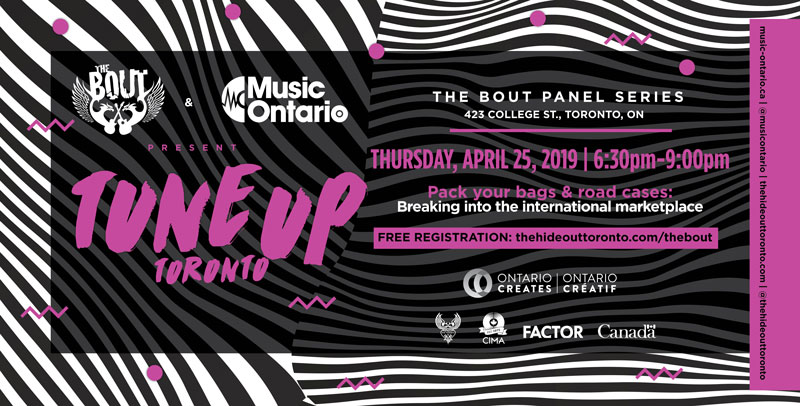 When

Thu 25th April 2019

Where

The Hideout, Toronto, ON

Web
TUNE UP TORONTO: THE BOUT PANEL SERIES
January-April 2019 @ The Hideout (423 College St., Toronto, ON)
MusicOntario is joining forces with The Bout @ The Hideout in 2019 to present a series of panels designed to equip emerging bands and artists with some of the tools they will need to build their careers in the music biz!
Thursday, April 25, 2019:
Pack your bags & road cases: Breaking into the international marketplace
Building a global network in the music industry is so important if you want to earn a living as a musician. Who is going to represent your music in different territories, and how can you get booked at major conferences, festivals and events? It's all about being export-ready, budgeting your cash for the right events, and timing your travel to meet the buyers and tastemakers that you can do business with around the world.
But export is so much more than just buying a plane ticket, a delegate badge and showing up! Learn the nitty gritty of international trade as a Canadian artist or company, and familiarize yourself with the bodies that can support and elevate your investments!
Panelists:
Nadia Elkharadly - Addicted Magazine (Media) - Moderator
Evelyn Cream - FACTOR (Funding - Manager, Collective Initiatives, Sponsorships & Outreach)
Jordan Howard - CCS Rights Management (Publishing, Sync & Licensing)
Mar Sellars - Mar on Music (Artist Manager, Publicist & Journalist)
Trisha Carter - Canadian Independent Music Association (Music Export Manager)
Keep Up To Date