JUNOs Host City Music Exchange: Kitchener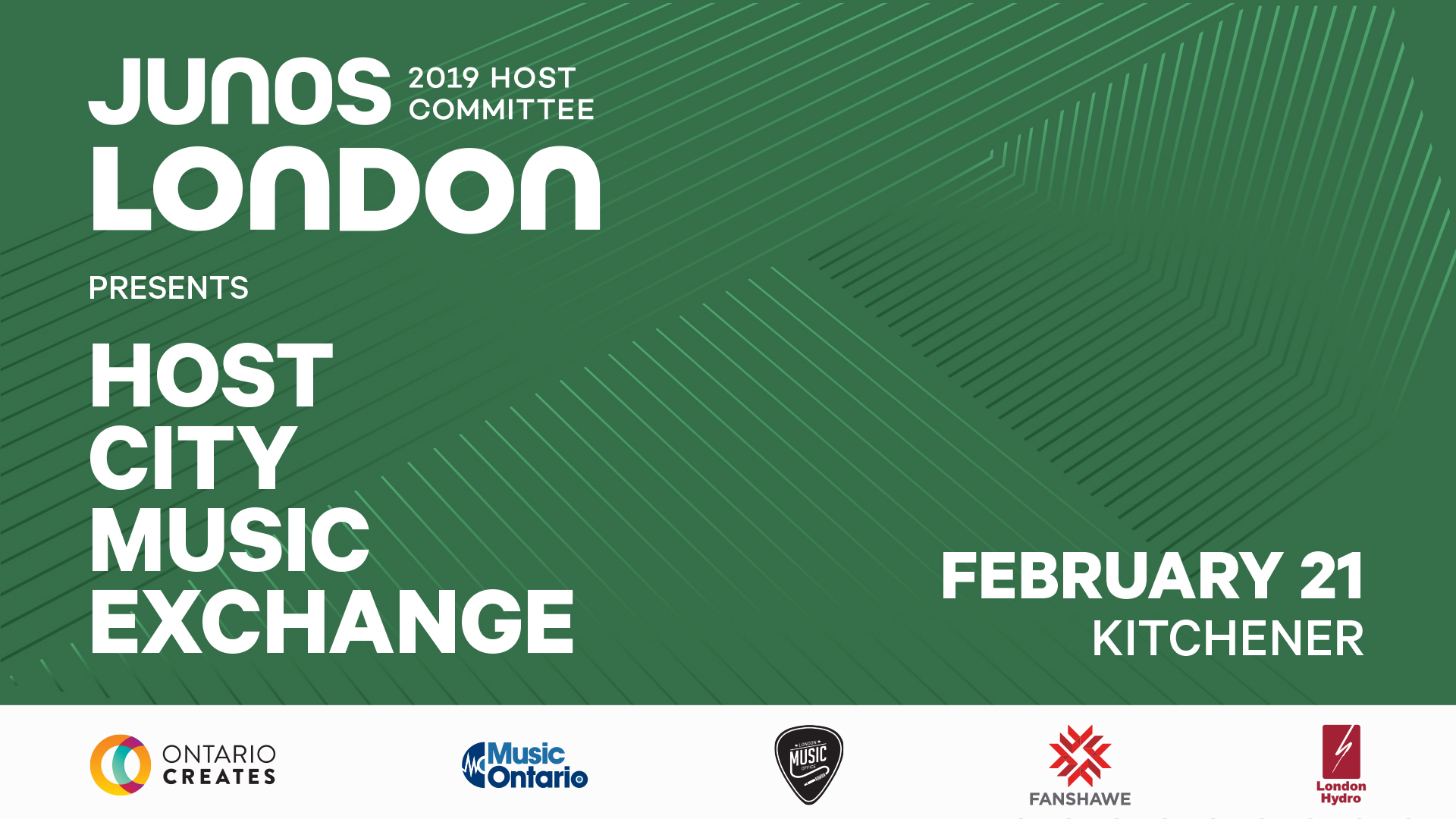 When

Thu 21st February 2019

Where

Kitchener, ON

Web

Tagged as
MUSIC CITIES EXCHANGE
Presented by the JUNOs, City of London & MusicOntario
February 21, 2019 – The Rotunda, City Hall, Kitchener, ON
MusicOntario is excited to partner with the 2019 JUNO Host Committee, London Music Office and Ontario Creates on the Host City Music Exchange in the lead up to the 2019 JUNO Awards in March!
The Host City Music Exchange will travel to Mississauga (February 7th), Kitchener (February 21st), and Windsor (February 28th). Each stop will include discussions on the JUNOs and secondary markets, a school assembly promoting music education, industry panels, and then a free concert featuring London artists alongside local musicians. Featured artists include Averages, Lost in Japan, Julia Haggarty, Casper Marcus, Daytrip, Charlie Weber, and the Glorious Failures. This all will culminate with a showcase in London during JUNO Week.
The schedule for the event is as follows:

4:30pm: doors open

5:00 – 5:10pm: Presentation #1 – Music Cities Presentation
Talent Development in Secondary Markets. Exploring the unique opportunities and understanding irreplaceable attributes secondary markets present to music creators and industry.

5:10 – 5:15pm: Presentation #2 – JUNOs 2019 Presentation
What to expect & how to engage!

5:15 - 5:45pm: Panel #1 - Meet Your Allies in Ontario's Music Industry
Emy Stantcheva (MusicOntario) – moderator
Andrew Karis (ACTRA RACS) – neighbouring rights
Derek Wilson (FACTOR) – funding body
Liana White (CFM) – union
Lisa Fiorilli (WorkInCulture) – professional development organizations
Melissa Cameron-Passley (SOCAN) - PRO
5:50 - 6:30pm: Panel #2 - Building Your Team & Understanding the Biz
Cory Crossman (City of London) – Moderator
Claire Rosenbaum (Eggplant Entertainment) – manager
Emmanuel Patterson (Live Nation) – promoter
Graham Stairs (Popguru Sound & Vision) – publisher/manager
Julia Appleton & Francy Goudreault (Lighthart) – artists
Kaya Pino (Supergroup) – music supervisor
6:35-7:30pm: Speed Meetings (Roundtables or One-on-Ones)
Your chance to meet the panelists and each other! Take notes during the panels and prep your questions to make the most of this great networking opportunity.

SHOWCASES – 10th floor of City Hall
7:45 PM Joni NehRita (Kitchener)
8:30 PM Daytrip (London)
9:15 PM Lost In Japan (London)
10:00 PM Jessie T (Kitchener)