JUNOs Host City Music Exchange: Windsor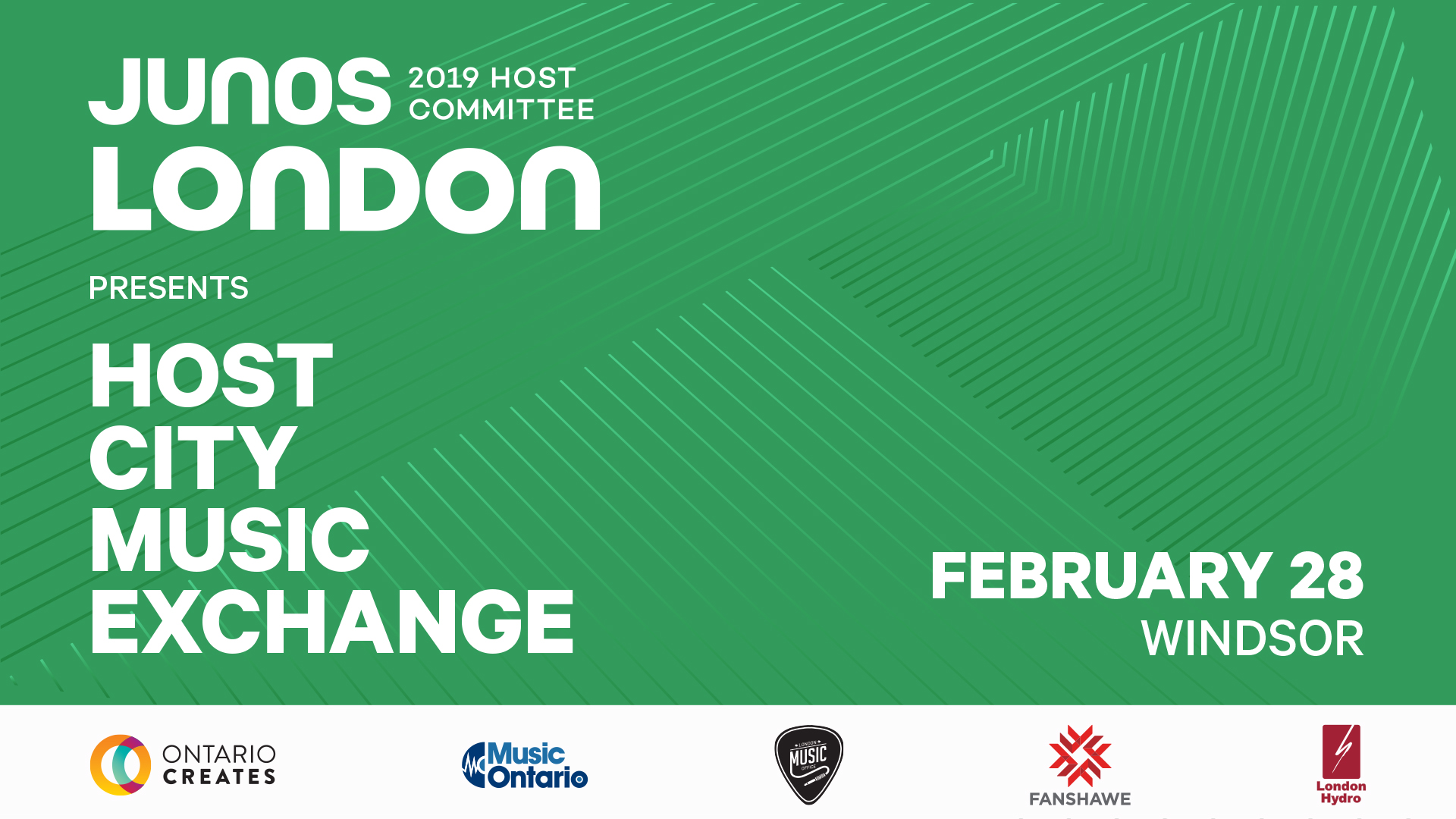 When

Thu 28th February 2019

Where

Phog Lounge - Windsor, ON

Web

Tagged as
MUSIC CITIES EXCHANGE
Presented by the JUNOs, City of London & MusicOntario
February 28, 2019 – Phog Lounge, Windsor, ON
MusicOntario is excited to partner with the 2019 JUNO Host Committee, London Music Office and Ontario Creates on the Host City Music Exchange in the lead up to the 2019 JUNO Awards in March!
The Host City Music Exchange will travel to Mississauga (February 7th), Kitchener (February 21st) and Windsor (February 28th). Each stop will include discussions on the JUNOs and secondary markets, a school assembly promoting music education, industry panels, and then a free concert featuring London artists alongside local musicians. Featured artists include Averages , Lost in Japan , Julia Haggarty , Casper Marcus , Daytrip and Charlie Weber and the Glorious Failures. This all will culminate with a showcase in London during JUNO Week.
The schedule for the event is as follows:
4:30pm: Doors open at Phog Lounge
5:00 – 5:10pm: Presentation #1 – Music Cities Presentation
Talent Development in Secondary Markets. Exploring the unique opportunities and understanding irreplaceable attributes secondary markets present to music creators and industry.
5:10 – 5:15pm: Presentation #2 – JUNOs 2019 Presentation
What to expect & how to engage!
5:15 - 5:45pm: Panel #1 - Meet Your Allies in Ontario's Music Industry
Sam Rayner (moderator) - MusicOntario
Geoff Stairs – FACTOR
Melissa Cameron-Passley - SOCAN
Julia Train - MROC
Julie Tucker – Arts Council Windsor Region
Lynne Bradac – Windsor Federation of Musicians Chapter (CFM)
5:50 - 6:30pm: Panel #2 - Building Your Team & Understanding the Biz
Sam Rayner (moderator) - MusicOntario
Rick Fenton - Gypsy Soul Records
Tyrone Buccione – Artist
Darryl Hurs – Indie Week / CD Baby
Tim Fraser – Home County Music & Art Festival
6:35-7:30pm: Speed Meetings (Roundtables or One-on-Ones)
Your chance to meet the panelists and each other! Take notes during the panels and prep your questions to make the most of this great networking opportunity.
SHOWCASE CONCERT - FREE ADMISSION / ALL AGES
Olde Walkerville Theatre
8:00 PM Crissi Cochrane (Windsor)
8:45 PM Averages (London)
9:30 PM Charlie Weber (London)
10:15 PM The Brandy Alexanders (London)