MusicOntario x Prism Advisory Clubland Show @ NXNE 2019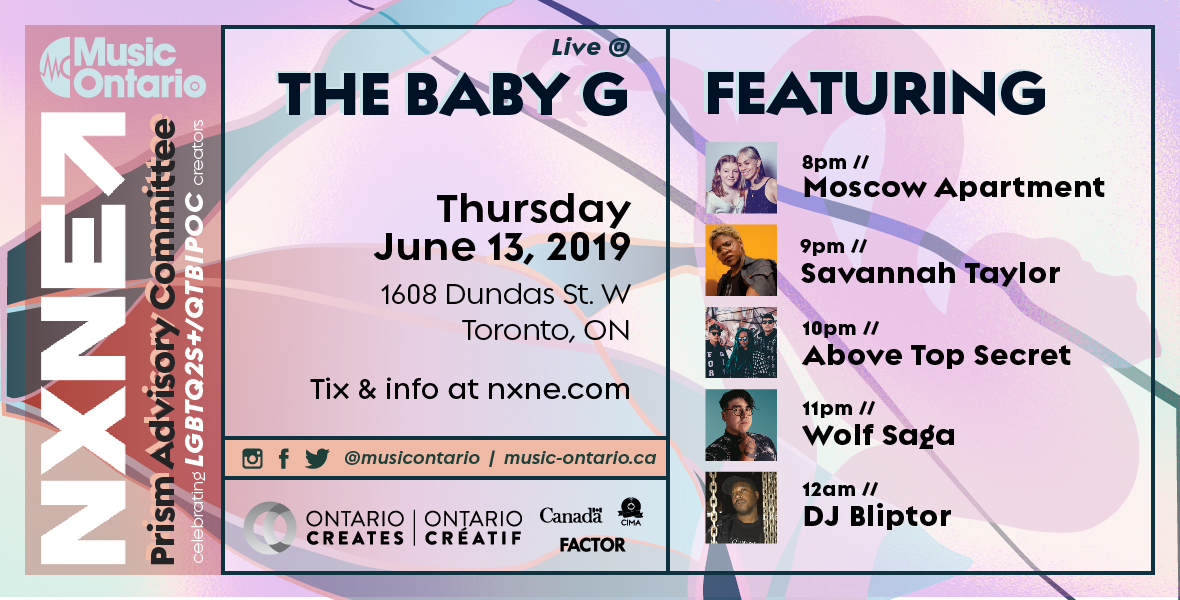 When

Thu 13th June 2019

Where

The Baby G - Toronto, ON

Web

Tagged as
MusicOntario x Prism Advisory Clubland Show @ NXNE 2019
Thursday, June 13, 2019, 8:00PM-1:30AM @ The Baby G (1608 Dundas St. W, Toronto)
MusicOntario is working with its Prism Advisory Committee (supporting LGBTQ2S+/QTBIPOC creators), comprised of artist and music industry community leaders and activists to develop opportunities, safer spaces, and visibility for queer and non-binary voices in Ontario's music biz. By teaming up with NXNE this year, we hope to create a safe, accessible and celebratory space to showcase some of the local talent that is challenging the norm through compelling music and art that reflects the voices and experiences of so many of our peers, role models, families and friends.
Check out our stellar lineup below:
8pm – Moscow Apartment
Recent winners of Slaight Music's national 'It's Your Shot' songwriting contest and the grand prize of a $100,000 Artist Development contract, teenage Toronto folk-propelled duo Moscow Apartment is as instinctive as they come.
The naturally-engrained chemistry between singers-and-songwriters Brighid Fry and Pascale Padilla is evident on the five-song, self-titled EP that has earned them extensive airplay on CBC and NPR and also reflected in a performance style that has made them the darlings of the Winterfolk, Winnipeg Folk and Guelph Hillside festivals.
Currently recording an EP with six-time Grammy winner Vance Powell (Chris Stapleton, Jack White) and several other notable producers for Hidden Pony Records, Moscow Apartment's fresh, genuine and candid perspective through the window of their adolescent world speaks to the masses as only they can. Organic music at its finest.
9pm - Savannah Taylor
Savannah Taylor is a young Brampton-based singer-songwriter. Her music bridges the sonic nuances of neo-soul, boom bap and r&b with the raw storytelling of early jazz and blues. With the release of her debut EP "Supernova ", it's clear that her music is a catalyst for learning who she is and creating meaningful projects that her audience can reflect on. She will certainly win you over with her soulful voice and passionate performance.
10pm – Above Top Secret
Rising like a phoenix from the ashes of Toronto experimental band Abstract Random, comes the force now known as Above Top Secret. Cultivating a hardcore electro/dub/hop mash-up sound with self produced bass heavy beats and politically charged lyrics, ATS demands attention and helps to awaken those still asleep in this ever growing matrix we call life.
Three people, six years, two albums, countless shows. From galleries and parks, to clubs and festivals across North America and Europe. Not new to the game, Above Top Secret has opened for amazing acts like Shabazz Palaces (Sub Pop Records), THEESatisfaction (Sub Pop Records), Lal (Coax Records) and Phèdre (DAPS Records).
11pm – Wolf Saga
London, ON born indigenous electro-pop artist Wolf Saga aim is to not only keep you dancing with his catchy hits, but also wants to invoke deeper thought behind the meanings of his tunes. His songs reference current issues near to him, from missing indigenous women (Stolen), women's rights (Walls), and misogynist attitudes found in his peers (Get Back). His belief that music has the ability to carry strong messages while still making you dance shines through in his honest songwriting.
Having started his musical career as a DJ he performs in many artist settings. Most recently including intimate acoustic performances where he can connect with his audiences through his storytelling. Wolf Saga also performs as a three piece band and is no stranger when it comes to performing on festival stages. He is currently working on a full length album while also maintaining a busy tour schedule focused on bringing his message to the masses.
12am – Bliptor
Toronto DJ, established singer, producer and artistic concept generator. Making waves in Toronto's queer scene at events such as BB Hump Day, "C'mon Sis", Pride Toronto and cofounder of Raven's Vision.
Working with the likes of TiKA Simone, Unbuttoned, and Zaki Ibrahim. Theatre has shaped their use of sound production and storytelling to always leave the audience not at all where they started.
Ticket info can be found at https://www.nxne.com/!
Keep Up To Date