MusicOntario Communities Connect Sudbury @ NOMFA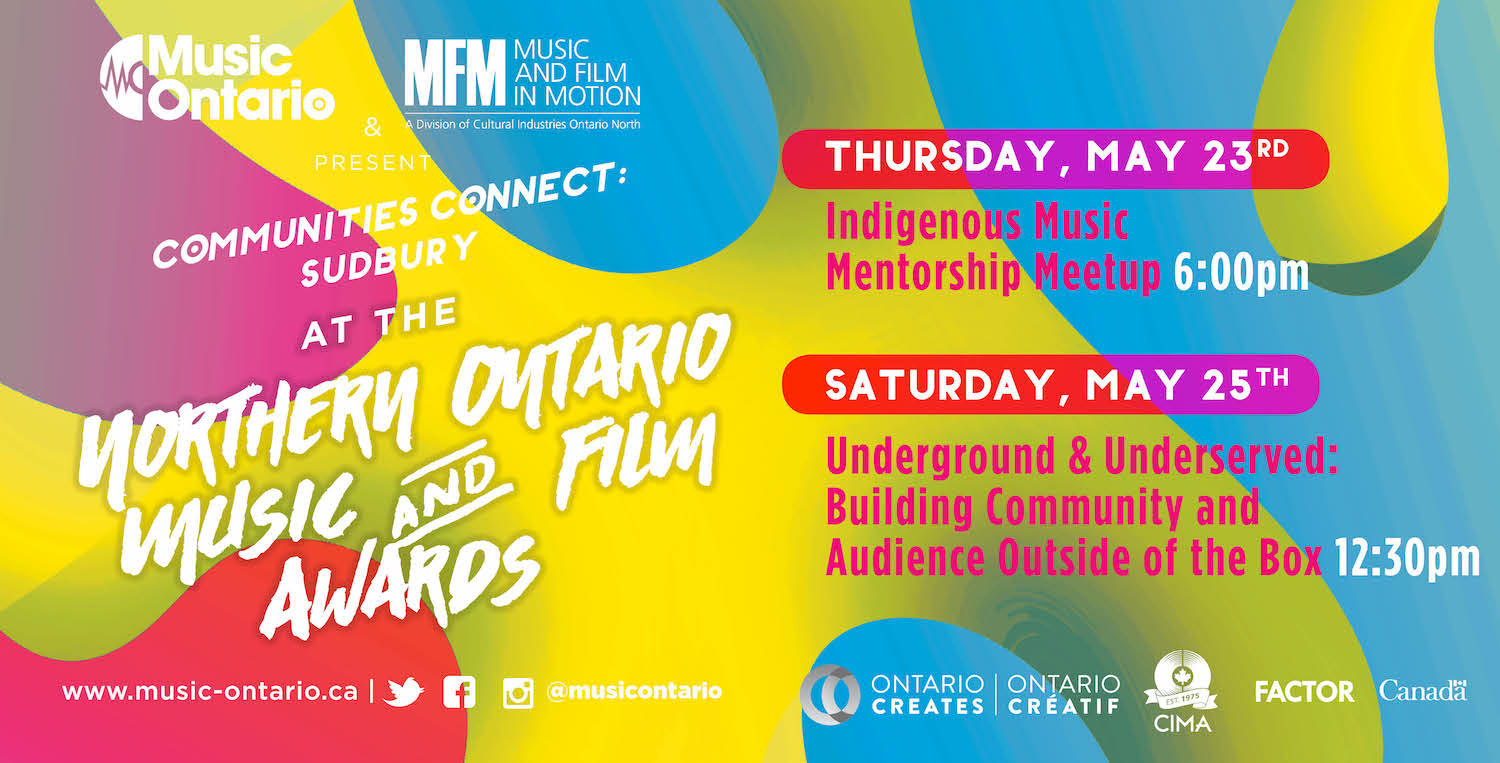 When

Thu 23rd - Sat 25th May 2019

Where

Sudbury, ON

Web

Tagged as
MusicOntario Communities Connect Sudbury @ The Northern Ontario Music & Film Awards (NOMFA)
May 23 - 25, 2019 - Sudbury, ON
MusicOntario returns to Sudbury on May 23rd to 25th for the 2019 edition of NOMFA. NOMFA is the region's largest gathering of the music and film with a purpose to celebrate the best in film, television, and music created in Northern Ontario over the past two years. It's going to be a great few days of panels, showcases and celebration, and MusicOntario is proud to present two events during the conference:
Thursday, May 23rd
Indigenous Music Meetup
6:00pm - McEwen School of Architecture, 85 Elm Street, Boardroom
You're invited to join MusicOntario, MFM and friends for the Indigenous Music Meetup at NOMFA 2019! Come meet the participants of the Indigenous Music Mentorship Program, and other artists, industry folks and funders for an informal hangout as NOMFA 2019 gets underway.
Saturday, May 25th
Underground & Underserved: Building Community and Audience Outside of the Box
12:30pm - McEwen School of Architecture, 85 Elm Street, Lecture Hall
From electronic and EDM to hip-hop and multicultural fusion, some of the biggest hits on the charts stem from genres that still don't get the support or resources from the industry that match the demand for, or success of the music. Share positive ways to connect, engage and mobilize with like-minded creators, and discuss how the industry is changing its tune to create space for the underground, different voices and fresh perspective in the mainstream.
Moderator: Sarah Ferries (Music Ontario)
Panelists: Rosina Kazi (LAL), Ayo Leilani (Witch Prophet), Melody McKiver (artist)