ONTARIO @ Folk Alliance International 2020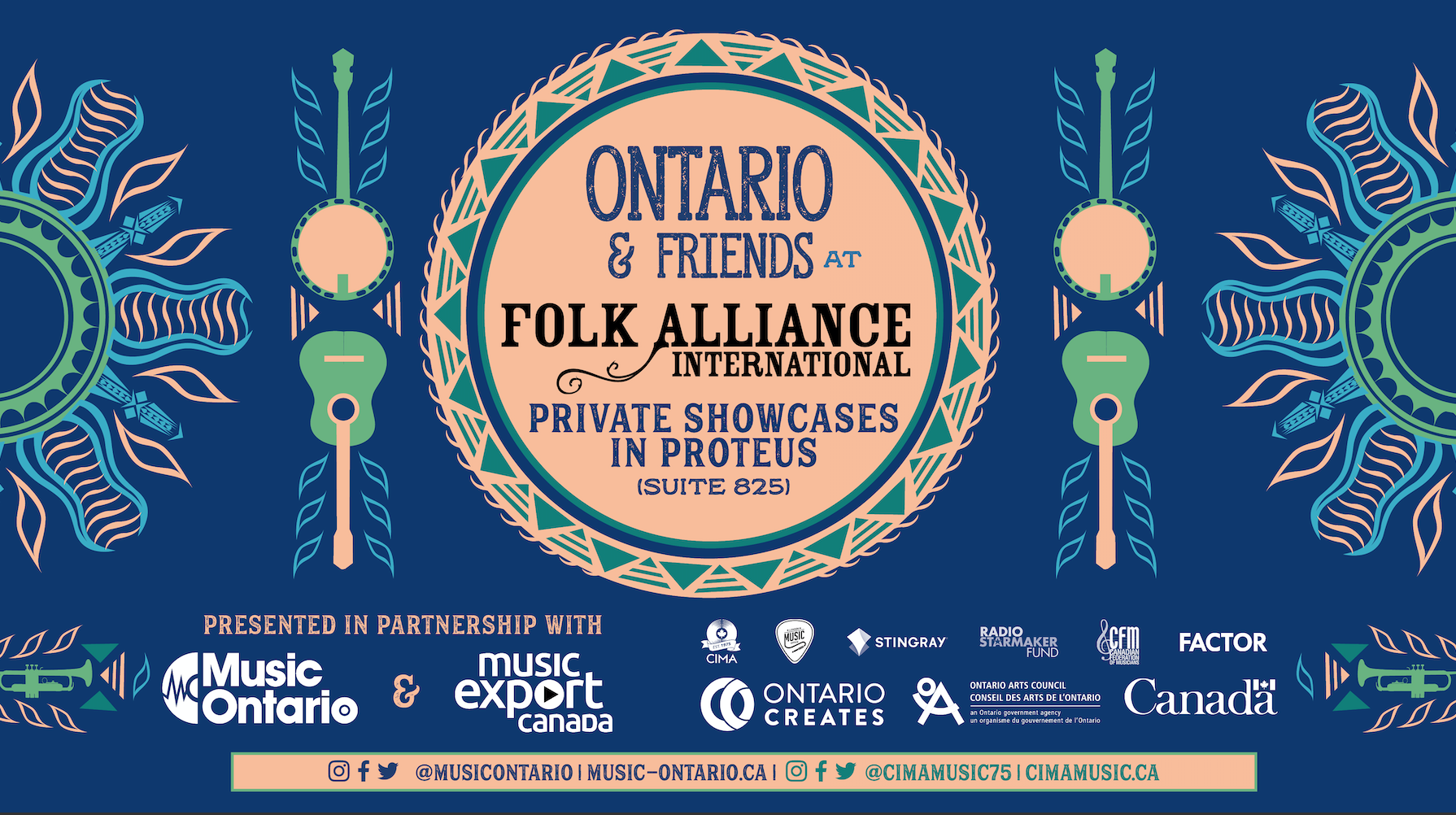 When

Wed 22nd - Sun 26th January 2020

Where

New Orleans, Louisiana

Web
MUSICONTARIO @ FOLK ALLIANCE INTERNATIONAL 2020
January 22-26 @ The Sheraton – New Orleans, LA
MusicOntario is pleased to host our sixth annual private showcase suite at Folk Alliance International 2020, the world's largest gathering of the folk music industry and community (crossing a diverse array of genres including Blues, Bluegrass, Roots, Celtic, Cajun, Appalachian, Traditional, World, and Singer-Songwriter), boasting a comprehensive conference, custom business opportunities and hundreds of showcasing opportunities.
MusicOntario creates this opportunity to support Ontario-based artists and companies in their export, touring, and professional strategies. We welcome applications from tradition and iteration of folk music.

CORIN RAYMOND

Corin Raymond is a legendary Canadian songwriter whose songs are covered by a far flung community of established roots musicians and campfire enthusiasts. Acoustic Guitar calls Raymond's latest JUNO award-nominated album Hobo Jungle Fever Dreams "a hypnotic, literate collection of dark tall tales.... Romantic, immediate, and narcotic", while The Globe and Mail says "Corin Raymond is a storyteller who by the end of the night you'll have known your whole life."

KEN WHITELEY
Ken Whiteley has won a Canadian Folk Music Award, a Genie Award for Best Original Song in a Canadian film, Lifetime Achievement Awards from Folk Music Ontario and the Mariposa Folk Festival and has been nominated for 7 JUNO Awards and 17 Maple Blues Awards.  Called a "roots music master", he's performed at major folk and blues festivals throughout North America including being the first Canadian act invited to play at the famous Chicago Blues Festival. Ken has performed and recorded with such legends as Pete Seeger, John Hammond Jr., Tom Paxton, Blind John Davis, Basia Bulat, Raffi and countless others. 
A prolific songwriter, a gifted and versatile instrumentalist and a powerful singer, as well as very successful record producer, one critic has said, "with Ken Whiteley our enjoyment is virtually assured."
He says, "I sing, write songs and perform to touch people's hearts and minds and bring them together."
www.kenwhiteley.com
https://www.youtube.com/user/kenwhiteleymusic/vide...  
https://soundcloud.com/ken-whiteley
https://www.facebook.com/KenWhiteleyMusic/
https://www.instagram.com/ken_whiteley/
GILLIAN NICOLA
Hamilton's Gillian Nicola took an unusual route to becoming a folk/Americana singer-songwriter: trained in classical voice, Nicola spent her teens gigging in a classic rock cover band, singing Janis Joplin and Led Zeppelin before launching herself into alt-country when she began writing songs. Nicola's music centres around her chameleonic vocals - at one moment with a hint of tobacco in her voice, the next outright rocking - strummed and finger picked guitar, and versatile, melodic songwriting. Nicola's songs are often built around open and alternate guitar tunings that allow her to throw her music theory upbringing out the window. Nicola released her debut full-length album, Dried Flowers, on May 3, 2019. Produced by John Dinsmore, the album reached number 3 on the earshot! Folk/Roots/Blues Charts and has received CBC airplay throughout Canada.
Dried Flowers is "an alt-country-folk-rock masterclass in the affairs of the heart" - Hamilton Magazine.
www.gilliannicola.com
www.facebook.com/gilliannicolamusic
www.instagram.com/gilliannicola
www.twitter.com/gilliannicola
CHLOE WATKINSON
"This woman has serious pipes" – Adam Carter, CBC, Canada 
Blessed with a voice that can be soft and sweet, or full of power and rasp, Chloe Watkinson transcends genres with ease. 
"Heartwrenching blues for the 21st Century!" – Pete Hawley, Tameside Radio 103.6FM, UK 
Chloe launched her solo career in 2018, performing at Toronto venues such as Roy Thomson Hall for the Women's Blues Revue, Yonge-Dundas Square, and two US/Canadian tours featuring shows at Toronto's Opera House, Thorold's Canal Bank Shuffle Festival, and dates in New York, Vermont and Quebec. Her current single "Able" is a harmonica-driven song about living with agoraphobia, and a positive message that we can all overcome our fears.
Informed by her experience, including singing alongside notable artists such as jazz icon Jill Barber, and Canadian rock legend Max Webster's Terry Watkinson (her dad), among others, Chloe brings her music to life on stage through bold and unapologetic performances.
https://chloelovesme.com/
https://www.facebook.com/chloelovesme
https://www.instagram.com/_chloelovesme/
https://www.youtube.com/channel/UC97kLyU288wI1qQqB...
https://open.spotify.com/artist/1c50onmSREKiuyq07u...
JOHN MUIRHEAD
With stories and songs that kindle late-night Canadian campfires, John Muirhead's heartfelt indie-folk sound will move you in more ways than one. From fingerpicked folk confessionals to upbeat roots-rock jams, John's award-winning song collection reflects the highs and lows of love, ambition, and living on the road. While he is based in London ON, John is a troubadour by nature and has played in living rooms, theatres, moving trains, and folk festival stages from coast to coast in Canada.
https://johnpmuirhead.com/electronic-press-kit
https://www.instagram.com/johnpmuirhead/
MADISON GALLOWAY
"PURE ENERGY AND ROOTSY BLUES SASS" – MusicOntario
Madison Galloway is an emerging voice in Canadian roots music hailing from small town Fergus, Ontario. She takes the stage with guitar, harmonica, and suitcase-drum, charming audiences with her catchy original tunes and soulful voice. Madison blends influences from folk, rock and blues, reaching back to pay homage to the great artists of the past while forging a sound all her own, that at times is gritty and groovy, and at others sweet and sunny! She's played hundreds of shows from local concert halls to prominent festivals, including Mariposa Folk Festival, Riverfest Elora, and Summerfolk and recently released her debut full-length album "Moon & Mercury". Catch Madison this weekend with Jonathan Markov on slide guitar for an incredible high-energy show!
https://madisongalloway.com/
https://www.facebook.com/madisongallowaymusic
https://www.instagram.com/madisongallowaymusic/
https://twitter.com/madison13music
KATHERINE FISCHER
"Katherine Fischer's unique pop confessionals are the medicine for when our hearts get sick, served with an eccentric dose of sugar to help it all go down." 
From coast to coast Katherine has played over 150 shows from festival performances at Winnipeg Folk Festival to living rooms with SOFAR Sounds. Her sophomore EP "Wildflower Heart" shares folky heart led narratives that rival your favourite coming of age novel. Katherine's songs weave the tellings of an empath soul, with radiant vocals, windblown guitar and a pop sensibility grounded in truth. Come to listen, stay to connect and, if anything, know that Katherine Fischer's songs are her gift to you. 
https://www.instagram.com/katherinefmusic/
https://www.facebook.com/katherinefmusic
https://open.spotify.com/artist/4JeHckTNyuauGu638T...
https://www.katherinefmusic.com/

LI'L ANDY
Pop Montreal calls Li'l Andy "Montreal's best country songwriter today." The Village Voice
describes his music as "Roots-based Americana that actually deserves to be made". In the past decade, he has released 4 albums, toured Canada extensively, been featured in the New York Times, and been named "Best Country/Folk Act" in Cult MTL four years in a row.
www.lilandy.com
www.instagram.com/thisislilandy
https://www.facebook.com/Lil-Andy-198820283504199/...
https://twitter.com/thisislilandy
https://open.spotify.com/artist/4KWCcDYRRuG5S55bzu...
JEREMY VOLTZ
Indie-folk artist Jeremy Voltz has a voice that is powerful and haunting, reminiscent of Jeff Buckley, Stevie Wonder, and Hozier. His lyrics are universal and heartfelt, and his songs have been featured in film and television. Currently playlisted on Spotify's Discover Weekly, his uplifting folk-song "One Day at a Time" has millions of worldwide listens and has won or placed in several songwriting awards, including The Great American Songwriting Contest.  As a vocalist, Voltz has performed for huge crowds on some of Toronto's greatest stages, including the Sony Centre, NXNE, and live on the CBC at the Glenn Gould Studio. Voltz's 2018 album, "Bend the Tracks", published by Nightingale Music, was editor's choice and pick of the month for October on APM Music. Voltz is currently working on his new Toronto Arts Council supported album, "Running Away", to be released early 2020.
https://jeremyvoltzmusic.com
https://instagram.com/jeremyvoltzmusic
https://facebook.com/jeremyvoltzmusic
https://open.spotify.com/artist/1Zu7L8siS7ugY35pTS...
https://itunes.apple.com/ca/artist/jeremy-voltz/13...
THE PAIRS
With three songwriters at the helm, The Pairs create a diverse repertoire using their individual lives as inspiration. Employing music as a tool for sharing stories of life's challenges, hope and hilarity, The Pairs inherently connect with their audience through their emotion-full performances. Powered by three classically trained vocalists and a former punk-rock drummer, these lifelong friends offer a unique blend of harmony and rhythm that will hug your eardrums and inspire you to dance!
THE HONEYRUNNERS
The Honeyrunners are a captivating Northern take on Southern roots – hot-blooded and rife with heartache. The diverse four-piece band continually garners radio, playlist and ad sync attention around the world, with a non-stop tour schedule and a penchant for avant-garde filmmaking. Their debut album, Everything Is On Fire, is slated for release April 11, 2020 on Gypsy Soul Records, playing host to a slew of Canadian talent: Carleigh Aikins, Micah Barnes, Marcus Bucci, Meg Contini, Tom Ionescu, Bruce Mackinnon, Samantha Martin, Tom Moffett, Andrew Moljgun, and Champagne James. The band has shared stages with many notable acts: The Sadies, The Trews, Philip Sayce, Nick Waterhouse, King Khan, USS, The Beaches, Skye Wallace, and others. They are fronted by Canadian songwriter, Dan Dwoskin (keys, lead vocals) and Peruvian engineer/producer, Guillermo Subauste (bass, vocals). Newer additions include Haig Beylerian (guitars, vocals) and Toronto-born film director, Lewis Spring (drums, vocals).
http://www.honeyrunners.com
https://open.spotify.com/artist/6sJKBtpEQZmSCSTb7L...
https://www.facebook.com/honeyrunners
https://www.twitter.com/honeyrunners (@honeyrunners)
https://www.instagram.com/honeyrunners (@honeyrunners)
https://www.youtube.com/honeyrunners
TERRA LIGHTFOOT
"If you haven't seen Terra Lightfoot perform live, then do yerself a favour and get a
ticket next time she's in town. Lightfoot is the total package: she can write a hooky tune, rip through a blistering guitar solo and sing the hell out of any song she likes." - CBC Music
"Canada's Terra Lightfoot has a huge voice and a big and gutsy guitar tone to match." - Guitar Player
"One of today's brightest emerging rock artists." – Twangville
"Ms. Lightfoot's voice is as dominant as ever, straddling Memphis soul and urban blues with ease, and boy… can she write a song." - No Depression
"She could be your new rock 'n' roll hero. Drawing from rock, soul & blues, Terra Lightfoot is a monster talent that will be gracing the world's largest festival stages in no time." - PopMatters
OKAN
Taking their name from the word for heart in the Afro-Cuban religion of Santeria, OKAN fuses Afro-Cuban roots with jazz, folk and global rhythms in songs about immigration, courage and love.
Winners of a Stingray Rising Star Award, OKAN's debut EP Laberinto earned independent music awards in both the world music and jazz categories. Recent touring activity has taken them across Canada and the U.S. with stops at Sunfest, Harrison and Middlebury festivals as well as Passim in Boston, Old Town School of Folk in Chicago and Hermann's jazz in Vancouver.
Born in Havana, Elizabeth Rodriguez is a classically trained violinist who served as concertmaster for Havana's Youth Orchestra. Magdelys Savigne hails from Santiago de Cuba and graduated with honours in orchestral percussion from Havana's University of the Arts. Both are JUNO-nominees for their work with Battle of Santiago and Grammy-nominees for their contributions to Jane Bunnett and Maqueque.
https://www.okanmusica.com/
https://www.instagram.com/okanmusicacuba/
https://www.facebook.com/okanmusica/
https://www.youtube.com/channel/UC0Cjv7gQjn9ii_iBK...
https://www.twitter.com/okanmusica
LACEY HILL
Lacey Hill is Oneida of Six Nations, Wolf Clan. She is a singer/songwriter and inspirational speaker. Lacey went solo launching her debut album titled 528 in 2013, independently. Which put her in the music scene and opened up the stage to perform her original songs. 2017 Hersophomore album 528 Volume II M has taken Lacey across Canada and on to international stages, Tv appearances, and also getting into the theatre scene as she composes music for Tara Beagans' sizzling hot theater performance 'Deer Woman' which has been travelling the world to New Zealand , Australia (SydneyFestival/Melbourne Art Center) and most recently to Scotland Edinburgh "Fringe Festival" where it was recognized by many reviewers and also received an award for *Best Moments* of the Fringe. Lacey is gearing up for 528 Volume 3 album release in 2020. For more Information, check out Lacey Hill @musiclacey on all the social medias to keep up with latest news.
Photo by Shane Powless
CATHERINE MACLELLAN
Canadian Folk music gem, Catherine MacLellan returns with her anticipated seventh album. COYOTE, 14 songs recorded and self-produced at her studio in PEI, is reflective and hopeful; a travelogue through heartbreak, loss and the joy of life. A musician's musician, respected by her peers for her talent and dedication to the craft of songwriting. A craft she had a front row seat to at an early age, watching her father, the legendary Gene MacLellan. Seven albums and countless awards, including a JUNO for Raven's Sun, Catherine's commitment remains at the heart of her work, evident to fans and industry alike.
Photo by Millefiore Clarkes
TANIKA CHARLES
Tanika Charles has revealed herself to be one of the best kept secrets in soul music. In 2016 Tanika independently released her debut album Soul Run, which went on to receive nominations for the Polaris Music Prize and the Juno Award for best R&B/Soul Recording of the Year. Tanika's sophomore album The Gumption (May 10th 2019 through the Italian label Record Kicks) picks up where Soul Run left off, continuing her tradition of marrying classic soul with modern production styles. Backed by her band The Wonderfuls, Tanika has embarked on five international tours since releasing Soul Run, performing in front of many thousands across nine different countries. Her music has been featured in televisions shows on HBO, CTV and CBC, as well as in nationally broadcast TV commercials. In 2017 Tanika made her theatrical debut in the touring production Freedom Singer.
Photo by Taha Muharuma

DIGAWOLF
Follow Diga's footsteps through the deepest snow, into the natural world, and reemerge on the other side with a new understanding of contemporary Canadian music. From Yellowknife, Northwest Territories to Aarhus, Denmark, Diga traveled the circumpolar world to bring his music to new heights. World music, soft instrumentals, and his Cohen-esque voice, work together to infuse Yellowstone with the sounds of the North. The lyrics embrace Diga's poetic sensibilities, describing an unknown world in the midst of modernity.
https://www.facebook.com/Digawolf/
https://twitter.com/Digawolf
http://www.digawolf.com
https://www.instagram.com/digawolf/
https://open.spotify.com/artist/1n3823h3KZYqMR8v2Q...
RYAN MCNALLY

AMANDA RHEAUME
One of Rheaume's great gifts as a songwriter is her ability to take the personal and make it universal, drawing upon her own experience to deliver messages with a wide resonance. She digs deep on her latest album The Skin I'm In, reflecting upon her Metis heritage, as on the profoundly moving title track and "Return To The Water," and addressing issues of identity and mental health.
Her earlier albums met with widespread critical acclaim. 2013's Keep A Fire earned her a 2014 Canadian Folk Music Award for Aboriginal Songwriter of The Year as well as a Juno Award nomination for Aboriginal Album of the Year, while 2016's Holding Patterns received a Canadian Folk Music Awards nomination.
An engaging performer, Rheaume has developed a following across Canada and in Europe, where she tours regularly.
www.amandarheaume.com
www.facebook.com/amandarheaumemusic
www.instagram.com/amandarheaume
MELANIE BRULEE
Explores the wide open spaces of the Wild West -- and she's got the voice to fill it. - No Depression
What most might call Americana, folk-rock or country music, bilingual artist Melanie Brulée colours her own, bringing a vintage respect to a modern sound by intertwining surf-style guitar tones and catchy melody hooks - all with the vibe of a speakeasy cabaret à la Tarantino.
Her music remains on regular rotation on CBC, Sirius XM, Stingray Galaxie, and community/college radio across Canada and the USA. Her third album Fires, Floods & Things We Leave Behind, explores themes of family, loss, and addiction.
With recent performances at SXSW and AMERICANAFEST, as well as acclaim from American Songwriter and No Depression, Melanie's charismatic performances are visibly making marks across Canada and the USA where she tours regularly. Melanie also runs workshops with young people on self-confidence and is currently working on a mental health podcast series aimed at touring independent artists.

www.melaniebrulee.com
OH SUSANNA
This Canadian songstress has a voice that can pierce a heart of stone. Her superbly crafted songs often tell stories of troubled souls who rebel against their circumstances to attain a quiet dignity. These are tales of longing and love, of small town joys and pains, of our simple feelings and strong passions. These are tales that look into our beautifully flawed human hearts. 
www.ohsusanna.com
https://www.ohsusanna.com/
https://www.facebook.com/ohsusannamusic
https://www.instagram.com/ohsusannamusic/
https://www.youtube.com/user/OhSusannaMusic
https://open.spotify.com/artist/3dnDLZsh8wQ0r90i7i...
ELISAPIE
Ambassador for Inuit culture, Elisapie represents the wild and rough beauty of the North. Her new album, The Ballad of the Runaway Girl, is the musical tale of an expatriate Inuk. She sings about the different facets and challenges of being a woman, but also an adopted child, a mother and a lover. Through this exploration of her northern roots and her femininity, we learn about an Inuk who is proud of her origins and who works for the recognition of her people's historic difficulties. Elisapie's journey started when she was given up for adoption as a baby, on the tarmac of an airport. She went on to grow up in Salluit, dreaming of the South. Then came her escape to Montreal, where she started a family and forgot about the extremes of the North. The artist is now reconnecting with her origins, offering her soulful down-home folk music as she tenderly looks back on her heritage. Her style is direct as she tells her story and makes aboriginal musical classics shine. This album goes back to her roots, with both soft and raw moments and her very own mix of Inuktitut, English and French, unveiling the woman behind the music.
www.bonsound.com/en/artist/elisapie/
OUR SHOTGUN WEDDING
FREEMAN DRE
Freeman Dre hails from the Toronto neighbourhood of Parkdale.
His tunes are direct, memorable, and romantic. The music is informed by a folk-rock tradition, with an influence from his Irish and Polish roots.
In concert, tracks like "Take this Show on the Road," invoke beer-swilling singalongs, while more romantic numbers such as "Whatever it Takes," trigger a few tears.
Like the late-night shot of whiskey, Freeman's Dre music hits you straight in the gut and then fills your head with the foolish idea that, with enough love, anything is possible.
TAMI NEILSON
Hailed as "a red-hot honky-tonker somewhere between Patsy Cline and Wanda Jackson with a little bit of Peggy Lee sophistication" (NZ Radio) and "a fire-breathing belter on her own terms" (RollingStone) multi-award winning Canadian and New Zealand based artist Tami Neilson's highly anticipated newest album, CHICKABOOM! will be released February 14, 2020. No one forgets the first time they saw Tami Neilson. She can hush a room with an original song that channels the hurting spirit of Patsy Cline or the sensuality of Peggy Lee, or bring the audience to its feet on a rockabilly raver. Having performed with Mavis Staples, Robbie Williams, Colin James, and many more, Tami Neilson has been hailed as "one of the best singers on the planet," Saving Country Music. HMV Canada noted: "There are singers and then there is Tami Neilson, for whom the word singer just isn't big enough."

http://www.tamineilson.com
https://www.facebook.com/tamineilsonmusic
https://www.instagram.com/tamineilsonmusic
https://twitter.com/tamineilson
https://www.youtube.com/user/tamineilsondotcom
CATRIONA STURTON
Big Heart, Big Lungs. Sings like an angel, plays like a beast. One woman, harmonica-driven band. After learning to file harmonica reeds in a back alley, Catriona became the bassist for Halifax teen-rockers, Plumtree (who inspired the cult-favourite book and movie, Scott Pilgrim, with their song of the same name). Multi-instrumentalist who plays harmonica, violin, guitar & bass (often at the same time). Her biggest claim to fame might be that she "May have written the best song to date about butt-dialing — "Calling From My Pants" - Critics Pick, Nashville Scene
https://soundcloud.com/catrionasturton
https://www.facebook.com/catsturton
https://twitter.com/catrionasturton
https://www.facebook.com/catsturton
https://www.instagram.com/catrionasturton/

ANGELA SAINI
Prairie-raised, Canadian roots artist Angela Saini is all about second chances and empowering others. Her ability to combine humanistic and honest themes laden with catchy hooks and memorable melodies make her entertaining as well as relatable. With three European and five Canadian tours under her belt, Angela is a 2017 Toronto Independent Music Award Winner and BBC Radio has called her "Massively talented." The songstress most known for her sunshine-soaked song "Living on the Bright Side" explores the shades between dark and light on her new album "Hope on the Stereo." The precarious balance between optimism and fear is a major theme, but hope always tips the balance.   
https://angelasaini.com
http://www.facebook.com/angelasainimusic
http://www.instagram.com/angelasainimusic
http://www.youtube.com/user/AngelaSaini
THE JERRY CANS
The Jerry Cans create music inspired by their hometown of Iqaluit, Nunavut, and life in the Canadian Arctic. With a unique mix of traditional Inuit throat singing and roots-rock sung in the Indigenous language of Inuktitut, The Jerry Cans are a distinctly Northern sound. The band is passionate about helping to preserve the Inuktitut language and are committed to challenging common misconceptions about life in the North. Their high energy performances have thrilled audiences in countries all across the globe including Australia, Scotland, Greenland, Cuba and Norway. 

www.thejerrycans.com
www.instagram.com/thejerrycans

KATEY GATTA
Katey Gatta writes songs and sings them. You might think she sounds a little like Norah, or Joni or even Janis - but the truth is, she steals a little from all of them. Sometimes people describe her voice as sultry and mesmerizing, and well, sometimes it is. She writes about all of things she doesn't understand, and sets her curiosity to the melodies that are always floating around her head. You'll struggle to forget her quirky, captivating performances.
https://ktgatta.com
https://facebook.com/ktgatta
https://instagram.com/ktgatta
https://ktgatta.bandcamp.com

POOR NAMELESS BOY 
His soft, melodic delivery is born from a keen perception of the human condition. This understated authenticity is why you'll find Poor Nameless Boy on the fringes of something deeper than modern indie-folk. In his quest to retain a certain humbled anonymity, Regina-based Joel Henderson has, in fact, made himself even more noticeable.
With shiver-worthy vocal tones reminiscent of Donovan Woods and Gregory Alan Isakov; Henderson's stark vulnerability sets him apart. Since the release of Activity Book (2013), and the stunningly beautiful Bravery (2016); Henderson has seen notable milestones, including a worldwide publishing deal and several successful international tours and showcases, and a Global Music Award.
On his new EP "Wake Up Call," released in March 2019, Poor Nameless Boy finds the perfect dynamic to tell deeply affecting stories. And though the songs themselves play out in the first person, their empathic ability to engage and insight is unparalleled. This cunning, relatable disposition puts Henderson in some rare company.

WOLF SAGA
London, ON born indigenous electro-pop artist Wolf Saga aim is to not
only keep you dancing with his catchy hits, but also wants to invoke deeper thought behind the meanings of his tunes. His songs reference current issues near to him, from missing indigenous women (Stolen), women's rights (Walls), and misogynist attitudes found in his peers (Get Back). His belief that music has the ability to carry strong messages while still making you dance shines through in his honest songwriting. Having started his musical career as a DJ he performs in many artist settings. Most recently including intimate acoustic performances where he can connect with his audiences through his storytelling. Wolf Saga also performs as a three piece band and is no stranger when it comes to performing on festival stages. He is currently working on a full length album while also maintaining a busy tour schedule focused on bringing his message to the masses.

www.soundcloud.com/enterwolfsaga
LYDIA PERSAUD
A fixture of Toronto's music community and sought-after collaborator, Oscar Peterson Award winner Lydia Persaud's debut album Let Me Show You was released May 2019 on Next Door Records. Rooted in folk and soul, the Humber Jazz graduate melds genres while Lydia's message shines through the power of her stunning voice. A member of the O'Pears and Dwayne Gretzky, and back up vocalist for Lee Fields & the Expressions and Royal Wood, Persaud stands alone on Let Me Show You. The release was met with shining acclaim from the CBC, Atwood Magazine, Buzzfeed, and more, and "Low Light" reached top 10 on CBC Music's Top 20 chart. Persaud has been nominated for two 2020 Canadian Folk Music Awards: Contemporary Singer of the Year and New/Emerging Artist of the Year. Persaud's recent touring accolades include shows with Serena Ryder, Jim Cuddy, Broken Social Scene, Donovan Woods, joining Lindi Ortega, Terra Lightfoot & Begonia as a special guest on The Longest Road Show

https://www.lydiapersaud.com
https://www.facebook.com/lydiapersaudmusic
https://www.instagram.com/the_lydster
https://twitter.com/lydiapersaud
https://www.youtube.com/user/Lydiapersaud
ROB MCLAREN
Rob McLaren is a folk musician based in Toronto, Ontario. A member of folk-rockers Union Duke and folk-grassers The Barrel Boys, Rob has been secretly plotting the release of "Rob McLaren II," the first full-length album of original material from the multi-instrumentalist. Named for his great-grandfather (making him Rob V for those keeping track at home), Rob McLaren II showcases the breadth of Rob's musical aptitudes and experiences, occupying a cozy nook between old-time, honky-tonk, and newgrass, while featuring the artist noodling away on a small heap of instruments. The songwriting is alternatingly sincere and silly, at times giving a nod to John Hartford, elsewhere evoking the subtlety of Red Headed Stranger-era Willie, or the tradition-minded collaborative spontaneity of the Highwoods Stringband. While varied in its approach, Rob McLaren II the album is a unified, musical portrait, collage-style, of Rob McLaren the artist.
https://robmclaren.ca/
socials: @robmclrn

JANICE JO LEE
Janice Jo Lee (she/her), aka Sing Hey, is folk artist of Korean ancestry. She is a contemporary folk-soul musician, spoken word poet, actor and educator from Kitchener, on Haldimand Tract treaty territory. She is passionate about building flourishing communities based in justice and joy through art. Lee performs vocal looping songs, with her trumpet, Korean jangu drum and guitar. She is a hard femme, queer, radical, comedian, truth-teller and trickster. Her latest compositions are Ancestor Songs, wailing and heart-wrenching melodies full of power and ferocity. 
Lee has performed across the country including at Verses Festival of Words (Vancouver), Artswells (Wells, BC), Breath In Poetry (Edmonton), Tonight It's Poetry (Saskatoon), Home County Festival (London), In the Soil (St Catharines), Hillside (Guelph), Small Word Music (Toronto), and YouthCanSlam (Ottawa). Currently she lives in Toronto performing with her trio, and organizes with SpeakNORTH. Upcoming are her albums Ancestor Song, and Lullabies.
http://janicejolee.ca
http://instagram.com/janjolee
http://facebook.com/janicejolee
http://twitter.com/janicejolee

BIG LITTLE LIONS
Big Little Lions have been described as 'a blissful marriage of new folk and sophisticated pop'. Prolific songwriting, infectious folk-pop style, and an offbeat, memorable live show. This award winning duo consists of Helen Austin and Paul Otten who, despite living thousands of miles apart, have found a way to connect and create music together. Despite being in two different countries, they have found common ground to share their message. Despite the pull to avoid the hard topics and pretend it's all ok - they've chosen to speak out. 
https://biglittlelions.com
https://www.facebook.com/biglittlelions
https://twitter.com/biglittlelions
https://www.instagram.com/biglittlelions/

ONTARIO's storied private showcase suite on the Folk circuit is back, featuring stunning performances, plenty of avenues to quench your late night thirst and cravings, and opportunities to connect with key Ontarian/Canadian music industry professionals and artists, in both creative and business capacities!
Ontario & Friends at Folk Alliance 2020 is presented in partnership with MusicOntario, Music Export Canada/Canadian Independent Music Association (CIMA), with support from Ontario Creates, the Ontario Arts Council, and the Government of Canada (through the Canada Music Fund). We also gratefully acknowledge and thank these generous sponsors and partners: The Foundation Assisting Canadian Talent on Recordings (FACTOR), Stingray Music, the Radio Starmaker Fund, The SOCAN Foundation, Re:Sound, the Canadian Federation of Musicians (CFM), and the London Music Office.
Keep Up To Date