CIMA & MusicOntario Annual General Meeting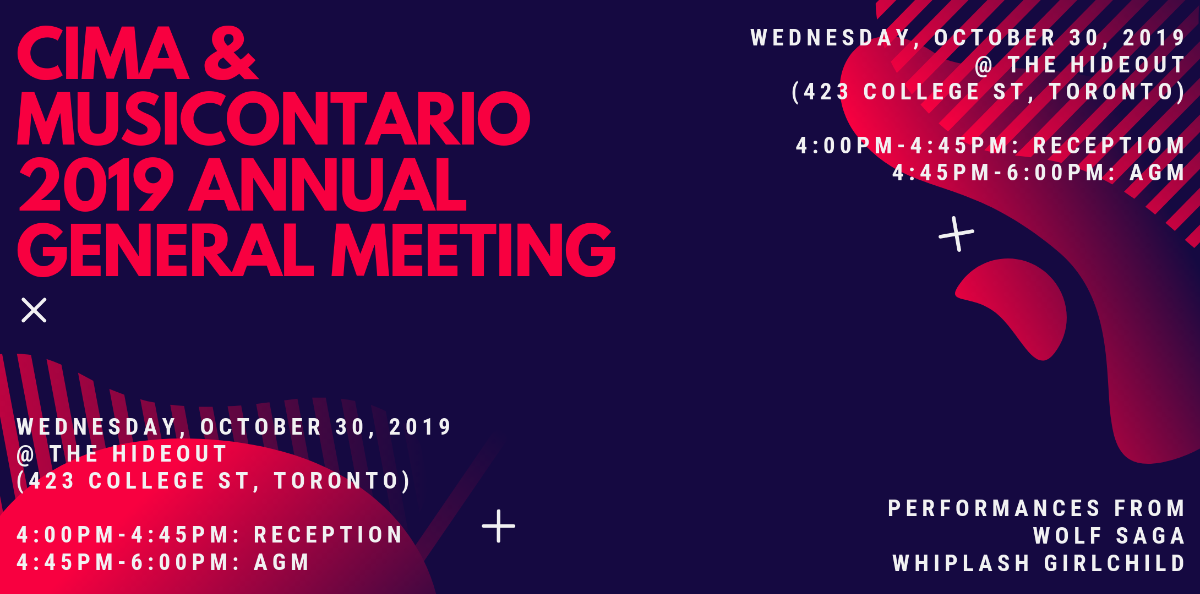 When

Wed 30th October 2019

Where

The Hideout - Toronto, ON
The Canadian Independent Music Association (CIMA) & MusicOntario are holding their Annual General Meeting Wednesday, October 30th, and we'd like to see you there. We look forward to welcoming our members, friends, colleagues, and partners as we look back on last year's successes and examine the new challenges we'll face in the coming year.
What's on tap? The election of a new Board of Directors, great live music, special guest speakers, food, beverages, and good times.
Live Performances From:
Wolf Saga
Whiplash Girlchild
Guest Speakers:
Kristin Grant, President, Westcott Multimedia
Topic: How data is changing the independent music industry: What Independents Should KnowKristin Grant is the president and founder of Westcott Multimedia, an automated advertising platform built for independent record labels. Their High-Frequency Marketing technology advises labels when to spend, how much, on who and then launches the ad in real-time. Grant writes as a contributor for Forbes on the intersection of music, media, and technology. She managed global playlist strategies at the Universal music group and has a master's in Music and Business from New York University.

Jeffrey Crossman, Trade Commissioner, Creative Industries, Global Affairs Canada
Topic: Export Support for Cultural EntrepreneursBased in Toronto, Jeffrey Crossman is the trade commissioner covering the creative industries for Global Affairs Canada. Working to support the arts and cultural industries since 1992, Crossman has held roles as a cultural trade commissioner at the Consulate General of Canada in New York and the High Commission of Canada in London.
RSVP for the AGM: https://cima2019agm.eventbrite.ca
- The CIMA & MusicOntario Team,
Stuart, Trisha, Emy, Jenia, Sam, Elise, Matt, Kevin & Marilyn