Tune Up Toronto & The Bout Panel Series: Artists, Grants, and $$$ Info Session & 1-on-1s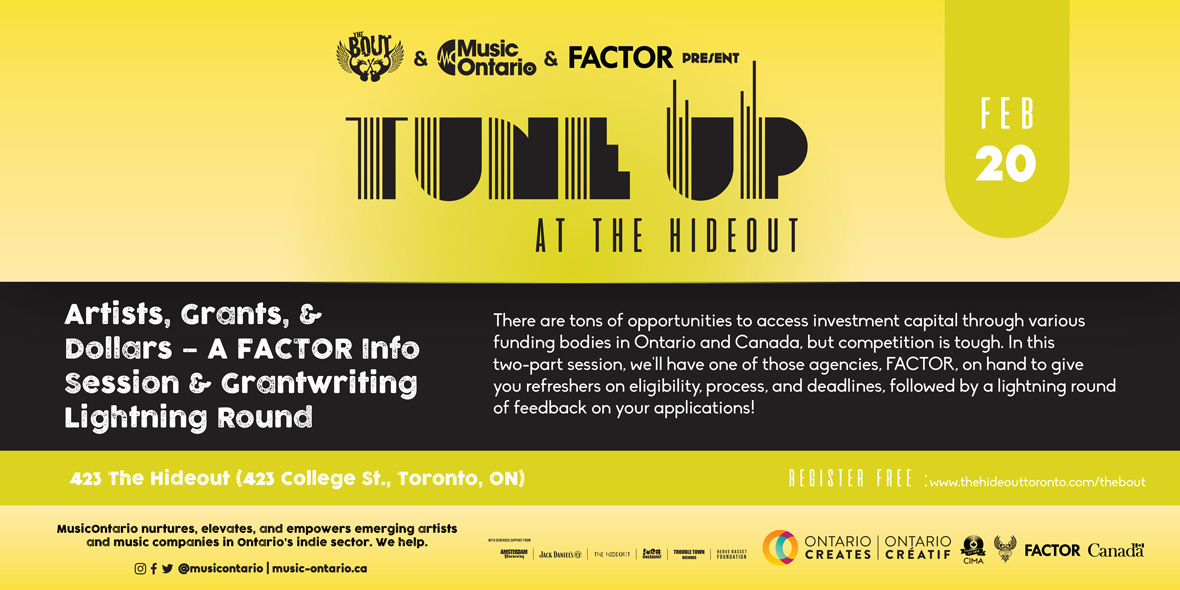 When

Thu 20th February 2020

Where

The Hideout - Toronto, ON

Web
TUNE UP TORONTO: THE BOUT PANEL SERIES
February-April 2020 @ The Hideout (423 College St., Toronto, ON)
There are tons of opportunities to access investment capital through various funding bodies in Ontario and Canada, but competition is tough. In this two-part session, we'll have one of those agencies, FACTOR, on hand to give you refreshers on eligibility, process, and deadlines, followed by a lightning round of feedback from various industry professionals just for you!

After the info session, we will facilitate speed critiques – a 5-minute one-on-ones with pros who deal with funding applications regularly, including staff from MusicOntario, FACTOR, and more, to get feedback, tips, and insight to help you tackle your next grant with more confidence. While you do not have to participate in both portions to attend this event, if you do sign up for the critiques, you're going to have to come prepared! Don't forget to do your homework, come prepared with questions, and leave with lots of notes. Sign-ups for the critiques will be emailed out the week of the event. Please note: these one-on-ones are intended to be helpful, but are not officially representative of or affiliated with any funding agencies, and none of our mentors can officially comment on behalf of a funding program.

MENTORS:
Anastasiia Danylova
Anastasiia joined FACTOR in February 2018. She is currently pursuing a Master of Information degree at the University of Toronto. She has previously worked at the Peter Triantos Art Galleries and interned at the Royal Ontario Museum. Anastasiia is committed to improving accessibility to art and culture and fostering cultural engagement within Canadian pluralistic communities.

https://www.factor.ca/

Beverly Moore

MORE MUSIC MANAGEMENT is a full-service entertainment company with the primary objective to develop and monetize entertainment-based assets, through business management, and accounting/tax services and grant/funding application for recording artists, songwriters and producers. Through ongoing relationships with key industry decision makers around the world, we are able to generate opportunities for our clients to maximize and further monetize their brand internationally. MMM currently represents Toronto, Canadian artists like Divine Brown (RnB), Full Circle (OldSchool HipHop), King Bliss (HipHop), Patrick Masse (Country), Audra Santa (Alt) and Achee (Alternative HipHop). As well as American artists, 2 Dope Boyz (EDM\Trap), Frank Doe (HipHop), Chose (HipHop), Biblical Proportion (Detroit Techno), Travis and Nissa Justice (Pop).

http://www.mmmgt.com 


Emy Stantcheva

Emy Stantcheva is Executive Director of MusicOntario, the provincial Music Industry Association (MIA) dedicated to supporting the music industry in Ontario through outreach programs and opportunity creation. Since joining MusicOntario in 2013, Emy oversees all aspects of its operations and programming, fulfilling the association's mission to bridge gaps for emerging artists and entrepreneurs through professional development, access to resources, showcasing, and networking.

Emy comes from a robust background of event and festival management, music grantwriting, publicity, marketing, media, freelance copywriting, and artist management.

http://www.music-ontario.ca

Jeff Hayward
Jeff joined the FACTOR team in early 2015. He is a life-long fan and ambassador of Canadian independent music, hailing from the great city of Brantford. His love for data and spreadsheets is surpassed only by his love for Whitney Houston. By night you can usually find him DJing or watching a movie (or three). He finds it very difficult to write in the third person.
https://www.factor.ca/

Julia Train
Julia Train's history in the Canadian music industry began with her training in classical piano and love of music.
She attended the Harris Institute for the Arts, where she studied Recorded Arts Management. Shortly after graduating, she went to work for the CMRRA's Royalties Administration department.
Julia was a valued member of the FACTOR team from 2008-2011 as a Submissions Coordinator and Communications Manager. She also held the position as the Senior Manager, Communications and Outreach at the Musicians' Rights Organization Canada (MROC) ensuring that musicians receive the recompense that they are entitled.
Currently, Julia is working with Gypsy Soul Records.
She is also on the Board of Women in Music Canada, on the Program Advisory Committee for Centennial College and part of the Code of Conduct and Anti-Harassment Committee.
Julia is proud to have the opportunity to help the arts, and artists, in Canada and around the world. 
http://gypsysoulentertainment.com/

Karina Moldovan
Karina joined FACTOR in the spring of 2015. Hailing from a small town in Romania, with the help of her wonderful parents she made it to the big city. Karina graduated from the Artist Management Program at the Harris Institute in Toronto. Currently she oversees FACTOR's external communications and works closely with FACTOR's senior staff and government and industry stakeholders.
https://www.factor.ca

Matthew Badoe
Matt joined CIMA and MusicOntario as Administrative Coordinator February 2018. A singer-songwriter and musician, Matt started his industry career in Coalition Music's Marketing Department, eventually moving on to acquire further experience as a contract grant writer. Putting his education and experience as an artist and arts administrator to the test, Matt coordinates CIMA & MusicOntario's funding approaches and facilitates day to day operations.

http://www.music-ontario.ca / http://www.cimamusic.ca

Renan Yildizdogan
Gypsy Soul Entertainment was founded in Toronto in 2009 by Renan Yildizdogan to develop the careers of cadre of like-minded artists. The early roster was made up of mainly roots rock and Americana artists. In 2013, Gypsy Soul Records was launched and Stone River's debut album "Valley of the Butterflies" was the first to be released internationally on the label. Since then the label has been involved in the release of over forty albums, eight of which have been released on the Gypsy Soul imprint with our distribution partners Fontana North, and FUGA.

Over the years Gypsy Soul has grown into a full service artist collective, helping our clients achieve their goals and advance their careers.
Being on both the business and artistic sides of the music industry provides us with a unique perspective, which helps us keep our ears close to the ground anchored by an in-depth knowledge of the current landscape. We love what we do…believe in working hard… and following both our instincts and our hearts.

In 2017, It was apparent that the company needed access to an in-house recording facility and someone to collaborate with who had a solid background in record production and state of the art faculties.
Gypsy Soul Records expanded with its partnership with Ross Hayes Citrullo which fit the Gypsy Soul model like a glove. This partnership fulfills our mandate of being a true "full service" label, able to produce, manufacture, distribute, promote and tour our artist's and client's projects. Since 2017, this partnership bore fruit, as the label successfully produced over a dozen albums; all awarded FACTOR's Juried Sound Recording grants and garnered multiple Maple Blues and Juno Awards nominations.


The label's services department focuses on grants and radio tracking. The radio tracking department's approach to accessible radio in the United States, Canada, Europe and Australia helped chart countless releases in multiple territories over the years, and is the choice for many Canadian indie labels and artists when it comes to accessible radio.
 
The label focuses on finding and developing new talent, with a focus on export. In 2019, Gypsy Soul organized 6 international tours for the artists, bringing their brand of Canadian roots, soul, blues and roll to 15 countries Across, Europe.
http://gypsysoulentertainment.com/

Rick Fenton
For over 30 years Rick Fenton has made his living in the Music Industry. Starting out as a musician in the late 70's, he landed at the CBC in 1981 where he was a network music producer in Calgary, Toronto, and Edmonton.
Rick moved to Winnipeg in 2001 to take on the position of Artistic Director of the Winnipeg Folk Festival. After four seasons at the festival he started his own company and produced television shows and live events for the Olympics, JunoFest, the Queens visit, Premier's Conference, NAB, and many others. Rick was also a consultant for CanWest helping develop the Raise a Reader Concert series and the CanSpell National Spelling Bee events and television program.
For 6 years Rick was the Executive Director of the Western Canadian Music Alliance and the BreakOut West Festival, Conference and the Western Canadian Music Awards.
In 2014 Fenton took on the role as the Executive Director of MusicOntario (Ontario's Music Industry Association) and then VP of Business Development for Canadian Music Week.
These days Rick is back full circle working with artists as A&R and Marketing with Gypsy Soul Entertainment. 
http://gypsysoulentertainment.com/

Sam Rayner
Raised in the East Coast, Sam Rayner has been in the music scene for over eight years as an artist and industry professional. He moved to Toronto in pursuit of more experience and later began working for True North Records, concentrating in Digital Assets and A&R. Sam joined the CIMA & MusicOntario team in 2016 as Membership Services Coordinator where he oversees day-to-day membership relations, Sam also serves as FACTOR's Regional Educational Coordinator (REC).

http://www.music-ontario.ca / http://www.cimamusic.ca 


Samantha Everts-Matusoff

Samantha started her career as a teenage punk promoter in Western Quebec. By the time she graduated university she had booked over 200 artists and was a published music journalist internationally. Incredibly tenacious, her 15+ years of media/music experience includes titles of festival manager, news reporter/columnist, artist manager, radio DJ, college professor, publicist, and consultant. She fell into the world of grant writing about 7 years ago in Ottawa and started her boutique music service company YouRockRed shortly after, specializing in grant writing and strategy. Her past clients include Lido Pimienta, Bleeker, Kalle Mattson and hundreds more. She joined Coalition Music as their in-house Funding Manager in 2017 and now supports acts like USS, Our Lady Peace, and The Tea Party. She lives in the West end of Toronto with her husband, rescue kitty and ever-expanding record collection.

www.yourockred.com
Keep Up To Date