Tune Up Toronto & The Bout Panel Series w/ Women in Music Canada & Music Publishers Canada: Monetize your music w/ the royalties & rights experts who can get you paid!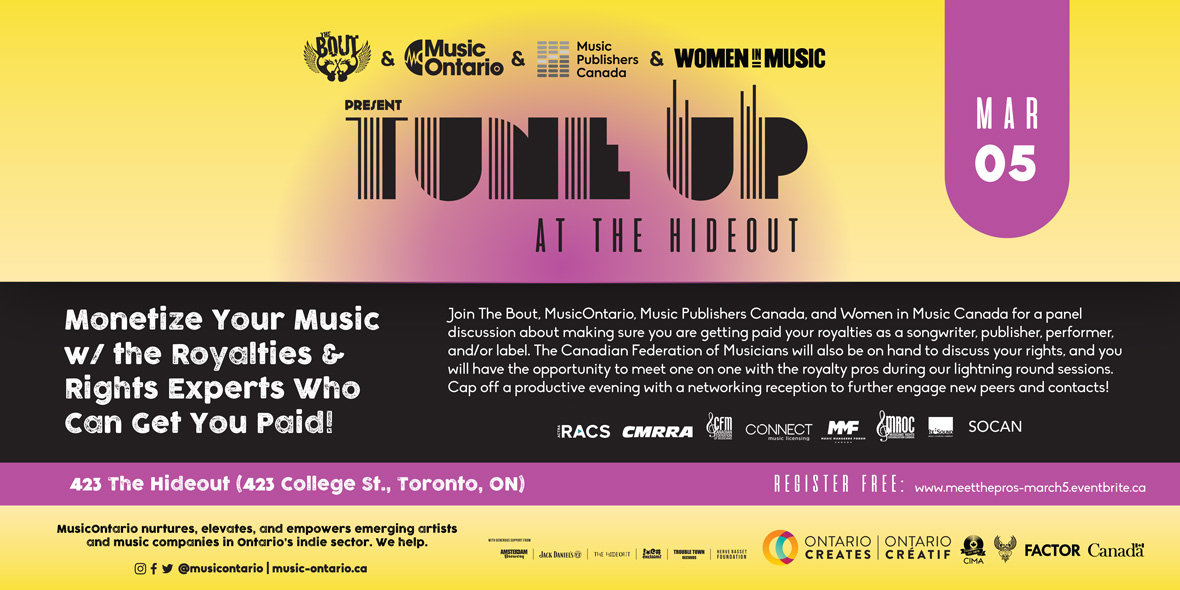 When

Thu 5th March 2020

Where

The Hideout - Toronto, ON

Web
The Bout, Music Ontario, Music Publishers Canada and Women In Music Canada Present
Tune Up Toronto: Monetize your music w/ the royalties & rights experts who can get you paid!
Artists, songwriters, publishers, and labels work tirelessly to write and record music, and to market it to the world. While they're out promoting and performing, how can they ensure that their art is also earning revenues? Meet the rights & royalties in your corner as a creator: they collect royalties on rights holders' behalf when their music is publicly performed, reproduced, and synchronized, and they pay those monies back to the copyright holder. If you're a songwriter, composer, performer, publisher, label, or rights holder, you have to ensure your works are properly registered with a number of organizations who have money for you, or advocate to make sure you're getting paid!
Schedule:
6:30PM: Panel & Canadian Federation of Musicians presentation
7:30PM: Lightning Round one-on-ones with your rights organizations
8:30PM: Cocktail & Networking
ACTRA RACS
ACTRA RACS (Recording Artists' Collecting Society) is a not-for-profit performer collective dedicated to ensuring that all performers and recording artists, from session musicians and background performers to featured vocalists, are paid for the use of their work. We collect royalties in Canada and from around the world, representing tens of thousands of recording artists across all genres of music. ACTRA RACS has collected and distributed over $100 million.

SPEAKER: Laurie McAllister

Laurie McAllister is the Director of ACTRA RACS, a not-for-profit performer collective management organization (CMO)dedicated to ensuring that performers are paid for the use of their work. ACTRA RACS collects royalties in Canada and from around the world, representing tens of thousands of recording artists across all genres of music. Laurie has over 15 years' experience in the media industry, having worked in independent production, broadcasting, and representing the rights of performers. Laurie sits on the Board of Directors of Re:Sound Music Licensing, the Canadian Private Copying Collective, and SCAPR, the international association of performer collective management organizations which develops systems and practices to improve the exchange of data and royalties between performer CMOs around the world.
MENTOR: Andrew Karis

For the past 8 years, Andrew Karis has worked to help recording artists access their neighbouring rights royalties and understand what rights and royalties are available in Canada and around the world. He brings prior music industry lives in non-profits, music supervision, and performance to his current role at ACTRA RACS.

CMRRA
Founded in 1975, the Canadian Musical Reproduction Rights Agency Ltd is a music licensing collective representing music rightsholders who range in size from large multinational music publishers to individual songwriters. Together, they own or administer the vast majority of songs recorded, sold and broadcast in Canada. On their behalf, CMRRA issues licences to individuals or organizations for the reproduction of songs on various media.
SPEAKER: Rebecca Webster

(Director, Industry Relations & Communications, CMRRA - Canadian Musical Reproduction Rights Agency)
Rebecca Webster joined the Canadian Musical Reproduction Rights Agency in 2019 after running highly-respected music public relations company Webster Media Consulting Inc. for the last ten years in Toronto. Known for her roster of award-winning artists, she helmed the Canadian publicity campaigns for Arcade Fire's 'The Suburbs', French-Canadian rock band Karkwa, Netflix docu-series Hip Hop Evolution host Shad, Children's music entertainers Splash'N Boots as well as Nick Cave & The Bad Seeds and Third Man Records' Margo Price, among others. Prior to launching Webster, she built and ran the Toronto media office for Montreal's Distribution Fusion III. She is an honours graduate of Ryerson University's esteemed Radio & Television Arts and Public Relations programs.
Canadian Federation of Musicians (CFM)
The Canadian Federation of Musicians [CFM] (formerly referred to as AFM Canada) is the leading professional organization of its kind available to Canadian musicians. As a complementary office of the American Federation of Musicians of the United States and Canada (AFM), CFM is managed by AFM's Vice President from Canada (VPC) and offers a comparative level of service that is uniquely focused on matters of concern to the Canadian membership. As the distinctly Canadian division of AFM, the CFM negotiates fair agreements for Canadian members, works diligently to protect ownership of recorded music, secures benefits such as health care and pension for its membership, and actively lobbies legislators on Copyright reform and other matters of interest to professional musicians living and working in Canada.
SPEAKER: Liana White
Liana White is the Executive Director of the Canadian National Office of the American Federation of Musicians of the United States and Canada (AFM/CFM). White is involved in every aspect of the union's operations, from lobbying and negotiating on behalf of musicians, to mentoring them. Also, having nearly 25 years' experience helping musicians to navigate the legal requirements to perform cross border, White has become recognized within the music industry as a leading authority on the subject.
White sits on the Board of Women in Music Canada, and on the Women's Committee of the Canadian Labour Congress.
CONNECT Music Licensing
CONNECT Music Licensing administers licences in Canada for the reproduction of sound recordings, and the reproduction and broadcast of music videos on behalf of the copyright owners (usually the record companies). A licence from CONNECT Music Licensing ensures that owners receive compensation for the use of their sound recordings and/or music videos.
In Canada, our members consist of all the major record companies, many of the independent labels, as well as artists and producers. Our members own or control the vast majority of the copyright of all the sound recordings and music videos produced and/or distributed in Canada.
SPEAKER: Catherine Jones

Catherine Jones is a highly experienced music and media rights specialist with 25+ years in music and television with a focus on rights, licensing and exploitation. Catherine is knowledgeable in all areas of music rights, publishing, royalties, unions and guilds, and creative. After spending 20 years at Universal Music Canada where she started the licensing division, Catherine moved to Bell Media Inc. as the Director of Music Services and was responsible for overseeing the licensing and reporting teams along with management of their in-house music library and music commissioning. Catherine worked on numerous theme packages including The Social, Daily Planet, CFL on TSN and more. Currently, Catherine is the Executive Director of CONNECT Music Licensing, a member-based organization that administers licenses in Canada for the reproduction of sound recordings, and the reproduction and broadcast of music videos on behalf of the copyright owners.
Music Managers Forum
Music Managers Forum Canada (MMF Canada) is a non-profit trade association and is one of many such associations around the world. We offer education, networking and advocacy on behalf of our members, their artists, and the wider Canadian music community. We aim to be the go-to source for Canadian artists and managers on issues related to music management in Canada and around the world. As the management sector's voice in the industry, the MMF Canada acts as advocates to various levels of the government on behalf of its members on key issues that affect managers and their artists. Our members come from across Canada and work in various genres at a range of levels including self-managed artists, new managers and highly experienced managers representing some of the largest acts in Canada. We work collaboratively with strategic partners within the larger music community to offer workshops, webinars and other programming that allows our members to connect with each other while developing their management skills and industry knowledge.

SPEAKER: Amie Therrien

Amie Therrien is the Operations Director of Music Managers Forum (MMF) Canada, a non-profit organization that supports managers and self-managed artists through educational programming and networking opportunities as well as advocating on their behalf to the government and the community at large. Prior to MMF Canada, Amie has worked as an artist manager at Balsam Pier Music primarily with folk, roots, and Americana artists. She has also worked in marketing and management at Coalition Music, as the Programming Coordinator for Folk Alliance International 2019, and as a Civil Engineer.


Music Publishers Canada
Music Publishers Canada is a membership-based organization, founded in 1949, that ensures the views of music publishers working in Canada are heard. It is our mission to create business opportunities for our members and to promote their interests and those of their song writing partners through advocacy, communication, and education.
Music Publishers Canada ensures that the value and contribution of music publishers, music publishing, and copyright management is understood by artists, the music industry, users of copyrights, governments, and the general public.
SPEAKER: Margaret McGuffin

Margaret McGuffin is the Executive Director of the Canadian Music Publishers Association. Previously, Margaret has held management positions with the Canadian Musical Reproduction Rights Agency , Musicians' Rights Organizations Canada and Access Copyright and has served on the Board of Directors for Re:Sound and the Canadian Private Copying Collective. She started her career at Music Canada and Connect Music Licensing and later worked as a consultant with a wide range of cultural organizations and collective management organizations including the JUNOS. Margaret holds a BA from the University of Western Ontario and an MBA in Arts and Media Administration from York University's Schulich School of Business. Margaret volunteers extensively and currently is Vice Chair on the Board of Directors of Work in Culture and the Advisory Board of MusiCounts.
MENTOR: Lisa Fiorilli

MENTOR: Kim Temple

Musicians' Rights Organization Canada (MROC)
The Musicians' Rights Organization Canada (MROC) is a Canadian federally incorporated not-for-profit organization whose primary objective is to collect and distribute royalties to musicians and vocalists. MROC distributes the performer's share of neighbouring rights and private copying royalties. These royalties primarily flow from the broadcast and public performance of sound recordings and are based on tariffs approved by the Copyright Board of Canada. MROC represents more than 6500 musicians, from session players to featured artists, recording across the full range of genres.
SPEAKER: Diana Barry
Diana Barry has worked in copyright licensing and royalty distribution for more than 20 years, with experience that spans both the book publishing and sound recording industries. She is currently the Managing Consultant for the Musicians' Rights Organization Canada (MROC), a collective distributing neighbouring rights royalties to musicians.

MENTOR: Andrea Kessler

Andrea Kessler is the Manager of Musician Services at MROC – a not-for-profit organization that distributes neighbouring rights royalties to musicians. Since joining MROC in 2014 Andrea has worked tirelessly to connect musicians and vocalists with the royalties available to them.
Re:Sound Music Licensing Company
Re:Sound is the Canadian not-for-profit music licensing company dedicated to obtaining fair compensation for artists and record companies for their performance rights.
We advocate for music creators, educate music users, license businesses and distribute royalties to creators — all to help build a thriving and sustainable music industry in Canada.
SPEAKER: Anne Yourt

Anne Yourt joined Re:Sound as Director, Communications in 2019. She brings a strategic, creative and collaborative approach to internal and external communications and marketing at Re:Sound. Anne also provides counsel and support to Entandem, Re:Sound's joint licensing venture with SOCAN.
With experience spanning corporate, agency and not-for-profit environments, Anne has successfully developed and implemented strategic communications programs to build brands, change perceptions and advocate for policy reform.
Anne holds a BA (Hons) in film studies from Queen's University and a certificate in public relations from Ryerson University. She has also studied at the University of Glasgow and Ballymaloe Cookery School (Ireland).

MENTOR: Martin Gangnier
Martin is Re:Sound's Vice-President of Industry Relations & Outreach and serves as Chair of the Board of Directors at Entandem,Re:Sound and SOCAN's joint licensing venture.
Prior to these roles, Martin was the head of Licensing at Re:Sound for over a decade.
Martin has a BA from Université du Québec a Montréal (UQAM) and completed the Executive Leadership Program at RotmanSchool of Management at the University of Toronto .
MENTOR: Emma Julien


Emma Julien is the Industry Partner Specialist at Re:Sound, the Canadian organization that advocates for music creators, educates music users, licenses broadcasters/businesses and distributes royalties to creators - all to help build a thriving and sustainable music industry in Canada.
Emma is currently a member of the Folk Music Ontario Board of Directors, an arts service organization that supports the growth and development of folk music in Ontario. She is also a member of Durham College's Music Business Management Program Advisory Committee. Emma has a BA in Commercial Music from the University of the West of Scotland's School of Creative Industries and a diploma in Recording Arts Management from Harris Institute.
SOCAN
SOCAN administers and protects the performing and reproduction rights of more than 150,000 songwriters, music publishers, composers, and visual artists. We offer an integrated approach to rights management and compelling solutions for our rights holders' reproduction and performing rights.
SPEAKER: Racquel Villagante
As the A&R Representative in SOCAN Vancouver, now based in SOCAN Toronto, Racquel has spent the last 2 years discovering emerging talent, connecting creatives, hosting songwriting camps, and helping music creators achieve success in this ever-changing, ever-challenging music industry. Previous to working with SOCAN, she worked as the label manager for Nimbus School of Recording & Media's in-house record label, Business Class Records, where she was responsible for signing artists & bands, project managing commercial releases, and building mutually beneficial partnerships with media & sponsors. Racquel had also been a frequent reviewer and contributor to HipHopVancouver, the go-to online blog for talent discovery in Vancouver's urban music scene, she is also the founder of WOMXN RISING which is a conference that educates, inspires, and empowers.
Keep Up To Date