Tune Up Toronto & The Bout Panel Series w/ Music Managers Forum Canada - Postponed due to COVID-19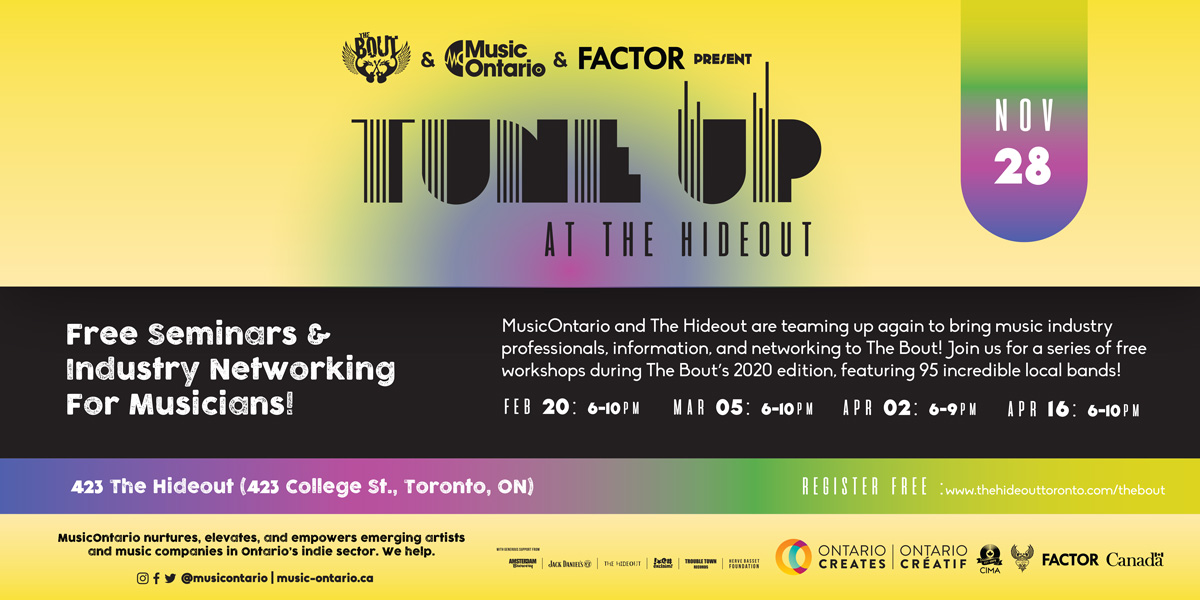 When

Thu 16th April 2020

Where

The Hideout - Toronto, ON
TUNE UP TORONTO: THE BOUT PANEL SERIES

February-April 2020 @ The Hideout (423 College St., Toronto, ON)
MusicOntario is joining forces with The Bout @ The Hideout again in 2020 to present a series of workshops designed to help emerging bands hone their music industry chops! As part of the The Bout competition, these sessions are designed to help you take your music to the next level professionally.
The annual competition, created in 2018 by one of Toronto's most dedicated live music venues, brings together talented local musicians, generates support and awareness for live music in Toronto and, most importantly, provides an awesome welcoming atmosphere for artists to showcase their music! After a stellar launch year, The Bout team doubled the prize money in 2019, added the professional development component, and are continuing to grow the event in 2020!
Session details will be announced shortly, but be prepared for an interactive approach and to leave with some new skills under your belts!
1. Thursday, February 20, 2020: 6-10PM
2. Thursday, March 5, 2020: 6-10PM
3. Thursday, April 2, 2020: 6-9PM
4. Thursday, April 16, 2019: 6-10PM
Keep Up To Date