Rise & Inspire: Women's Voices in Music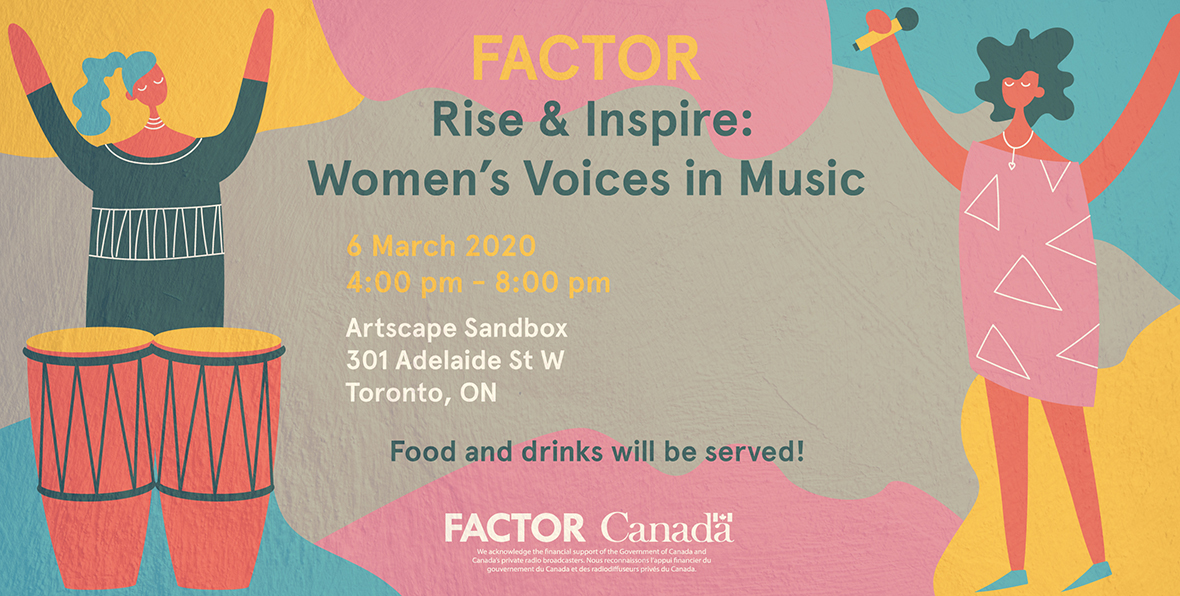 When

Fri 6th March 2020

Where

Artscape Sandbox - Toronto, ON

Web
Come engage in meaningful conversations about empowering women and non-binary artists in the music community! In honour of International Women's Day FACTOR will host a FREE community event to celebrate and empower women and non-binary artists in the music industry!
The event will take place from 4:00 pm to 8:00 pm on March 6, 2020 at Artscape Sandbox. This event strives to amplify women's voices, inspire them to take action and offer support to others. Come together to build community, share knowledge and uplift each other!
We'll kick things off with a short FACTOR Info Session to outline funding opportunities available to music artists. This session is designed to provide an overview of FACTOR programs, application process, and eligibility requirements.
Afterwards, Kiana 'rookz' Eastmond, CEO of Sandbox and award-winning entrepreneur, will give a keynote speech. She will share her experience working and developing business initiatives in the music industry. Following that, we'll have a moderated Funding in Canada panel featuring Meg Symysk (eOne Music), Jheanelle Henry (Jarjour Co, A&R ), Neena Sharma (URBNET) and Tanika Charles (Juno Award and Polaris Prize-nominated R&B/Soul singer)! They'll have a chance to discuss their experiences with grants, funding, and other available opportunities in Canada.
To close out the night, you'll have time to mix and engage with other amazing individuals to share your stories, concerns, and aspirations! The event is open to all participants, we specifically welcome and encourage representation and participation of Indigenous people, Black people, People of Colour, LGBTQ2 people, and people with disabilities.
Food and drinks will be served throughout the night! This event is free to attend, but registration is required.
Agenda
• 4:00 pm - 4:30 pm Registration & Reception
• 4:30 pm - 5:00 pm FACTOR Info Session
• 5:15 pm - 6:00 pm Keynote Speech
• 6:15 pm - 7:00 pm Panel + Q&A
• 7:00 pm - 8:00 pm Networking

Accessibility
The venue is fully wheelchair accessible. If you have a disability or a health consideration that may require accommodations, please contact us at communications@factor.ca and we will do our best to make appropriate arrangements.