Williams HR Presents The New Reality: Stabilizing & Restoring Your Workplace From COVID-19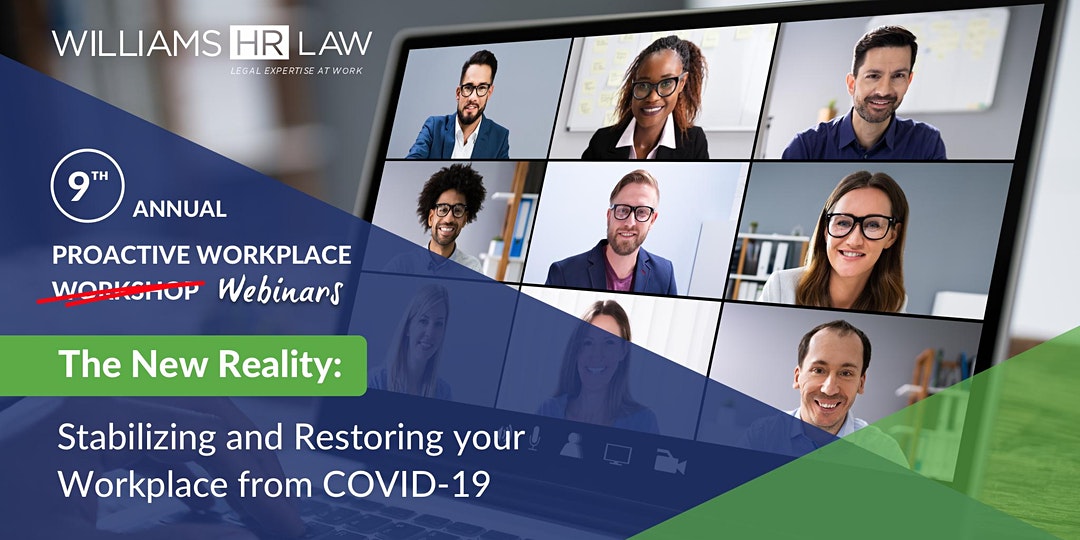 When

Thu 28th May 2020, Thu 4th June 2020

Web
On May 28th and June 4th Williams HR Law and Williams HR Consulting will be conducting a special two-part virtual edition of the annual Williams HR Proactive Workplace Law Seminar.
Part One will be dedicated to stabilizing your organization, while Part Two will be focused on tactics to restore your operations to thrive moving forward.
Stabilizing – Part One (on May 28th) will explore:
COVID-19-related relief measures and legislative developments
The new realities of remote work with a focus on accommodation, performance management, client confidentiality, health and safety, WSIB and ESA risks
Your rights and responsibilities relating to layoffs and terminations
Health and safety issues, including strategies to manage employee work refusals
Restoring – Return for Part Two (on June 4th) to explore:
Accommodation requirements in light of COVID-19, with a focus on mental health, immunocompromised employees and employees' childcare obligations Anticipated conduct issues and investigation obligations as employees return
Pivoting culture to respond to new workplace realities
How to build a comprehensive return-to-work plan for your organization
These interactive webinars will include Q&A sessions where attendees will have the opportunity to pose questions in advance and during the live sessions.