MusicOntario & the Centre for Anti-Oppressive Communication present: ​2SLGBTQIA+ 101 and Ally-ship Training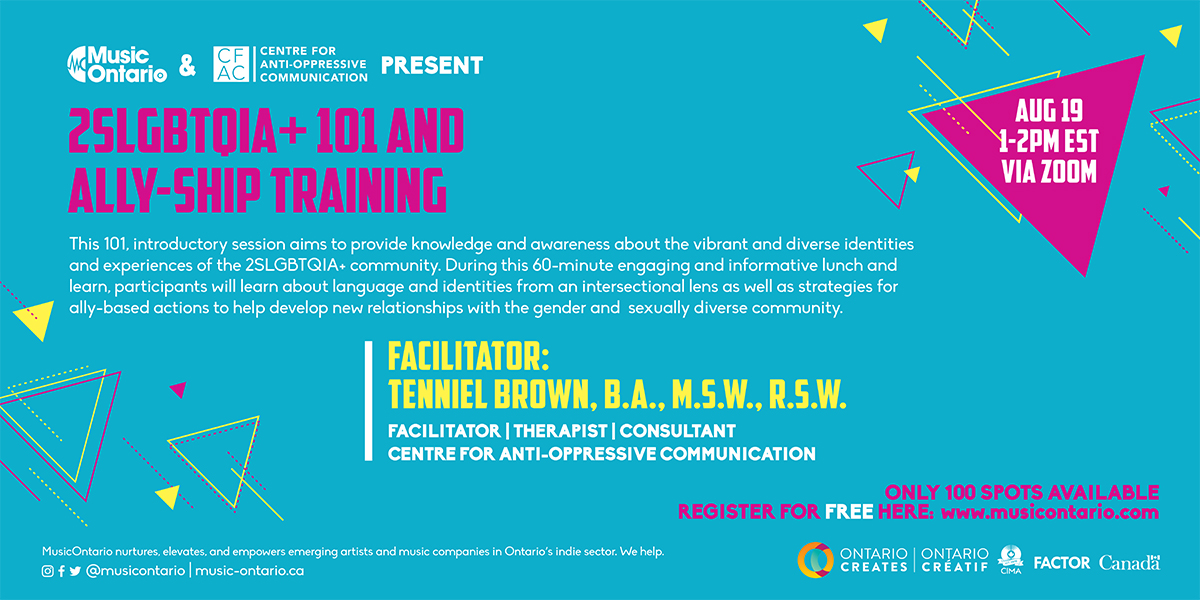 When

Wed 19th August 2020

Where

https://mo-cfac02.eventbrite.ca

Web
MusicOntario Online & the Centre for Anti-Oppressive Communication present:
2SLGBTQIA+ 101 and Ally-ship Training
Wednesday, August 19, 2020, 1-2pm EST via Zoom
While it has been challenging to hit an indefinite pause on the development of professional projects, relationships, and investments in the midst of COVID-19, there is a concurrent and globally historic social movement that reminds us of the imperative to re-learn the basics of empathetically participating in our own industry. Within the context of our careers, it will always be important to explore creatively and to continuously hone our knowledge of best practices in business, rights management, grant writing, marketing, and more, and taking the time to ensure our community is stronger, safer, more vibrant, welcoming and equitable is no different or less crucial. It's vitally necessary that we educate ourselves on the intersecting systemic barriers faced by our peers who are Black, indigenous, of colour, disabled, women, non-binary, and in the 2SLGBTQIA+ community. It is our collective responsibility to proactively and effectively work toward understanding and dismantling these barriers through the language we use at home and at work, and within our roles, organizations, and circles of influence.
This 101, introductory session aims to provide knowledge and awareness about the vibrant and diverse identities and experiences of the LGBTQ+ community. During this 60-minute engaging and informative lunch and learn, participants will learn about language and identities from an intersectional lens as well as strategies for ally-based actions to help develop new relationships with the gender and sexually diverse community.
All Centre For Anti-Oppressive Communication (CFAC) trainings and workshops foster an environment that is culturally relevant, holistic, engaging, collaborative and practical.
OUTLINE:
Land and Ancestral Acknowledgment
Welcome to the Community: "What makes the LGBTQ+ Community so amazing"?
What is Intersectionality?
Understanding Language and Identities
Strategies for Ally-Based actions
SPEAKER:
Tenniel Brown, B.A., M.S.W., R.S.W.
Facilitator | Therapist | Consultant
Centre for Anti-Oppressive Communication
For over 15 years Tenniel Brown (facilitator, consultant, therapist and yoga teacher) has been working collaboratively with diverse clients to apply holistic tools to transform the impact of mental health and substance use concerns on their lives. Tenniel is a passionate anti-racism, anti-oppression and mental health speaker dedicated to improving the experiences of marginalized people in educational and mental health settings. She is founder of the Centre for Anti-Oppressive Communication which specializes in providing anti-oppressive/trauma informed counselling, clinical supervision, and organizational consultation as well as customized workshops, trainings and team retreats.