Venus Fest: The Future of Music Conference Programming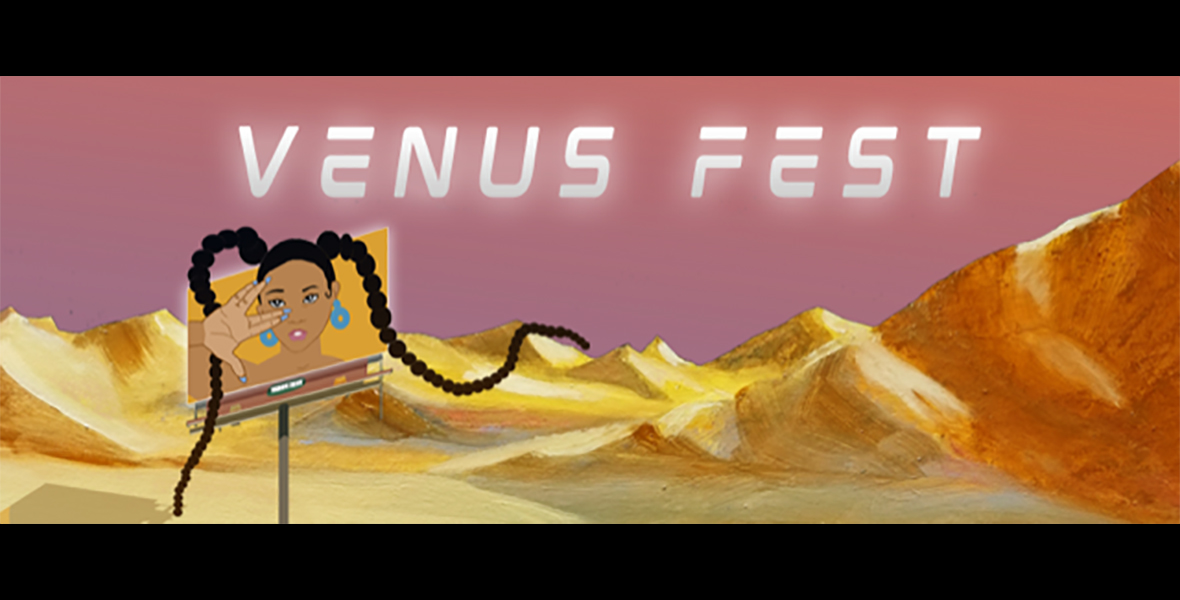 When

Mon 28th - Wed 30th September 2020

Where

https://www.venusfest.net/conference

Web

VIRTUAL VENUS FEST 2020
Conference / festival theme: The Future Of Music
Panels: Livestreamed on our Venus Fest YouTube channel with open chat
60 mins + 15 for Q&A (each 75 mins total)
MONDAY SEPTEMBER 28
6PM EST:
Financial Literacy for Artists: A discussion on economic strategies for artists, fair payment, receiving funding, and building sponsorship opportunities.
Co-presented with Ontario Creates
Moderated by Michelle Holtzkener and Aruba Ahmed (Toronto - Ontario Creates)
Yvette Angela (Toronto - UNCDTNL, Blue Crane Agency)
Katie Stelmanis (Toronto - Austra)
Tao-Ming Lau (Toronto - Blue Crane Agency)
Sandy Miranda (Toronto - Fucked Up)
8PM EST:
Re-localizing and Rebuilding Our Scenes: As the music industry rebuilds, audiences may shift their focus to local artists with smaller draws and audience sizes. A look into Toronto's thriving scenes and how we can support our local talent.
Panelists: (All Toronto-based individuals)
Moderated by Sarah Barrable-Tishauer (DJ Me Time, EveryBody, Dandelion Initiative)
Rosina Kazi (LAL, Bricks & Glitter Festival)
Sanj Takhar (Promise)
Amy Gottung (Long Winter)
Cindy Li (Parallel Minds, Work In Progress, It's Not U It's Me)
TUESDAY SEPTEMBER 29
6PM EST:
Resilient Labels: A discussion between label experts on how releasing music has changed in the absence of shows, maintaining resilience in the face of difficult times, and how musicians can adapt their new releases
Moderated by Hannah Silk Champagne (NYC - Red Eye / Yep Roc, Warp Records)
Niko Stratis (Toronto - Headless Owl Records, Switchblade Music)
Esra Firatli (Toronto - Sleepless Records)
Suzi Analogue (Miami - Never Normal Records)
Ansley Simpson (Toronto - Gizhiiwe Music)
8PM EST:
Is Change Happening?: A discussion on the push for inclusive representation. Positive progress made in the last 5-10 years, setbacks, and where we can go from here.
Moderated by Erin Ashley (Toronto - Advance, freelance journalist)
René Kladzyk (NYC - Ziemba, Future Music Industry)
ShoShona Kish (Toronto - Digging Roots)
Saffron St. James (Ottawa - DIY Spring)
Maura Johnston (Boston - Freelance journalist)

WEDNESDAY SEPTEMBER 30
6PM EST:
Shifting the Conversation: Media support and marketing approaches play a critical role in an artist's visibility and career. Journalists, marketing and PR experts discuss the role they can play in lifting up artists, and sensitive marketing approaches in a time overwhelmed with online content.
Co-presented with POP Montreal
Moderated by Melissa Vincent (Toronto - Freelance journalist)
Panelists: Morgan Schaffner (NYC - Ad Hoc Presents)
Arianne Tong (Toronto - Yohomo)
Sammy Maine (Hudson NY - Gold Flake Paint)Alicia Bee (Toronto - It's OK, Pollen)
8PM EST:
Open Town Hall discussion on the future of live music, and creative strategies on digital and IRL experiences.
Facilitators:
Ceréna (Toronto - Club Q founder, s/t artist)
Jen McKerral (Ottawa - Up Here, Canada Council)
(for this a Zoom link will be provided on our website so participants join the Zoom room for the conversation)
Mentorship sessions:
1 hour one-on-one sessions with industry professionals. Emerging and developing artists can sign up for a session and receive guidance, strategic insight, and personalized direction on building their careers. Artists can sign up for any category but we are encouraging aspiring industry workers in each stream (eg speaking with an agent if you're interested in becoming an agent). All sessions will take place the week of October 5 - 10
Talk with a label
Tyler Andere (Austin TX - Father Daughter Records)
Esra Firatli (Toronto - Sleepless Records)
Meaghan Parker (Toronto - Next Door Records
Talk with an agent
Michelle Cable (LA - Founder / head of Panache)
Tao-Ming Lau (Toronto - Blue Crane Agency)
Stefanie Purificati (Toronto - APA)
Talk with a manager
Juanita Garcia (LA - Like Management)
Andi Wilson (Seattle - Citrine Management)
Laurel Stearns (LA - LSS Management / Primary Wave)
Talk with an artist
Katie Stelmanis (Toronto - Austra)
Meg Remy (Toronto - US Girls)
April Aliermo (Toronto - Phèdre)
Talk with an Indigenous artist (for emerging/developing Indigenous artists only)
ShoShona Kish (Toronto - Digging Roots)
Katherine Paul (Portland - Black Belt Eagle Scout)
Talk with a Black artist (for emerging/developing Black artists only)
Haviah Mighty (Toronto)
Bambii (Toronto)
Dre Ngozi (Toronto)
Talk with a funder
Jen McKerral (Up Here, Canada Council)
Michelle Holtzkener (Ontario Creates)
THURSDAY OCTOBER 1
8PM - Premiere Lido Pimienta, Hand Habits, Ansley Simpson
FRIDAY OCTOBER 2
8PM - Premiere US Girls, Black Belt Eagle Scout, Wild Black, Ceréna Sierra