MO & Music Export Canada present: Ontario & Friends @ FAI 2021's Folk Unlocked Virtual Showcases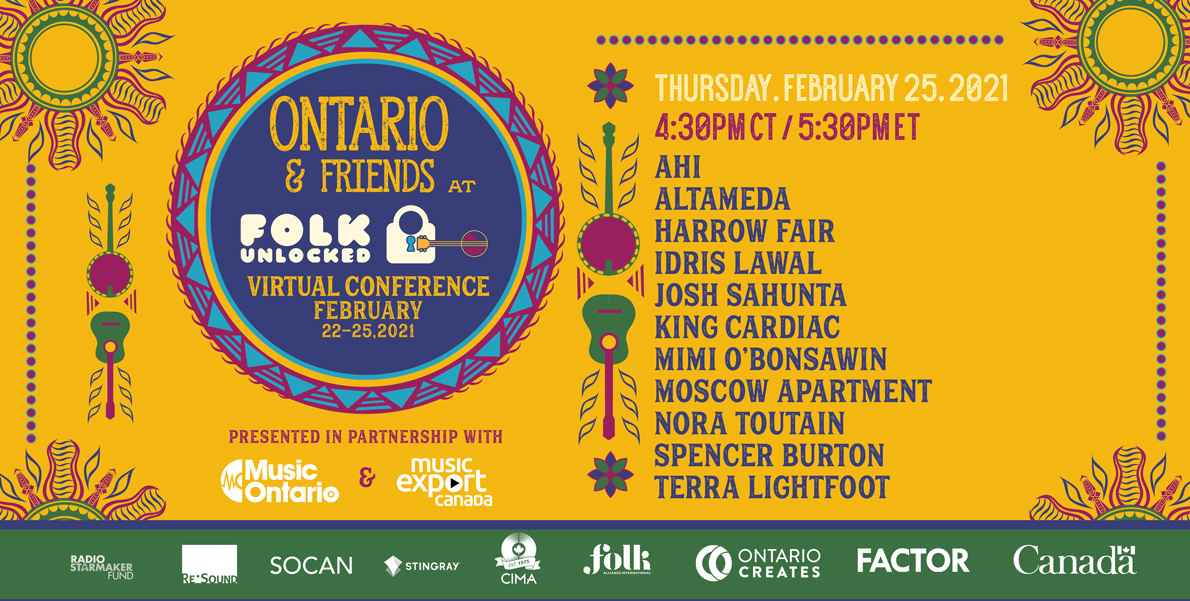 When

Thu 25th February 2021

Where

Online - 4:30pm CT / 5:30pm ET

Web
Mimi O'Bonsawin
Moscow Apartment
Spencer Burton
King Cardiac
Terra Lightfoot
Idris Lawal
Altameda
Harrow Fair
Music Export Canada & MusicOntario are joining forces again in 2021 to present the seventh annual Ontario & Friends showcase at Folk Alliance International, celebrating the incomparable talent, creative fire, and illuminating perspectives coming out of the folk and roots communities in Ontario and Canada.
Folk Alliance International is the world's largest gathering of the folk music industry and community (crossing a diverse array of genres including Blues, Bluegrass, Roots, Celtic, Cajun, Appalachian, Traditional, World, and Singer-Songwriter), boasting a comprehensive conference, custom business opportunities and hundreds of showcasing opportunities.

Check out our incredible line up for this year's iteration of FAI: Folk Unlocked, a four-day virtual event for the entire international folk community
AHI
[Rep. Ahkinoah Izarh, AHI Music]
With a voice like "gravel on silk", Brampton-born songwriter AHI (pronounced "eye") has learned to harness his instrument's power by balancing its range across a colourful landscape of tightly-crafted lyrics, driving rhythms and catchy melodies, penning a sublime collection of modern-day folk-rock that has propelled him to the forefront of the contemporary Folk/Roots scene.
AHI's In Our Time (2018) debuted at #2 on iTunes and skyrocketed to #1 on Amazon after his captivating live performance on CBS. Beyond praise from Billboard and American Songwriter, the album also earned AHI six places on the GRAMMY ballot and his first-ever JUNO Award nomination.
Website: www.ahimusic.com
Facebook: www.facebook.com/ahimusic
Instagram: www.instagram.com/ahimusic
Twitter: www.twitter.com/ahimusic

ALTAMEDA
[Rep. Troy Snaterse/Erik Grice of Altameda; Cadence Music]
Respect for tradition with the sophistication to shake it off. Deadpan expression of a staunchly honest vision. Altameda (AL-tah-MEE-da) have evolved into a band with a bold, and unrelenting sound. It's the culmination of experience, both musical and rawly human, that makes Altameda the band they are.The band's forthcoming release is sure to be their strongest to date. Recorded in Toronto, ON by Thomas D'Arcy (Neko Case, The Sheepdogs, Yukon Blonde) and mixed in Portland, OR by Tucker Martine (My Morning Jacket, Whitney, REM), the newest offering shows immense growth, both musically and personally. Grappling with family tragedy, love lost, and the countless miles in between, the record is both lyrically nuanced and compositionally lush. It is clear that the band have a bright future ahead.
Website: www.altameda.net
Facebook: www.facebook.com/Altameda780
Instagram: www.instagram.com/altameda

HARROW FAIR
[Rep. Susan de Cartier & Jude Coombe, Starfish Entertainment]
Harrow Fair is a veritable Canadian powerhouse of hoof-thumping, soul-wrenching, transcendent Americana. The band is the merging talents of two acclaimed artists, Andrew Penner and Miranda Mulholland, who have created a bold new sound combining searing vocals, heavy kick drum, rootsy guitar and scorching fiddle. This is the UK release tour for their sophomore record, Sins We Made, out April 17th, 2020.
Website: https://www.harrowfair.ca/
Facebook: https://www.facebook.com/HarrowFairMusic/
Instagram: https://www.instagram.com/harrowfairmusic/
Twitter: https://twitter.com/harrowfairmusic
IDRIS LAWAL
[Rep. Idris Lawal, Artist]
Idris Lawal's discovery of music came from growing up listening to his parents' mixes and Hollywood soundtracks. He recalls weekends and car drives in Lagos where his dad would play long mixes of popular Nigerian musicians (Fela Kuti, King Sunny Ade, Sir Shina Peters, Sonny Okonsu, Sir Victor Uwaifo, Ebenezer Obey). His exposure to western music came from soundtracks he heard while watching movies like The Bodyguard (Whitney Houston) and Indecent Proposal (Sade) with his mom – having to close his eyes during make-out/sex scenes would expose his ears to the background music that accompanies those scenes.
An Introduction to 2pac's 'Changes' by a friend would spark an interest in rap music and inspire a focus on poetry and lyricism that shapes his writing. Growing up in Nigeria, Qatar, South-Africa and Canada; his early exposure to different cultures would become the foundation of his genre-bending sound.
Today, he draws from a variety of musical influences including rap, afrobeat, highlife, afro-pop and soul music; blending into a genre he has called "Afrobop"
Following the release of 3 singles - 'Gung Ho', 'Fools' & 'Omoge', and a multitude of performances in Toronto, Idris Lawal unveiled his debut project. A 7-song Afrobop effort titled 'Young, Black & Blue' on June 26, 2020.
Website: www.idrisxlawal.com
Facebook: www.facebook.com/idrisxlawal
Instagram: www.instagram.com/idrisxlawal
Twitter: www.twitter.com/idrisxlawal

JOSH SAHUNTA
[Rep. Katrina Lopes, KL Management]
When it comes to setting the bar high, Canadian r&b-pop artist Josh Sahunta never lets his feet touch the ground. Drawing upon his influences of John Mayer, Ed Sheeran and The Weeknd, Josh's songwriting is packed with deeply rich narratives and cool, contemporary soundscapes.
In the past 2 years alone, Josh has opened for the likes of Scott Helman and Joey Landreth, and he continues to perform across Canada, the US and Europe. Josh's two latest releases have had major support from Apple Music and Spotify and have been featured on several Spotify editorial playlists such as "New Music Friday Canada", as well as several major Apple Music playlists such as "New Music Daily".
Josh's single "Wanting" has received recent support from Pete Tong and MistaJam on BBC Radio 1 in the UK and from Tiesto on his weekly podcast. Josh was also recently selected as the winner of the Corus Radio $20k Summer Song competition which had over 3000 entrants from all over Canada. Most recently, Josh's song "Take All I Am" was used on season 2 of the Netflix Original show The Order.
Josh has also had his fair share of notable nominations and popularity within the Canadian music industry, as he was recently nominated for a Western Canadian Music Award for R&B Artist of the Year, and he was also selected in the national Top 10 of the annual CBC Searchlight competition.
Josh is currently working with Warner USA to write and produce an original work that he will be releasing in 2021.
"Josh Sahunta is one of those creative prodigies who excels at absolutely everything he touches." – BK On The Scene"
Website: www.joshsahunta.com
Facebook: www.facebook.com/joshsahuntaa
Instagram: www.instagram.com/joshsahunta
Twitter: www.twitter.com/joshsahunta

KING CARDIAC
[Rep. Rosalyn Dennett, Stump Media]
King Cardiac sees Whitebrow frontman Gabriel DeSantis and members of Toronto's Heavyweights Brass Band (Paul Metcalfe, Tom Richard, Sam Petite, Lowell Whitty and Alan Zemaitis) exploring matters of the heart through heavy soul and brooding R&B.
After living in London, UK for the last two years and touring his solo set throughout Europe, DeSantis returned to Toronto with a fresh ear and new inspiration.
King Cardiac is set to release their debut album in the spring of 2021. The record, "Bloodlines," was recorded at The Rooster Studio in Toronto with engineer Don Kerr (Bahamas, Ron Sexsmith) at The Helm.

Bloodlines was produced by DeSantis and Kerr and mastered by Grammy nominee and Juno and Polaris Prize winner, Philip Shaw Bova (Feist, Lido Piementa, Andy Shauf).
The first single off the record, "Amsterdam," premiered on CBC's q with Tom Power in January 2021.
This band sees the marriage of DeSantis' "Mesmerizing and darkly curious" songwriting (CBC music) with the teeth of The Heavyweights, a "molten mix of elegance and brute force" (Toronto Music Report).
Website: https://www.kingcardiac.com/
Facebook: https://www.facebook.com/kingcardiacband
Instagram: https://www.instagram.com/kingcardiac/
Twitter: https://twitter.com/KingCardiac

MIMI O'BONSAWIN
[Rep. Mimi O'Bonsawin, Artist]
Mimi O'Bonsawin is an award-winning roots songstress. You can find Mimi out on the road bringing songs and stories to divers audiences all over this country and abroad. Her songs are heavily influenced by her French Canadian and Abenaki roots and flow through a centre of love and creativity. Her compositions are nurtured by the beauty of her home landscape, and her performances honest and raw.
Her newest release ELLE DANSE if a French EP that has been placed on several Spotify Curated Playlists as well as Amazon Music and Apple Music playlists bringing her listener audience to over 4K over all platforms.
Website: www.mimi.ca
Facebook: https://www.facebook.com/mimiobonsawinmusic
/ Instagram: https://www.instagram.com/mimiobonsawin/
YouTube: https://www.youtube.com/channel/UCNtZrmtWpgj_RHBoONHwXSA/playlists

MOSCOW APARTMENT
[Rep. Jeff Rogers, Kim Fry Managers; Stefanie Purificati, APA, Agent]
Moscow Apartment create lush, harmony & folk imbued indie-rock that is interwoven with the timeless and perceptive writing of singer-songwriters Brighid Fry and Pascale Padilla. The award-winning teenage duo released their critically acclaimed sophomore EP, Better Daughter, in July 2020 and songs were featured on dozens of DSP playlists including landing them on the cover of Fresh Finds: Indie and Indie All-Stars. The EP made the top 40 on the NACC (College & Community radio) chart and garnered interest from labels, publishers and potential producers and co-writers in the U.S.
With more than a million Streams on Spotify, a nod by Exclaim for having one of the top 25 EPs of 2020 and comparisons to Phoebe Bridgers and Julien Baker, Moscow Apartment are solidifying that they are one of the most exciting young bands in Canada.
2017 marked the release of Moscow Apartment's acclaimed self-titled debut EP, followed by winning Slaight Music's 'It's Your Shot' songwriting contest and its $100,000 grand prize artist development contract in 2018. Fry and Padilla have spent the intervening years touring and developing their skills as producers and writers, receiving guidance from the likes of Broken Social Scene's Kevin Drew and Grammy-winner Chin Injeti.
Website: www.moscowapartment.ca
Facebook: www.facebook.com/moscowapartment
Instagram: www.instagram.com/moscowapt
Twitter: www.twitter.com/moscowapt

NORA TOUTAIN
[Rep. Nora Toutain, Artist]
Nora Toutain is a Moroccan-French singer-songwriter, based in Montreal. Her brand of synth-driven r&b seamlessly moves across genres like neo-soul, funk and jazz with hints of afro rhythms: a direct reference to her diverse cultural experiences and musical upbringing.
Her love for these traditional genres and contemporary sounds elevates her music offering a fresh and unique experience on stage. Wherever she performs, her ease and energy on stage charms crowds.
Nora just released her debut album Grounding Place Vol.I on Octobre 9th 2020.
Website: https://www.noratoutain.com/
Facebook: https://www.facebook.com/NoraToutainMusic
Instagram :https://www.instagram.com/noratoutain
YouTube: https://www.youtube.com/channel/UCAqTpAqXajp_pfapP0jih_g
Spotify: https://open.spotify.com/artist/7LXP2eZLFZYdpUi29xOF1A

SPENCER BURTON
[Rep. Joel Carriere, Dine Alone; Christopher Geoghegan, The Feldman Agency]
Spencer Burton has always been strongly connected to the natural world. An Ontario boy raised across the great expanse of Canada, Spencer carries with him an insatiable wanderlust and deep respect for nature.
That pull led him to flee the city for a quieter existence in the country. In a small town, life moves a lot slower. The rural life soothed his soul, let him bask in subdued silence and fade out into the mist. Interacting with people became a choice, and the open road became one that he traveled alone. This simpler reality led him even closer to the earth and to the powerful freedom solitude brings.
Coyote, Spencer's fifth studio album, is an ode to that power, but also a representation of the excitement and fear of solitude, and of art. Recorded in the comfort of friends on true analog equipment down in Nashville, the album is full of dualities, necessary stops and questions on the long journey of self-discovery that is life. "Every song I've ever written is a place to keep a memory," says Spencer.
His musical trajectory has been multifaceted, from his punk rock roots as part of Attack in Black to the darker country-inspired sound of his two first solo albums under the name Grey Kingdom. In 2012, Spencer dropped Grey Kingdom in favour of his own name, moving towards a more natural country folk sensibility.
Spencer's move to Niagara coincided with his becoming a father, a shift that has permanently shaped his life and his music. His most recent album, The Mountain Man, is a children's album created with his family in mind. "Making art feels pretty selfish, in a way. Having kids makes you forget about yourself, makes you care about them above anything else. It's this insane sense of perspective--these little sources of the most intense love and happiness, but also worry and fear."
Website: https://www.spencerburtonmusic.com/
Facebook: https://www.facebook.com/spencerburtonmusic/
Instagram: https://www.instagram.com/spencerburton/
Twitter: https://twitter.com/spenceraburton

TERRA LIGHTFOOT
[Rep. Tim Potocic, Soinc Unyon Records]
"Drawing from rock, soul and blues, [Terra Lightfoot] is a monster talent" – PopMatters
At the end of a gruelling two-year stretch on tour promoting her third studio album, New Mistakes—a trek that took her to every corner of the world—Terra Lightfoot found herself at home and sapped. Life on the road had done a number on her body, her voice, and her mind, and despite isolating herself from friends and family, sitting down for hours a day at her writing desk, she was coming up with nothing inspiring.
A trip to Nashville changed all that. Just a few weeks in Music City broke the dam wide open. In rapid succession, Lightfoot wrote the songs that would form her new record, Consider the Speed. Out poured more than a dozen, one after the other, reflecting on life as a touring musician, past relationships, and the death of her grandmother. "The healing power of rock 'n' roll," a true blue sentiment that Lightfoot and her bandmates keep the faith in on tour, was in full force. And you could even say it hit her like a jolt of electricity.
THEN IT HIT ME LIKE A BOLT OF LIGHTNING!, a man yelled as Lightfoot stepped out onto Willie Mitchell Boulevard in Memphis after a visit to Royal Studios. She took it as a sign that she had to return to lay down Consider the Speed there, the same place Ann Peebles simmered through "I Can't Stand The Rain" and Al Green set devotion to tape with "Let's Stay Together." Even the same technology—a hallowed #9 microphone—captured Lightfoot's bluesy, long and low howl during tracking sessions.
"Ms. Lightfoot's voice is a dominant as ever, straddling Memphis soul and urban blues with ease, and boy… can she write a song" – No Depression
Each night, she sat on a red porch swing on the hot Tennessee nights and considered how dreamlike it was to be in that place with its soul, blues, and rock 'n' roll ghosts; every day, she faced the sweet reality of adding her own music to the studio's history, working with a cast of supernaturally talented players: Steve Potts on drums, Davy Smith on bass, and Lester Snell on keyboards.
It's no surprise, then, given the combination of a conspiratorial universe and Lightfoot's hard work, that Consider the Speed is her most soulful, soul-baring, soul-searching record to date. There is soul to spare—in "Called Out Your Name" and its call-and-response verses; the raucous recklessness of "Midnight Choir"; and the gospel vocal stylings of Sharisse Norman and Candice Rayborn-Marshall on "Two Wild Horses." There are the Godzilla riffs we've come to expect from Lightfoot, too, in the title track's lustful overdrive and the bluesy stomp of "Paper Thin Walls." And her already enviable lyrical skills have been elevated even further. The album's centrepiece, "Lost You Forever," is an epic tale of devotion over hundreds of miles, distilled to three and a half minutes, and "Empty House" is a sweet, deceptively simple ode to the quiet reveries of partnership. One song, "Ramblin' Rose," was given to her in a dream by her trucker grandfather. When producer Jay Newland first heard Lightfoot's vocal take for it, he remarked: "I hope you're ready to be heard now."
More than ever, Steeltown's own is coming through, once again, loud and clear. Consider The Speed adds to an impressive legacy that already includes 2018 Polaris Music Prize and JUNO nominations (Adult Alternative Album of the Year) for New Mistakes, Road Gold Certification thanks to her millions of miles logged around the globe, including marquee tour dates supporting legendary acts like Willie Nelson, Bruce Cockburn, and Blue Rodeo. On top of all that (and being a songwriter and producer for hire), in 2019 Lightfoot also debuted The Longest Road Show, a touring revue that brought some of Canada's most groundbreaking music-makers together for a jaw-dropping handful of nights in Ontario. Keep an eye out for the next edition when it's safe to hit the stage again.
Until then, Consider the Speed at which you're falling for Terra Lightfoot—a spectacular velocity that will gain momentum with every electrifying note. "Canada's Terra Lightfoot has a huge voice and a big and gutsy guitar tone to match" — Guitar Player
Website: www.terralightfoot.com
Facebook: www.facebook.com/terralightfoot
Instagram: www.instagram.com/terralightfoot
Twitter: www.twitter.com/terralightfoot

WANT TO JOIN IN & WATCH?
Long a source of inspiration for music industry professionals, FAI is providing fan access to the Folk Unlocked showcases with over eight hundred hours of performances from artists from all fifty states in the U.S. and over 30 countries. Programming will be interactive, whether live-streamed or pre-recorded and recordings will be available for later viewing, allowing folks from around the globe to tune in when they can!
Access to these showcases will be granted to donors to a newly-launched fund to help folk artists and industry professionals in financial need called The Village Fund.
Folk Alliance International (FAI), a 501(c)3 global nonprofit based in Kansas City, has committed $25,000 from its reserve and hopes to raise an additional $75,000 in public support for the fund in order to distribute 200 initial grants of $500, with plans to continually fundraise through the pandemic and beyond. The Village Fund's name is inspired by the rural origins of various folk music traditions, the urban villages that expanded the folk audience, and the recognition that folk music forms one global village of fans, artists, and industry professionals alike.
Keep Up To Date