FAI's Folk Unlocked 2021 - Virtual Showcase Applications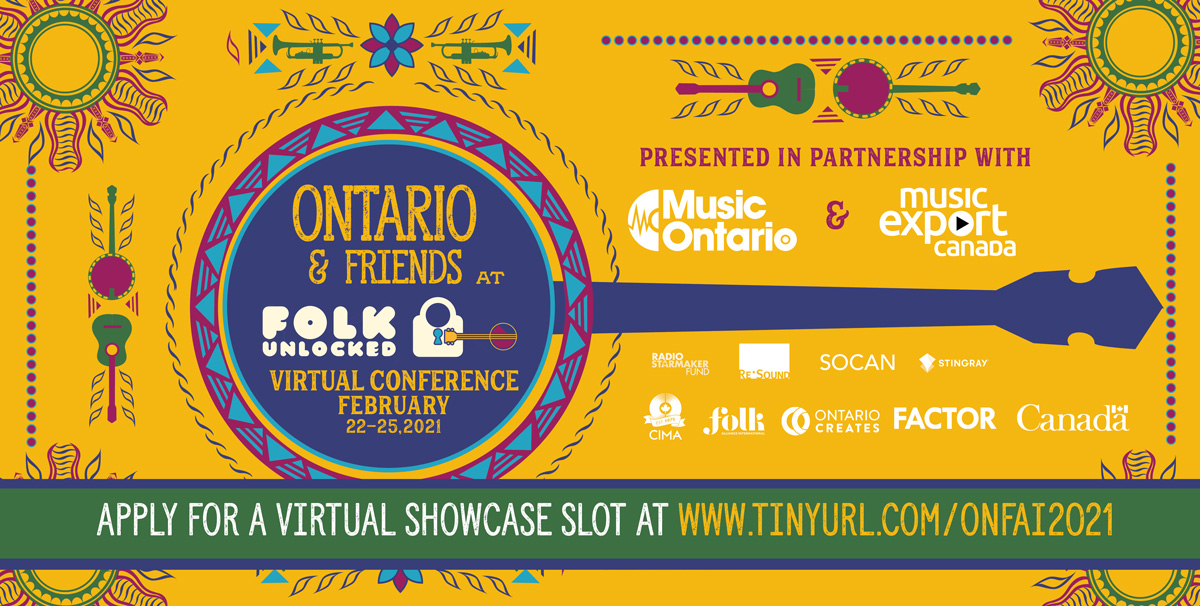 Posted on

November 24, 2020
ONTARIO & Friends @ Folk Alliance International's FOLK UNLOCKED Virtual Conference
February 22-25, 2021
Music Export Canada & MusicOntario are pleased to host showcases at Folk Allliance International (FAI), the world's largest gathering of the folk music industry and community (crossing a diverse array of genres including Blues, Bluegrass, Roots, Celtic, Cajun, Appalachian, Traditional, World, and Singer-Songwriter), boasting a comprehensive conference, custom business opportunities and hundreds of showcasing opportunities.

In place of an in-person conference this year in light of the COVID-19 pandemic, FAI is hosting Folk Unlocked, a four-day virtual conference for the entire international folk community to come together for panels, workshops, showcases, affinity and peer group meetings, exhibit spaces, networking, and mentorship. FAI is unlocking the doors and windows of the house of folk to be as broad and inclusive as possible, inviting those who have been loyally attending Folk Alliance International conferences for years while aiming to reach folk musicians and professionals who have never benefited from or attended FAI before.

Music Export Canada and MusicOntario create this showcasing opportunity to support Ontario-based artists and companies in their export, touring, and professional strategies. We welcome applications from all traditions and iterations of folk music. Please keep in mind that:
To be eligible for consideration, you must be an Ontario-based artist or be a Canadian artist represented by an Ontario-based company.
Music Export Canada and MusicOntario will work with selected artists to film, record, and safely produce 10-minute showcase videos to be aired during the virtual showcase.
If selected, you must register for the Folk Unlocked Virtual Conference (at a pay what you can pricepoint) so that you can interact with delegates, chat live during your showcase, and field any other business opportunities.
FAI will host the showcase on their platform for a few weeks, after which selected artists will be able to use the content to promote their work at their discretion.
Music Export Canada (a division of CIMA) will be sponsoring a select number of artists during the ONTARIO showcase this year. The criteria to be eligible for this opportunity is through CIMA is that you must be:
A CIMA member in good standing based in Ontario representing a Canadian artist; OR
A CIMA member in good standing based outside of Ontario who represents an Ontario-based artist


Applications will be reviewed by an independent Talent Committee. We appreciate all submissions, however, for administrative purposes, only successful applicants will be contacted.

If you would like to learn more about membership with MusicOntario or CIMA, please contact Sam Rayner: samr@music-ontario.ca.