The Art of Wellness series: Finding Balance - Passionate Practice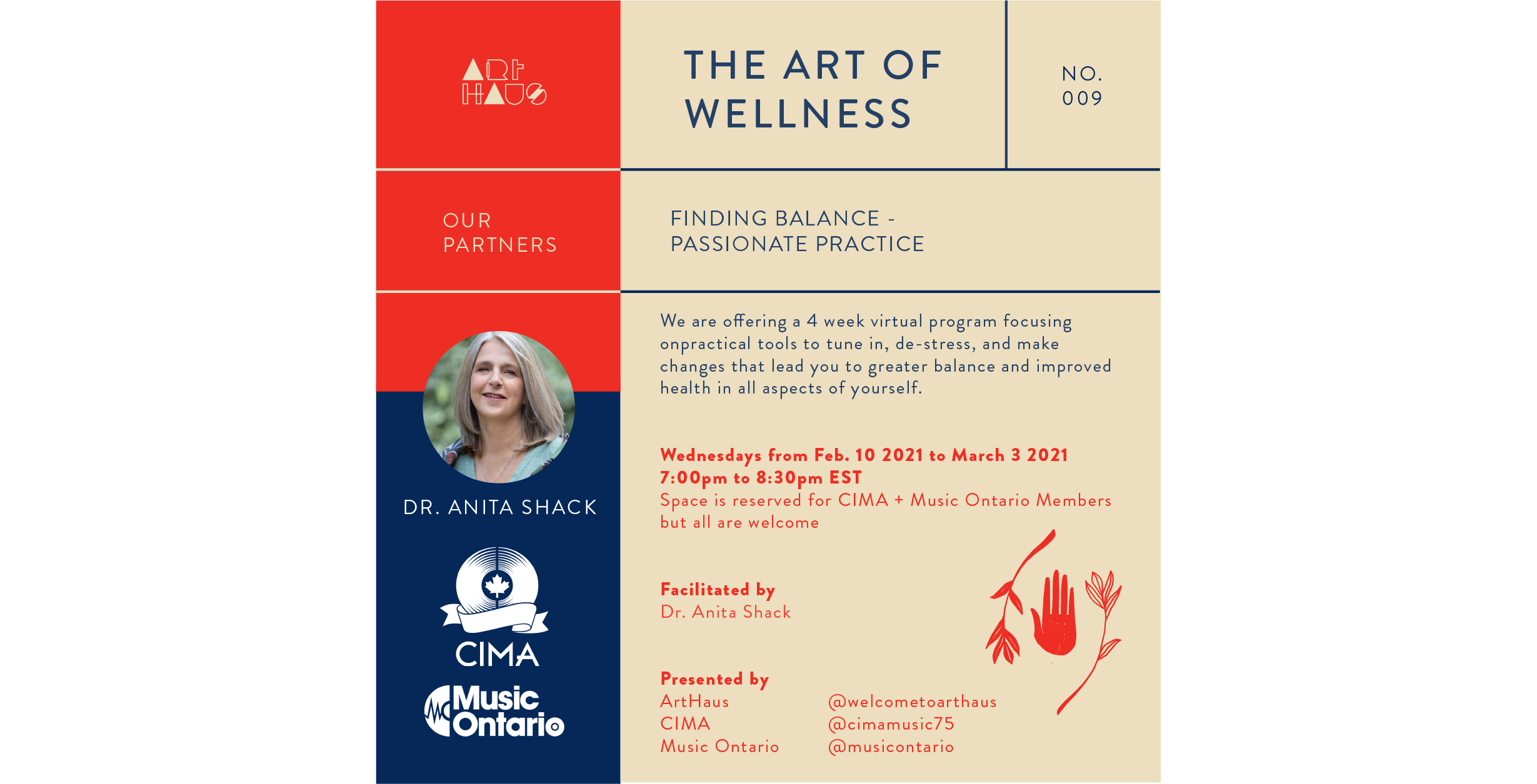 When

Wed 10th February 2021, Wed 17th, Wed 24th February 2021, Wed 3rd March 2021
CIMA, MusicOntario, & Arthaus present: The Art of Wellness
Finding Balance: Passionate Practice
MusicOntario is proud to partner with CIMA and Arthaus to present this four-part mental health wellness program. Please note: preference is given to our members, and non-members will be placed on a waitlist. Space is limited, so participation across all four sessions is highly encouraged so as to glean the most out of the program.
Want to register?

If you are a member, you should have received an exclusive email. If you did not receive it, or would like to check the status of your membership, please touch base with Sam Rayner (he/him) at samr@music-ontario.ca.
This webinar program is intended to offer teachings and practical tools to help you tune in, de-stress, and make changes that lead you to greater balance and improved health in all aspects of yourself.
In a supportive atmosphere, we will share our learning and develop skills that can sustain and enhance our well-being. It involves introspection and participation as you commit to your growth and wellness. At the end of this series you will have your own personal practice that you create to bring more balance into your daily life.
COURSE DETAILS
WEEK 1: TAKING STOCK OF BALANCE
Wednesday, February 10, 2021: 7:00pm - 8:30pm
Learn processes to slow down and "tune in"
Explore balance through breathing
Find ways to de-stress by applying these techniques to your daily life

WEEK 2: REGULATING YOUR NERVOUS SYSTEM
Wednesday, February 17, 2021: 7:00pm - 8:30pm
Understand how your body and brain function in Fight/Flight/Freeze
Explore calming techniques to regulate your Autonomic Nervous System
Learn to apply the "6 S" System to overcome overwhelm

WEEK 3: TAMING YOUR INNER DIALOGUE
Wednesday, February 24, 2021: 7:00pm - 8:30pm
Learn to recognize negative thought patterns and their impact on your balance and health
Learn to change negative limiting core beliefs into empowering positive ones
Find ways to clear your mind and shift your perspective

WEEK 4: ANCHORING RESILIENCE
Wednesday, March 3, 2021: 7:00pm - 8:30pm
Strengthen your feeling of connection to self, and life
Find ways of sustaining your energy through uncertain times
Create a personal practice to build and sustain resilience and improve your well being

Facilitator: Dr. Anita Shack:
Dr. Anita Shack is an integrative Health and Wellness Practitioner who uses Chiropractic, Acupuncture, and Craniosacral Therapy to facilitate change and wellness for her patients. She has been in private practice since 1986 and is the staff chiropractor at the Al and Malka Green Artists' Health Centre at the Toronto Western Hospital.
As a healthcare practitioner and student of earth based and spiritual healing paradigm, Dr. Shack creatively weaves knowledge from ancient traditions and evidence-based science into her work. She explores holistic context in her work and her experiential workshops are designed to increase personal awareness leading to improved health on multiple levels. Dr. Shack is passionate about and experienced in working with musicians, and she is committed to providing education and care to empower strong healthy artists.
You can find out more about Anita's practice here.
About ArtHaus Music:
ArtHaus is an incubator and collaborative community of music creators and professionals. ArtHaus is committed to fostering new talent by bridging the gap between emerging and veteran artists and industry professionals, and empowering each with the knowledge, resources and network necessary to build impactful and sustainable careers.
Located in Toronto's Brockton Village, ArtHaus offers a professional recording studio, a coworking and meeting office, multiple affordable rental apartments for artists, an event and performance space, an online Art of Wellness program free for industry professionals and artists, a community-based Art of Darkness Coffee where proceeds help fund the Art of Wellness program and the Unison Benevolent Fund, a pay-it-forward Art of Guidance program where artists use the recording studio for free, and will soon be expanding to add mentorship components to the Art of Guidance, will be hosting speakers, podcasts and more programs on creativity and business.
You can find out more about ArtHaus here.