MusicOntario at New Colossus Festival - upstairs neighbours week!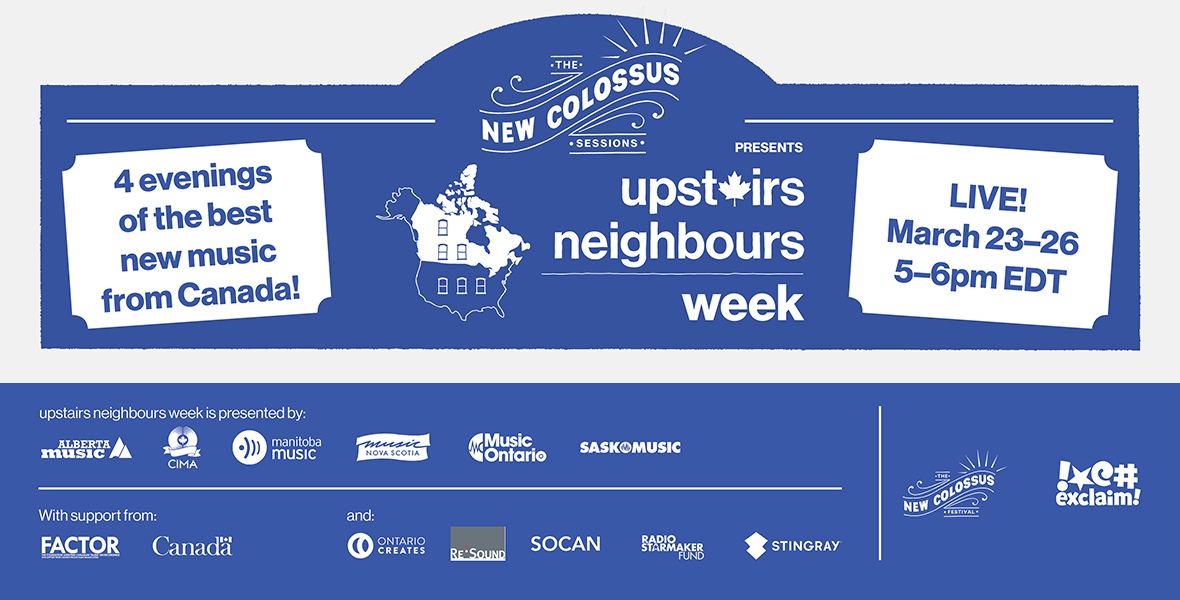 When

Tue 23rd - Fri 26th March 2021

Where

New York, NYC / Online
Double Denim Management
MusicOntario is pleased to be part of the "upstairs neighbours week" initiative at New Colossus Festival, featuring four awesome bands from Ontario:
BAD WAITRESS - Wednesday, March 23, 2021 - 5-6PM ET
Bad Waitress is a four-piece punk rock band from Toronto, ON. Starting their musical adventures as The Nude Dogs, Bad Waitress was recently signed to Royal Mountain Records. They incorporate heavy licks, intense energy, and strong satire. They put out their first EP as Bad Waitress called "Party Bangers: Volume 1" on 4/20/2018 and are currently working on their first full length. As a collective they strive to create an empowering, inclusive and positive environment for people to rage out.
https://www.instagram.com/badwaitressband/
https://www.facebook.com/badwaitressband
https://twitter.com/badwaitressband
https://open.spotify.com/album/0JM4lsF31jRVkpuG4Ek...
https://music.apple.com/ca/artist/bad-waitress/136...
ELLEVATOR - Wednesday, March 23, 2021 - 5-6PM ET
Good music seems instantaneous: a decisive rush of expression and dopamine. Hamilton, Ontario band Ellevator captures that direct hit of immediacy, with a closer listen revealing the meticulous design of their rock songs. Frontwoman Nabi Sue Bersche delivers raw lyricism with quiet power. Her nimble melodies anchor the electric hooks and cinematic timbres Ellevator has refined on countless stages. Their striking self-titled debut EP - recorded in Hamilton with Michael Keire (Arkells, The Dirty Nil, Wildlife) - was released in the Spring of 2018 by Arts & Crafts and supported by tour dates with Arkells, Dear Rouge, Matthew Good, Our Lady Peace, The Franklin Electric, Banners, and Amber Run. Brick by brick, Ellevator has built a reputation as a band to watch.
In summer 2019, the band began working new material with producer Chris Walla (Death Cab for Cutie, Foxing, Tegan and Sara). Stay tuned for new music in 2020!
http://www.ellevatormusic.com
@ellevatorband
https://www.youtube.com/watch?v=qbHnxIW2Ke4
*Photo by Vanessa Heins
ZOON - Wednesday, March 23, 2021 - 5-6PM ET
In the Ojibway language, the word Zoongide'ewin means "bravery, courage, the Bear Spirit." It's no wonder Daniel Monkman adopted Zoon as his musical moniker. The Hamilton-based musician has spent the better part of his 28 years finding and channelling his strength to overcome such adversities as racism, poverty and addiction.
Music saved Monkman's life. And, on Zoon's debut album, Bleached Wavves, he paints a message of hope and fortitude, lessons he learned studying the Seven Grandfather teachings after experiencing the lowest point of his life.
Born and raised in Selkirk, Manitoba, a small prison town outside of Winnipeg he describes as "one of the roughest places," Monkman constantly faced an uphill battle. In his teens he was victimized for his First Nations heritage, which led to him abusing drugs and alcohol as a coping mechanism. His best friend died of an overdose; he nearly followed him on multiple occasions. But with the spiritual guidance he learned from 12-step therapy, Monkman got clean and began to follow a passion for music he discovered from a young age growing up within the Brokenhead Ojibway Nation.
Bleached Wavves is the first true document of what has been dubbed "moccasin-gaze," a tongue-in-cheek nickname for the amalgamation of Monkman's shoegaze influences with traditional First Nations music. Like My Bloody Valentine's Loveless, a record that changed everything for him, Zoon pushes forward that famously quixotic, effects-laden sound with a distinctive, new approach.
A song like Help Me Understand, which mixes traditional hand drumming with gliding waves of droning guitar, feels like new ground has been broken for shoegaze fanatics to obsess over. As he got more into this mindset of mixing cultures, Monkman went even further with his trials, emerging with his most radical vision, the trance-inducing Was & Always Will Be.
Like most things in his life, making the album didn't come easy for Monkman. His gear was stolen, leaving him with virtually nothing and forcing him to get creative. He recorded the songs in his bedroom and his jam space, using only a Fender Deville guitar, a DigiTech delay pedal and - channelling his hero Kevin Shields - some "reverse engineering."
Once it was finished, he got music into the hands of the late publicist Darryl Weeks, who quickly became a fan of what he heard. With Weeks' guidance and industry knowledge, Monkman found an ally willing to help out. He also found a label: Weeks passed on the record to fellow shoegaze enthusiast Trevor Larocque at Paper Bag Records, who offered to give Zoon a home.
While there is a healthy population of nu-gazers creating beautiful noise all over the world, Zoon's debut stands out from all the others. Bleached Wavves is notable not just for its breathtakingly inimitable sounds and giving birth to a newfangled subgenre (see "moccasin-gaze"), but also for its modest, resourceful creation, the sign of a true sonic genius-in-the-making.
https://www.bonsound.com/en/artist/zoon/
BASEMENT REVOLVER- Wednesday, March 24, 2021 - 5-6PM ET
Basement Revolver have been crafting both noisy and graceful shoegaze-esque tracks out of their hometown of Hamilton, Ontario since releasing their 2016 breakout hit 'Johnny'. Their affinity for blending 90s-infused indie rock with fuzzy, dreamy pop and poignant, yearning lyrics has earned them a devoted following throughout their native Canada, the US and UK.
Signed to Canada's Sonic Unyon and Memphis Industries affiliate label Fear Of Missing Out for their 2018 debut album release Heavy Eyes, the band have toured throughout North America and the UK with acts including The Go! Team, The Pack A.D. and Amber Arcades.
https://www.basementrevolver.com/
https://www.facebook.com/basementrevolver/
https://www.instagram.com/basementrevolver/
https://twitter.com/BASEREVOLVmusic
https://open.spotify.com/artist/2xaBaFw60ET6GJVxFL...
---
THE NEW COLOSSUS FESTIVAL ANNOUNCES "upstairs neighbours week" lineup
23–26 March, 2021
******
PRESENTING A SERIES OF SHOWCASES FOR EMERGING ARTISTS FROM ACROSS CANADA INCLUDING: BAD WAITRESS, BASEMENT REVOLVER, ELLEVATOR, MO KENNEY, TORIA SUMMERFIELD, tunic, WARES, VILLAGES, ZOON.
******
From March 23th to 26th, The New Colossus Festival and New Colossus Sessions team up with our neighbours to the north to present four evenings of our favorite new emerging music from Canada including: Bad Waitress (Toronto, ON), Basement Revolver (Hamilton, ON), Ellevator (Hamilton, ON), Mo Kenney (Halifax, NS), Toria Summerfield (Saskatoon, SK), tunic (Winnipeg, MB), Villages (Halifax, NS), Wares (Edmonton, AB), Zoon (Hamilton, ON), and more.
Soon after wrapping up the 2020 edition of The New Colossus Festival on March 15, organizers Lio Kanine, Mike Bell, and Steven Matrick launched The New Colossus Sessions, a weekly live series featuring interviews and performances by artists from around the world. Hosted by Brad Wagner (PASTE/Daytrotter), the sessions offer an opportunity to keep the music going while building a community of fans during a time when public gatherings are not currently possible and most importantly, provide a necessary outlet for participating artists to discuss their music and upcoming plans.
In October of 2020, The New Colossus Sessions launched a special program in partnership with Exclaim! called "upstairs neighbours" in order to create a new home for all the amazing music coming out of Canada. The festival itself featured a wonderful selection of bands and artists from across the country, so it made sense to put together sessions focusing on our latest finds. "Canada has such a diverse pool of artists," says New Colossus Co-Founder Mike Bell. "We're thrilled that we've represented this diversity with the performers participating next week."
Since pandemic restrictions mean that The New Colossus Festival is on hold until 2022, upstairs neighbours serves as an excellent preview of what's to come once the festival is able to resume showcasing music at the best independent music venues on the Lower East Side.
upstairs neighbours schedule:
Tues March 23rd
5–6pm EST
Bad Waitress (Toronto, ON)
Ellevator (Hamilton, ON)
Zoon (Hamilton, ON)
Weds March 24th
5–6pm EST
Basement Revolver (Hamilton, ON)
tunic (Winnipeg, MB)
Wares (Edmonton, AB)
Thurs March 25th
5–6pm EST
Mo Kenney (Halifax, NS)
Toria Summerfield (Saskatoon, SK)
Villages (Halifax, NS)
Friday March 26th
5–6pm EST
Mothland Showcase:
Kristian North (Montreal, QC)
Yoo Doo Right (Montreal, QC)
upstairs neighbours week is presented by:
Alberta Music, CIMA, Manitoba Music, Music Nova Scotia, MusicOntario, and SaskMusic
With support from: FACTOR & The Government of Canada and The Consulate General of Canada in New York and Ontario Creates, The Radio Starmaker Fund, Re:Sound, SOCAN and Stingray.
The New Colossus Sessions are also supported by Exclaim! along with Lyricfind, and CAB.
Please tune in next Tuesday–Friday at:
https://linktr.ee/newcolossussessions