Creating Connections: Online Panel Series - Musicians & Music Licensing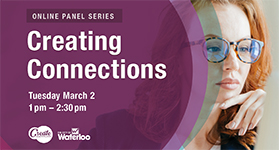 When

Tue 2nd March 2021

Where

Virtual/Waterloo, ON

Web
Create Waterloo presents Creating Connections, an online panel series for community arts & culture artists and organizations to meet funders and Arts Service Organizations (ASO) that support their craft.
On Tuesday March 2, the online panel series will host provincial and national ASO's supporting musicians and those in the recording industry. The panel will provide an opportunity for musicians, recording artists, and music organizations to become familiar with the organization's offerings, membership, advocacy, and supports they have available.
This online session is an introduction to:
SOCAN
FACTOR
MusicOntario
CIMA
Each ASO will provide an overview of their organization and support programs available to the creative community in Waterloo. Following their presentations, attendees will have the opportunity to ask questions.
Questions may be sent in advance to cultureplan@waterloo.ca or asked live during the Q&A session.
The purpose of this panel is to provide an introduction and connection to ASO's for individual artists and arts & culture organizations in Waterloo and the surrounding area. The panel will best serve organizations who are newer to, or in the process of expanding their work and looking for support in the areas of music, recording, and licensing.