​MusicOntario & Co-Work present: Communities Connect Hamilton: Royalties, Sync, & Making Your Music Work for You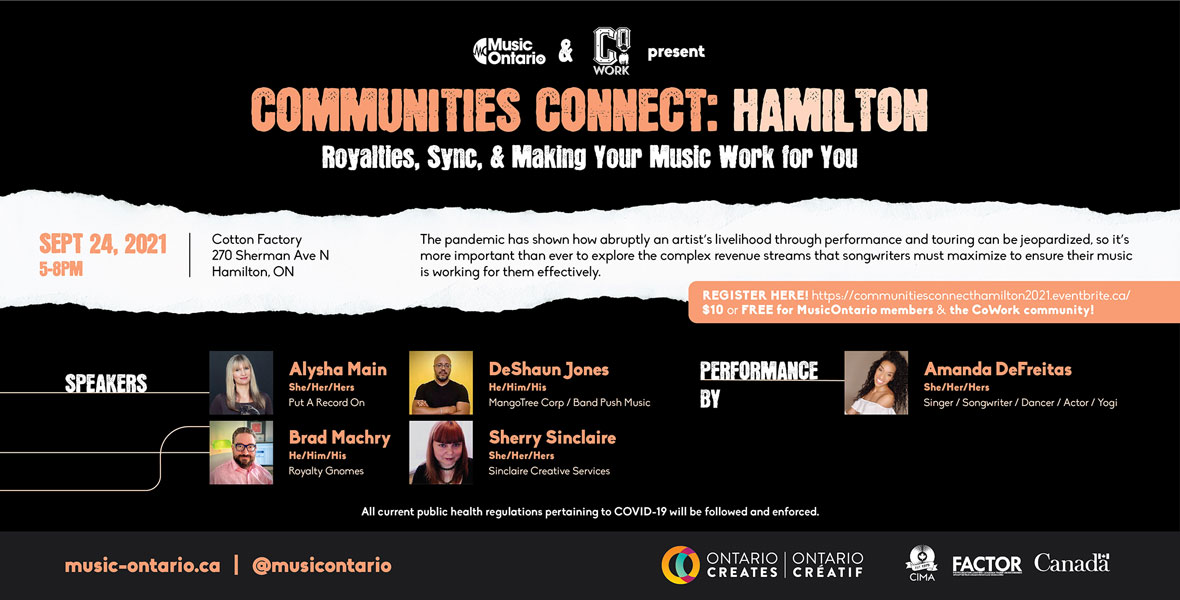 When

Fri 24th September 2021

Where

Hamilton, ON - Cotton Factory Co-Work

Web
MusicOntario & Co-Work present:
Communities Connect Hamilton: Royalties, Sync, & Making Your Music Work for You
September 24, 2021 @ 5:00-8:00PM ET @ Cotton Factory (270 Sherman Ave N, Hamilton, ON)
The COVID-19 pandemic has revealed just how precarious a musician's career can be when performing live and touring come to a screeching halt. Even at the best of times, life on the road is less glamour than it is hard work and dedication, so it's crucial for artists to understand how all revenue sources work for them, whether from digital streams and other online content, sync and licensing, or a plethora of potential royalties.
Join a panel of experts to discuss where to start, best practices in managing and monetizing the intellectual property you own in your music and compositions and learn to think proactively about harnessing passive income streams.
SPEAKERS:
Alysha Main (she/her/hers) – Put A Record On
Alysha Main is a Music Supervisor, DJ, and Podcaster who has been working in the entertainment industry for 20 years. Her career has taken her to Toronto, London, and Melbourne, working in Artist Management, Event Promotion, Sales, and Marketing. She is now based in the creative community of Hamilton, Ontario. She is the creator and host of the Hamilton Film podcast, documenting the local film industry. In 2017 she shifted her focus to Music Supervision, studying at Berklee College of Music, and now works on film and TV projects in Canada and the USA. Her recent projects include the Breakthrough Entertainment comedy thriller "Vicious Fun", and the Alyson Richards production "The Retreat".

Brad Machry (he/him/his) – Royalty Gnomes
When kids discover music culture, some dream of the spotlight thrilling crowds with big vocals or big hair. Yet while Brad Machry's schoolmates were forming bands, he was already living his dream designing posters and wrangling merch. Now the Founder of Royalty Gnomes, a music services company for an evolving industry, Brad's previous experience includes 5 years as Manager of Royalties & Licensing at Canada's original independent label True North Records, distributor IDLA, and parent company Linus Entertainment where he oversaw artists' revenue streams and secured music placements for Film and Television. Under his fledgling Royalty Gnomes banner, Brad is excited to share his knowledge and experience from more than two decades in the music industry including work with: CMRRA, ole Rights Management, The Glenn Gould Foundation, The McAuley Boys, NuFunk Concerts, KJ Sawka, and Mac Graham.


DeShaun Jones (he/him/his) – MangoTree Corp / Band Push Music)
DeShaun J. Jones has20 years in the music industry in various capacities. management, artist booking, distribution, event marketing, radio promotions & consulting. DeShaun is the former chairperson for the advisory board for gospel music to the JUNO Awards and has worked with Hamilton Winterfest and Hamilton Arts Council.
Presently supporting artists with sync licensing, booking, management, event production, and industry consulting.

Sherry Sinclaire (she/her/hers) – Sinclaire Creative Services
Sherry Sinclaire has been working in the Canadian music and entertainment industry for over 25 years, with more than a decade focusing on digital content. For the past four years she has been operating and running her own company, Sinclaire Creative Solutions. Previously working at companies like Bell Media, TELUS, Virgin Records, MCA/Universal Concerts (now Live Nation) and TicketMaster has allowed her to create relationships spanning throughout the recording, concert, radio, press, television, film, and telecom industries.
Sherry's skills in partner management, marketing, promotions, event management, digital content and business strategy; gives her the rare advantage of understanding how the industry works with content partners, product development, legal, and government regulatory bodies. Sherry is passionate about helping independent and developing artists who often benefit from her previous work with global acts such as Taylor Swift, The Rolling Stones, David Bowie, Janet Jackson and top television brands like HBO Canada, CTV, TSN, Space and Much.

PERFORMANCE BY:
Amanda De Freitas (She/Her/Hers) – Singer/Songwriter/Dancer/Actor/Yogi
Amanda De Freitas has been on the path of the artist her whole life. Now after a 20+ year career, she is a multi-disciplinary artist. She's a Hamilton born, Burlington raised Singer/songwriter/dancer/actor/yogi/dance educator, who began her journey in music and dance at the age of 3. Amanda pursued dancing and organ competitively for her entire childhood and was performing in the cast of the world-renowned Stratford Festival's WEST SIDE STORY and THE TEMPEST, even before graduating from Etobicoke School of the Arts.
She has achieved her dream of performing on Broadway, as well as the Toronto, U.S. tour, and Theatre Aquarius casts of the musical HAIRSPRAY.
Other treasured memories were made while performing in the DISNEY musical THE LION KING at the Princess of Wales Theatre in Toronto for 4 yrs.
In addition to mega musicals, she has also made appearances on the big and small screens in feature films, music videos, and commercials. She made it to the Top 50 rank of finalists on Canadian Idol, and to the top 100 of So You Think You Can Dance Canada. She has sung with professional Top 40 cover bands everywhere from the Fallsview Casino, to Opening for the Blue Jays at the Rogers Centre.
Amanda is thrilled to be sharing her love for life, and how she continues to learn to thrive as an artist (even amidst a worldwide pandemic), through this performance.
About MusicOntario:
MusicOntario is a non-profit, membership-based provincial Music Industry Association (MIA), whose mission is to provide professional development, education, information, and support to the music industry of Ontario. The association's mandate is to nurture, elevate, and empower emerging companies and artists in Ontario's indie music sector. We help. www.music-ontario.ca