​MusicOntario @ The New Colossus Festival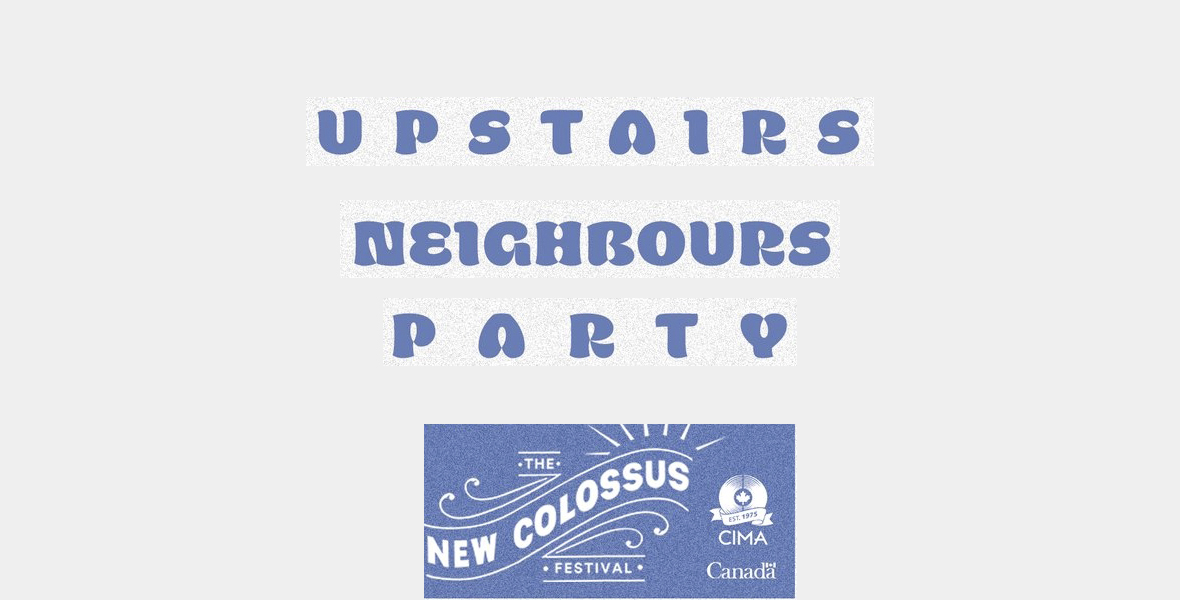 When

Fri 11th March 2022

Where

Pianos, New York City, NY

Web
MusicOntario @ The New Colossus Festival
Upstairs Neighbours Party presented by CIMA & the Consulate General of Canada in NY
March 11, 2022 @ PIANOS (NYC), 12pm – 5pm
MusicOntario is partnering with the Canadian Independent Music Association (CIMA) to present six rad Ontario artists at the New Colossus Festival in NYC. TNC will return to the Lower East Side with over 100 amazing artists and bands, a series of music industry panels, happy hour mixers, special events and more!
Kicking off day-three of the festival at noon on Friday March 10th, Pianos NYC will host a full day and night featuring the next wave of brand new artists from across Canada including our ON spotlights: Shallow Waves, Tallies, Westelaken, Status / Non-Status, Mother Tongues, and Hobby! RSVP for the event here.
Read more about the event here on Exclaim!
*All of the day shows (12-5pm) are free and open to the public 21+ with valid ID. Festival badge holders will get priority access to events. Food & Drink included for delegates.
SHALLOW WAVES – 12:45pm – Downstairs
https://linktr.ee/shallowwaves
In late 2017, Toronto's Shallow Waves began to shift focus away from their alternative, 60's garage rock origins towards a new sonic identity. Taking a cue from known contemporary bands (Wand, Flying Colours, The Black Angels) and Toronto's local psychedelic scene, Shallow Waves' emerged from their cocoon of noise, now heavy shoegaze darlings. Shallow Waves new sound can be heard on 2019's "Parallel States of Consciousness." The album, recorded in several studios around Toronto including Taurus Recordings (Metz, Sheepdogs, Fucked Up), features the droney psych single "Dust," and is sure to turn heads all over North America.
TALLIES – 3:00pm – Downstairs
https://www.talliesband.com/
Two years after the release of their critically acclaimed, self-titled debut album, Toronto-based indie pop outfit TALLIES are preparing to defy all expectations with their hotly anticipated new single, "No Dreams of Fayres". A lilting yet powerful opus culled straight from the dreampop ether, it is both a direct continuation of the band's sound, and an evolution into a stronger, wiser, and more mature version of TALLIES.
On "No Dreams for Fayres", singer Sarah Cogan's sweet, flowy vocals coast effortlessly atop Dylan Frankland's crystalline guitars, every note conjuring up the jangled melodies of classic groups like The Smiths, The Sundays, and Cocteau Twins. Under it all, drummer Cian O'Neill's driving percussion propels the song into the stratosphere. But "No Dreams for Fayres" isn't merely an exercise in nostalgia — TALLIES' modern twist adds a tightness, an urgency, an awareness that breathes new life into a beloved genre. "I don't want to wake up/I just want to lay back down," sings Sarah on the song's chorus, encapsulating in few words how just about everyone has been feeling over the past few years. "It's kind of ironic; I wrote the song pre-COVID, about a time of depression in my teenage years, but as soon as the pandemic started I had the exact same feelings," says Sarah. "It was insane — how do we have a song that's about me 10, 15 years ago, and is now relevant to me at 30 years old? It's pretty funny how that happened."

"No Dreams for Fayres" is also TALLIES' first release on new label Bella Union, a partnership that was written across the indie pop firmament since the band's beginnings. Run by ex-Cocteau Twins bassist Simon Raymonde, Bella Union's ethos aligns perfectly with TALLIES' dedication to immersing themselves in the label's signature sound. "Putting out a record with one of our heroes is extremely cool," explains Dylan, "being on Bella is a really big deal for us." It might seem hard to imagine a world in which Sarah and Dylan, writing songs together while studying sound engineering at Algonquin College in Ottawa, would someday be working with one of their favorite musical influences, but fans of the group's heart-expanding, awe-inspiring tunes won't be surprised — they'll know they had it in them all along, and that the journey has just begun.
Produced by Graham Walsh (Holy Fuck) and Dylan Frankland of the band at Palace Sound, Baskitball 4 Life and Candle Recording in Toronto.
TALLIES return with their new single and video (directed and shot by Colin Medley and edited by Christopher Mills) for "No Dreams of Fayres" via Hand Drawn Dracula (CAN), Kanine Records (US) and Bella Union (UK/EU).
WESTELAKEN – 3:45pm – Downstairs
https://linktr.ee/westelaken
STATUS / NON-STATUS – 4:30pm – Downstairs
https://www.statusnonstatus.com/
Status/Non-Status is the new name for the ongoing musical work of Anishinaabe community worker Adam Sturgeon (Nme') and his longtime collaborators (fka Whoop-Szo). The band spent a decade carving a path through Canada's DIY scene before leveling up thanks to 2019's acclaimed long player Warrior Down (You've Changed Records). This album confronted Sturgeon's complex family history and identity and was nominated for the Polaris Prize among numerous other accolades. Today, the band emerges renewed, with more stories to share …
Adam is 'non-status' as defined by the Canadian government. Adam's grandfather Ralph made the difficult decision to enfranchise in order to support himself and his family by joining the Armed Forces. Enfranchisement was the government's term for the legal process of turning in one's Status Card, terminating one's Indian Status, and becoming instead a Canadian citizen. It was a pillar of the government's assimilation policy and a requirement for any Indigenous person who wished to enlist.
In the name of providing a better life for himself and his family, Ralph was required to forsake his Anishinaabe roots, an all-too-common experience for Indigenous peoples across Turtle Island. Acts of colonial violence such as enfranchisement, the residential school system, and the Indian Act have resulted in disconnection amongst generations of Indigenous people from their communities, languages, land, and identities. Today, new voices are rising up and — through acts of reclamation via art, language, music, and community — taking back spaces that have been dominated by settler culture for so many years.
Who is native enough? Who 'counts' as Indigenous, and who does not? These questions swirl through the Canadian arts discourse today, impacting every medium and revealing fundamental inadequacies within our current identity-defining systems. For Adam, the proof is in the work; his commitment to telling his family's story with integrity and truth informs every aspect of his music and his life. Now a father to his own young son, it is the future that allows Adam to dig further into his roots.
"When we tell stories, we have a responsibility to tell the truth. Do the necessary work to earn trust. Share your experience as one voice within a greater circle … and find a home"
MOTHER TONGUES – 12:45pm – Upstairs
https://linktr.ee/mothertonguesband
HOBBY – 2:15pm - Upstairs
https://linktr.ee/hobbyisaband
FULL UPSTAIRS NEIGHBOURS PARTY LINEUP
Pianos Showroom
12pm Ellen Froese (SK)
12:45pm Shallow Waves (ON
1:30pm Sunglaciers (AB)
2:15pm Living Hour (MB)
3pm Tallies (ON)
3:45pm Westelaken (ON)
4:30pm Status / Non-Status (ON)
5:15pm Art d'Ecco (BC)
Pianos Upstairs Lounge
12pm Networking
12:45pm Mother Tongues (ON)
1:30pm Marissa Burwell (SK)
2:15pm Hobby (ON)
3pm Alicia Clara (QC)
3:45pm CAPITOL (SK)
4:30pm The Garrys (SK)