MusicOntario at Folk Music Ontario 2022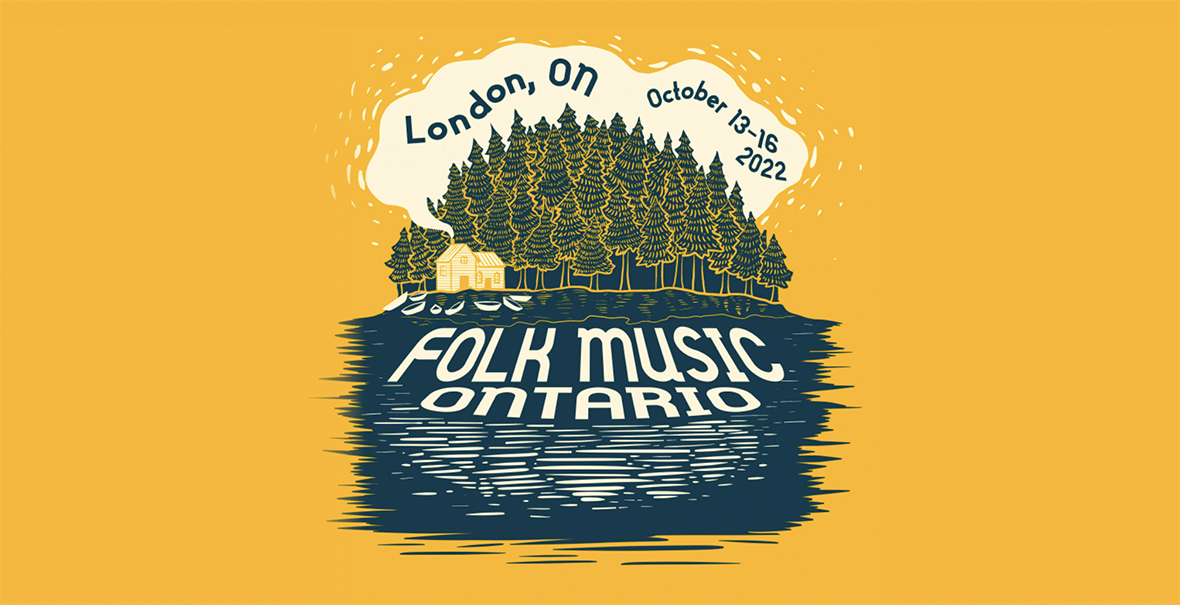 When

Thu 13th - Sun 16th October 2022

Where

London, ON

Web
Jeremy Voltz
Mimi O'Bonsawin
The Honeyrunners
Tennyson King
Freeman Dre
MusicOntario is so happy to head back to the Folk Music Ontario conference after two long pandemic years, and to London, ON, where we have lots of roots, friends, and wonderful members. Check out what's on the docket for so you know where to be and how to hang with us.

SHOWCASES
Richmond Tavern (350 Richmond St., London, ON)
Thursday, October 13, 2022 @ Richmond Tavern:
10:20 PM: Brothers Wilde
10:50 PM: Céleste Lévis
11:20 PM: Tennyson King
11:50 PM: Jenie Thai
12:20 AM: Alysha Brilla
12:50 AM: The Honeyrunners
Friday, October 14, 2022 @ Richmond Tavern:
10:20 PM: Sandra Bouza
10:50 PM: Sultans of String
11:20 PM: Sarah Beatty
11:50 PM: Michael Darcy & His Atlantic Tramps
12:20 AM: The Barrel Boys
12:50 AM: Aysanabee
Saturday, October 15, 2022 @ Richmond Tavern:
10:20 PM: Mimi O'Bonsawin
10:50 PM: Jeremy Voltz
11:20 PM: Nadjiwan
11:50 PM: Njacko Backo & Kalimbas at Work
12:20 AM: Tania Joy
12:50 AM: Tio Chorinho
PANELS + PROFESSIONAL DEVELOPMENT
Friday, October 14, 2022: Folk My Life: Finding work/life balance in the music industry
Roundtable session presented by MusicOntario
You're an artist, you're a brand, you're a human, and a band; what lines are being blurred, and how do we define boundaries to preserve a healthy work/life balance? The speakers in this session will lead a discussion examining how artists' lives and priorities have shifted during the pandemic, and if there are lessons we can take with us as we recover.
3:00-4:00pm; 3rd Floor, Suite 200, Doubletree Hotel
Speakers:
Anna Ruddick
Cindy Doire
Joni Nehrita
Melanie Brulee
Tara Shannon
Saturday, October 15, 2022: Fair Trade Music in the Gig Economy
Artists have been hanging up their instruments and getting day jobs in response to the precariousness of employment in the music industry, which reached its peak during the height of the pandemic. Is there another way forward? Can musicians expect to earn a living wage in today's gig economy? Our speakers will discuss with participants what kinds of collective actions are needed to create security and solidarity amongst live music workers.
2:30-3:30pm, 2nd Floor, Windsor Club, Doubletree Hotel
Speakers:
Arthur McGregor
Candace Shaw – Moderator
Emy Stantcheva
Liana White
Stefanie Purificati
ARTIST BIOS - IN ORDER OF APPEARANCE
BROTHERS WILD
These proud Ojibwe men are proud of their roots and family is the most important thing to them. Always chasing their dreams, Ethan and Nolan Wilde are brothers who have been playing their own unique brand of Country Fried-Roots Rock for the past 2 years and they're beginning to pick up steam. After winning 2019 International New Country Duo of the year in Pigeon Forge Tennessee, Lead Singer Nolan and Lead Guitarist Ethan have been burning up the local music scene.
https://www.brotherswildemusic.com/
CÉLÉSTE LÉVIS
Céleste Lévis vous invite à découvrir son nouveau spectacle "Si tu veux tout savoir"; un spectacle qui entame les réflexions et les combats des dernières années. Tomber sous le charme de sa voix à la fois douce et puissante et laissez-vous transporter par ses histoires de rêves et d'espoir.
TENNYSON KING
Tennyson King is a Chinese Canadian indie folk musician. He brings an irresistible personality to listeners worldwide, capturing audiences with his reverberant and earthy folk-rock sound as well as his intimate and humorous brand of lyrical storytelling. An organic sound that makes the soul feel wild and the heart comforted.
JENIE THAI
Three time Maple Blues Award nominee, Jenie Thai is a songwriter/pianist that blends her love of classic R&B and American roots music. Her sound has a contemporary edge in tough but tender ballads and fiery house-rockers. Recent accomplishments include receiving standing ovations on stages such as Massey Hall, Mariposa Folk Festival, and the New York Jazz Forum Arts Festival.
ALYSHA BRILLA
Alysha Brilla is a 3x Juno Award nominated artist, songwriter and music producer with a special interest in sound as a healing modality.
Brilla is the first female artist in Canada to receive multiple Juno Award nominations for her self-produced albums. Brilla's work is driven by a deep belief in music's power to transform ourselves and our world. Brilla's unique global roots x folk fusion is inspired by growing up with parents from two different cultural and religious backgrounds; an Indo-Tanzanian father and a European-Settler Canadian mother.
THE HONEYRUNNERS
A Northern take on Southern Roots and Americana, The Honeyrunners are hot-blooded and rife with the poetry of heartache. Harmonies, storytelling, and soul-soaked rhythm of their latest album "Everything Is On Fire" have garnered the four-piece Canadian band a slew of press and radio play worldwide.
SANDRA BOUZA
Rythm & Blues artist Sandra Bouza (pronounced Bōh-zah) lets her stories breathe in soulful songs that are deeply personal. Having spent a large part of her life in Spain, as well as travelling to far corners of the world, Sandra's worldly vision and life experience is evident in her songwriting.
SARAH BEATTY
Fun and funny, Sarah Beatty sings what she thinks in peculiar detail. With a penchant for writing research songs, the Hamilton, ON polymath and JRLMA Ontario Recording Artist of the Year (2018) winner is best known for enchanting audiences with warmth, wit, and inspiring messages that thoughtfully challenge the status quo.
SULTANS OF STRING
3x JUNO-nominated/Billboard charting/CFMA winning Sultans of String creates "energetic and exciting music from a band with talent to burn!" (Maverick, UK). Mixing Celtic reels, Flamenco, Django-jazz, Arabic, Cuban rhythms, the group celebrates musical fusion and human creativity with warmth and virtuosity, with world rhythms that excite audiences to their feet!
MICHAEL DARCY & THE ATLANTIC TRAMPS
After releasing his impressive solo debut 'Simple Drop of Rain', Irish singer-songwriter Michael Darcy returned to the studio with his band 'The Atlantic Tramps' for the eagerly-awaited follow-up album, 'Down to the Roots'. This scheduled Summer 2022 release promises to be a whirlwind of folk traditions – where greengrass meets bluegrass.
https://michaeldarcymusic.com/
THE BARREL BOYS
A gem of Canada's bluegrass scene, The Barrel Boys are an acoustic string band with a tight sound built around rich vocal harmonies and virtuosic instrumentals. Their instrumentation lends itself to traditional bluegrass, but their diverse array of original material also shows their fondness for old-time, classic country, and Americana music. The band is a dynamic collective of seasoned professionals, with all five members contributing powerful, earnest songwriting and strong lead vocals to the whole while weaving together their instrumental skills into a seamless unit.
https://thebarrelboys.com/home
AYSANABE
Oji-Cree, Sucker Clan of the Sandy Lake First Nation, Aysanabee currently lives in Toronto. Moving off reserve at the age of three, Aysanabee lived in several small towns across northern Manitoba and Ontario before settling in Kaministiquia outside of Thunder Bay with his mother Therese Aysanabee and two siblings. It was there he learned how to play guitar and developed skills in songwriting and composing original arrangements.

MIMI O'BONSAWIN
Mimi O'Bonsawin is an award winning singer-songwriter. Her songs are heavily influenced by her Abenaki & French-Canadian roots and flow through a centre of love and creativity. Her release ELLE DANSE is a self-produced french EP that has been gaining momentum with placements on Spotify, Amazon and Apple Music curated playlists. ELLE DANSE was in ELMNT FM's top 10 Best Albums of 2020 and it was recently nominated for two prizes at the TRILLE OR Awards. Mimi's newest release is an Instrumental Album "Fiddleheads & Ferns".
JEREMY VOLTZ
Burned-out mathematician turned indie-soul artist, Jeremy Voltz's music is inspired by thinking deeply about the people in his life and what he'd love to have the courage to say to them. With a powerful, haunting voice and heartfelt lyrics, Voltz's songs have been featured in film, television, and radio.
https://www.jeremyvoltzmusic.com/
NADJIWAN
Visionary, Marc Merilainen, better known as Nadjiwan has been transforming the sound of Indigenous music by blending traditional with modern from the very beginning of his music career, and his prodigious output has been recognized by many, including numerous award nominations and accolades.
https://headingnorthmusic.com/nadjiwan--2

NJACKO BACKO & KALIMBAS AT WORK
Juno-nominated Njacko Backo and Kalimbas At Work weave together the sweet sounds of kalimba (African piano) and ngoni (African harp) in unique configurations anchored in traditional Cameroonian rhythms. Njacko's lyrics emphasize the importance of love, togetherness and respect, and his masterful animation creates joyful memories for audiences of all ages.
TANIA JOY
In 2021 Folk-roots artist Tania Joy released her album "I Will Stand," produced by Hill Kourkoutis who won Recording Engineer of the Year at the 2022 Junos for her work on "The Drought," while Joy won an OMA for Songwriter of The Year and a nomination for "Planks and Marietta."
https://linktr.ee/misstaniajoy
TIO CHORINHO & FLAVIA NASCIMENTO
Tio Chorinho is the first ensemble in Canada dedicated to performing choro music, the "New Orleans jazz of Brazil." Exciting, intimate, nostalgic and virtuosic, choro is an infectious urban-folk style whose universal appeal belies its musical complexity.
Tio Chorinho embraces the authentic spirit of choro and extends it, thrilling audiences of all backgrounds with astonishing musicianship and easy-going charm on stage. They perform frequently with the amazing Brazilian-born, Quebec-based vocalist Flavia Nascimento, with whom they will soon be making a full-length collaborative recording.
Keep Up To Date