MusicOntario @ SXSW 2023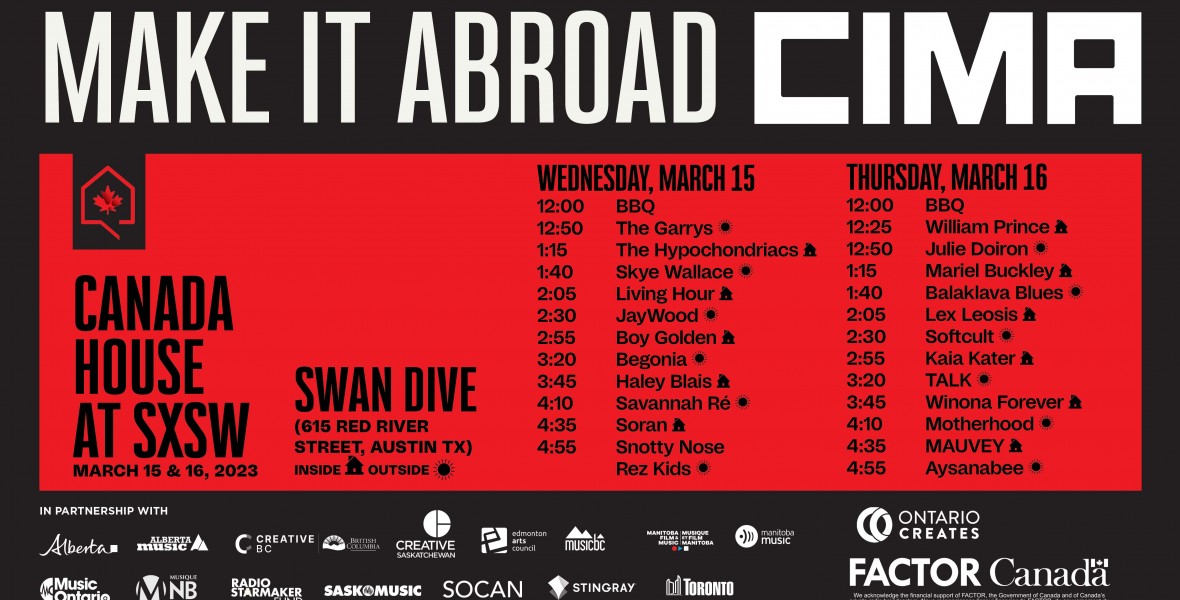 When

Wed 15th, Thu 16th March 2023

Where

Swan Dive (Austin, TX)
Skye Wallace
APA CANADA INC
Kaia Kater
Mavens Music
ONTARIO @ SXSW 2023
Canada House – Swan Dive (615 Red River)
March 15-16, 2023, 12pm-5pm
Presented in partnership with Ontario Creates and the City of Toronto
AYSANABEE
Aysanabee is a multi-instrumentalist, producer and singer songwriter currently based in Toronto. He is Oji-Cree, Sucker Clan of the Sandy Lake First Nation a remote fly-in community in the far reaches of Northwestern Ontario.
He began creating music under his mother's maiden name during the pandemic when the stillness allowed him to slow down and create music, he says, more directly represents himself as an artist.
Solemn and soaring, backed by a swirling blend of indie, soul and electronic soundscapes, mournful saxophone and pulse-quickening finger-picking, Aysanabee's striking sound is equal parts hypnotic and melodic which has been compared to Bon Iver, Matt Corby, Don Ross, Kim Churchill, Kings of Leon and Sam Smith.
His debut album, Watin (2022) named after his grandfather, includes 10 tracks and nine interludes featuring the voice of his grandfather and is both part music and journalism, artistry and expression.
BALAKAVA BLUES
Balaklava Blues is the brainchild of Mark and Marichka Marczyk, creators of the multi-award winning guerrilla-folk-opera Counting Sheep and leaders of the mighty Lemon Bucket Orkestra, Canada's notorious 12 piece balkan-party-punk-massive. They are joined by friend and musician Oskar Lambarri. Falling somewhere between a traditional song cycle and a full blown multimedia techno show, they fuse Ukrainian polyphony and other folk traditions with EDM, trap, dubstep, and more as a launching pad to explore the seemingly never ending blues that have long emanated from the Ukrainian steppe.
Mark and Marichka met in Kyiv during the 2014 revolution of dignity and ever since have dedicated their creative energy to telling the stories of their home country to the world. Their experiences of war coupled with their unique knowledge of the polyphonic blues of the Ukrainian plains explodes into an ethno-bass live set with astounding vocals accompanied by equally compelling documentary footage from the front lines of the war, black and white archival material from the region, and popular Soviet cartoons."Balaklava Blues music is a reclamation of the violence perpetrated on my home country."
https://www.balaklavablues.ca/
LEX LEOSIS
Known for her dynamc flows, aggressive stage presence and elaborate story-telling, Lex Leosis is a name you will soon remember. With a unique gravely vocal delivery, acrobatic flows, and a mastery of her instrumentation, Lex breathes life into Hip Hop and mesmerizes with her rapping abilities. Setting herself uniquely apart by holding space for various causes and using her platform to support other women and non- binary artists and creatives, Lex is not afraid to give props where it's due. Born in the west end of Toronto, Lex has an attack in her flow, juxtaposed with a finesse in her lyricism and a hunger in her vocal tone. Her family gave her traditions, Toronto shaped her, and California helped form her sound.
In 2022, Lex has toured with Snotty Nose Rez Kids as the opening act on a 40 date North American tour. She has gone viral multiple times while developing a strong following on Tik Tok, releasing over 100 duets in the first 9 months of using the platform. She has landed her single "Wanted" in two TV shows, "Run the Burbs" and "Pretty Hard Cases". She formed a band for her live show and toured Canada playing RBC Bluesfest, Toronto's Unity Fest, Rifflandia, Shipyards Festival and Luna Sound Festival. She recently signed a sync deal to represent her catalogue with High Priestess. Her recent releases include "Be Mine" with Toronto rapper Keysha Freshh and "Grandioso" with LA based producers and rappers Lex Bratcher, OhGoshLeotus and Alexander Lewis.
KAIA KATER
Kaia draws on her diverse influences in Quebec, the Caribbean, and Appalachia, bringing them together to present an exciting musical direction. Known for her prowess as a songwriter and tradition bearer who performs with "the skill of a folk-circuit veteran" (Rolling Stone), Grenadian-Canadian artist took a decidedly different direction for Grenades. What started out as a search to discover the roots of her identity became a physical and emotional exploration of history, in particular her paternal ancestry, and has led to bold new heights of imagination and creative expression.
She grew up between two worlds: one her family's deep ties to the Canadian folk music scene; the other the years she spent soaking up Appalachian music in West Virginia. Her father grew up in Grenada, fleeing to Canada in 1986 as part of a youth speaker program, after the U.S. invasion.
Starting her career early, Kaia released her first EP Old Soul (2013) when she was just out of high school. Since then, she's gone on to release two more albums, Sorrow Bound (2015) and Nine Pin (2016). Her most recent album weaves between hard-hitting songs that touch on social issues like the Black Lives Matter movement
SAVANNAH RÉ
Two-time consecutive JUNO Award winner for Traditional R&B/Soul Recording of the Year and three-time JUNO Award nominee Savannah Ré has become the one to watch in Canadian R&B. By making music with the unyielding intention to craft songs that forfeit polished stories for authentic ones, the Toronto artist has become the go-to collaborator for R&B's upper echelon having written with artists like Babyface, Jessie Reyez, Normani, Wondagurl and her mentor, Grammy Award-winning producer Boi-1da. Savannah Ré's critically-lauded debut EP Opia earned her shoutouts from the likes of SZA and Timbaland and multiple award nominations including a place in music history as the first artist to ever be nominated for both the Contemporary R&B Recording of the Year and the Traditional R&B/Soul Recording of the Year JUNO Awards, the first artist to ever receive the Traditional R&B/Soul Recording of the Year JUNO Award and, after winning it for a second time in 2022, the only artist to receive the Award to date. On her second body of work, No Weapons, Savannah holds firm in her commitment to expressing vulnerability through potent songwriting with a newfound understanding of herself.
SKYE WALLACE
With a skill in carving melodies and shreddable moments from rock foundations, Skye Wallace is also an expert at proving herself in every room, at every turn. The guitar-slinging Canadian road warrior has honed a visceral and honest sound, permeating equal parts Courtney Barnett, Patti Smith, and Neil Young's Marshall Stack era. A live show from Skye and her band is guaranteed to make you let loose and feel something.
SOFTCULT
Twin sisters Phoenix (She/They) and Mercedes Arn-Horn (She/Her) have been making music together since they were barely teenagers. Cutting their teeth in the local scene of Kitchener, Ontario helped them find their feet but because it was dominated by blokes, they were often left feeling like the odd ones out. Later, when they started touring further afield, the pair were exposed to how "misogynistic the music industry really was". Tired of biting their tongues, putting up with relentless sexism as well as realising they weren't the only ones having to deal with it, Softcult sees the pair biting back. As their debut single promises, "something's got to change".
The duo had been toying with the idea of Softcult for a long while but the pandemic finally gave them the time to focus on bringing that vision to life. Recording at home and produced by Phoenix, the band are able to capture what they hear in their heads without a middle-man diluting things while Mercedes has taken charge of their music videos.
TALK
"Show love to everyone you meet, because you don't know what they're going through or where they've come from." This is the guiding principle for TALK's life. The singer-songwriter is a mass of positive energy, colour and enthusiasm, bringing a smile to the face of everyone he connects with. TALK launched himself on a rocket with his debut single "Run Away to Mars". Originally written at 3am on a lonely night, the song has connected with listeners all over the world: earning 100+ million of streams ,rising to #1 on the Spotify Global Viral 50, and hitting platinum and gold certifications in Canada, Sweden, Norway and more. He followed the single with the TALK To Me EP, which earned praise from American Songwriter, People, Complex and more, and performed on the Late Late Show with James Corden. His music has been synced several times, including twice in in Grey's Anatomy. He's sold out shows across North America and performed on the main stage at Festival d'Ete du Quebec in front of 75,000+ people. Now, TALK is developing his debut album with a close team of collaborators, including hitmaker Justin Tranter.