MusicOntario @ AmericanaFest 2023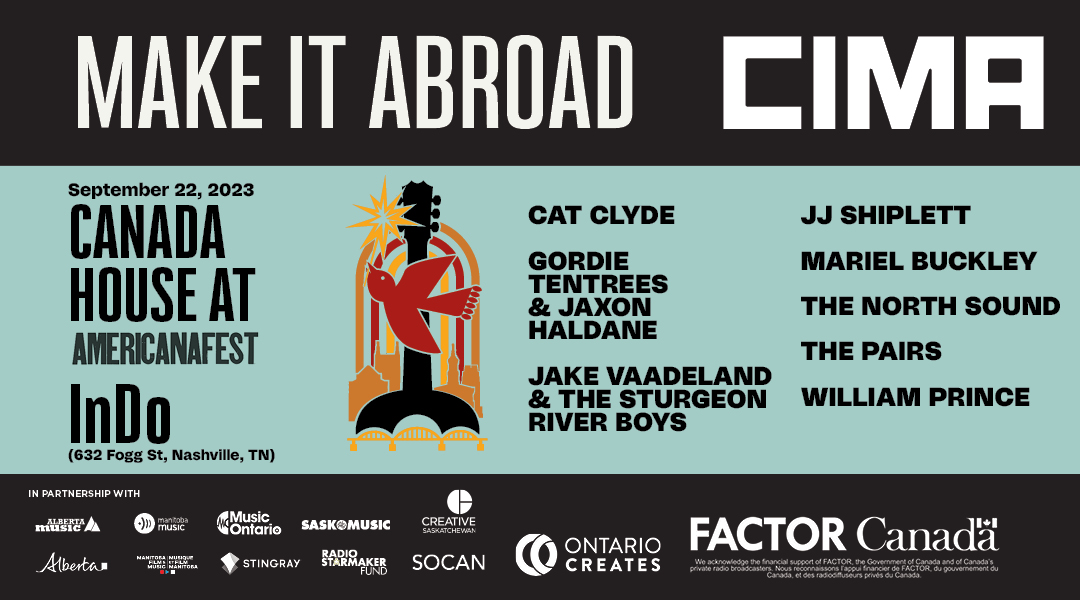 When

Tue 19th - Sat 23rd September 2023

Where

Nashville, TN

Web
September 19-23, 2023 in Nashville, Tennessee
Deadline to apply for showcase is May 26, 2023: https://www.surveymonkey.com/r/CIMAAMA2023
MusicOntario will be joining the Canadian Independent Music Association (CIMA) at Canada House in 2023 to co-present Ontario artists with Ontario Creates!
Held annually, the Americana Music Festival & Conference brings together thousands of legendary artists, the next generation of rising stars and industry professionals for six days of music and education. The 2023 edition will be taking place between September 19-23.
CIMA will also be partnering with Sounds Australia and the British Underground to organize business events during AmericanaFest. Company representatives for Canada House showcasing artists will be invited to participate in these business events with costs covered by showcasing partners. Companies who are attending AmericanaFest without showcasing acts may also participate at a cost of 150$ (CIMA members) and 300$ (non-CIMA members). If you are an Ontario-based company who is a member in good standing of MusicOntario, we may be able to assist with cost of participating in these business events.
Why should you attend the Americana Music Festival & Conference with CIMA?
Artists will get the opportunity to showcase in front of key tastemakers and industry professionals interested in the American genre.
CIMA members and mission participants receive the discounted member rate on delegate registration (contact jenia@cimamusic.ca for more information)
Participation in business events (panels, networking lunch, one on one meetings etc)
Registration includes a Canada House showcase marketing campaign (social media promotion, program book ads, mobile app promo, on site posters/pull-ups etc).
Who is eligible for this opportunity?
Style of music must fit the Americana music genre.
Canada House showcasing artists must be accompanied by a business representative as our export missions are centred on creating business opportunities.
Artists who've already been accepted by the Americana Music Association for official shows can apply for another showcasing opportunity at Canada House.
Artists who did not apply directly to the Festival may also apply.
All showcasing artist submissions will be reviewed by the showcasing partners external committees and the Americana Music Festival selection team.
Registration Information & Mission Fees:
Canadian business representatives for Canada House showcasing artists will also get the opportunity to participate in business events presented by CIMA during AmericanaFest. These business event costs will be covered by the showcasing partners.
Ontario delegates who do not have showcasing artists but wish to participate are also invited to take part in the business events. The cost associated with these business events is $150 for CIMA members and $300 for non-members. If you are a MusicOntario member in good standing, we may be able to assist with the cost of participating in the business events. Please register so that we are aware of your interest in attending/participatng.
Deadline to submit an application for this opportunity: May 26, 2023
https://www.surveymonkey.com/r/CIMAAMA2023