MusicOntario @ NXNE 2023 - Mixer & Showcase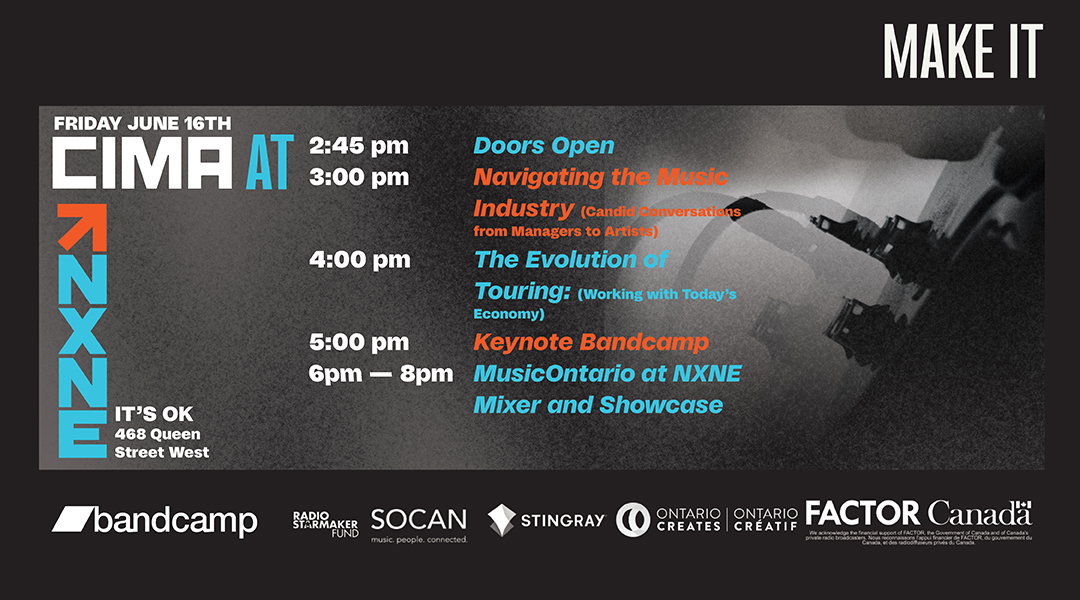 When

Fri 16th June 2023

Where

It's OK/NXNE Headquarters, Toronto
Industry Insights: CIMA at NXNE, followed by the MusicOntario Mixer & Showcase
June 16th @ It's OK/NXNE Headquarters - 468 Queen St. W (Toronto, ON)
CIMA and NXNE have joined forces for an exciting afternoon of programming on June 16th, designed for emerging artists and industry performing at or attending the festival. Jam-packed with a diverse range of topics, attendees will glean valuable insights and develop opportunities for growth in the music industry.
The day of professional development will wrap with the MusicOntario Mixer and Showcase, featuring LTtheMonk, Freddy Printz, Eazy Finesse, and Private Name Private Number. Don't miss out on this fantastic opportunity to connect, learn, and celebrate the vibrant music community at NXNE!
Private Name Private Number
With a name like Private name Private number provides instant mystery, intrigue and engagement. Private is best known for his high energy performance and catchy songs. Hes been making noise in Canada and wants to show the world his gift.
Eazy Finesse
Eden Yohannes, professionally known as Eazy Finesse, is a multi-talented music artist coming out of Ottawa, Ontario, Canada. Eden has been professionally making music since 2018 as 1 of the 4 members of a girl group (that no longer exists). Her first release as a solo artist came in summer of 2019. As she dove deeper into her creative process, Eazy decided to branch off into a career as a solo artist and has never looked back.
Born in Ottawa, Eazy merges influences from Hip-hop, Soul/R&B and her cultural background to bring a vibe through her music. From inspirations such as Jazmine Sullivan to MoneyBagg Yo, the versatility speaks through her music! She started creating music in 2018, but knew her passion long before, back in 2012, when she started writing songs. Her goal is to empower other female artists to believe in themselves and do the things that they love with no doubts, not to let the media influence how they go about their future!
Eazy is currently 22 years old, and with placements on Hot 89.9 and in the Ottawa Citizen Newspaper, has decided that she would pursue her dream of music full-time and has continued to do just that! With songs like Swervin & Better Than being her biggest songs of 2021, she is wasting no time in dropping some new tracks!
Freddy Printz
FREDDY (Further Reiterating Everyday Difficulties of Dilated Youth) is an acronym that fell into place when expressing what ideology and approaches I would like to take within the arts and cultural sector. I began writing music in 2010 and continued to dive into some of the origins of Hip Hop and R&B, finding great context for some of my own influences. Time spent learning song structure and the inner workings of a studio would allow me to release my first body of work in September of 2013, aptly titled "The Cold Capitvl Project".
LTtheMonk
Originally from London, UK, LTtheMonk first fell in love with hip-hop at just eight years old, when the music captivated his young ears and ignited what would become a lifelong passion. Blended with constant exposure to reggae (via his Jamaican mother) and rock (via his Irish father), LT's adventurous love of music and performing onstage would only grow stronger.
That eclectic musical upbringing, coupled with discovering the music of Michael Jackson and becoming obsessed with the pop icon's music and dancing in parallel with his foundational hip hop exposure, set LT off on a journey to becoming a musician himself. It's also an intrinsic part of LT's toolkit, with bantamweight Gene Kelly-meets-James Brown footwork and immaculate sport socks both indelible signatures of his persona as an entertainer.
LT has since carved a reputation as a vibrant and compelling talent, moving to Canada in 2017, where he has since been furthering his career in the cities of Hamilton and Toronto. And taking all of his influences, LT aims to fuse dance music with hip-hop and pop, to create his own unique sound, which you can hear in songs such as 'Class Of '23' & 'The Lo'.