COMMUNITIES CONNECT Brampton: Pursuing A Career As A Music Producer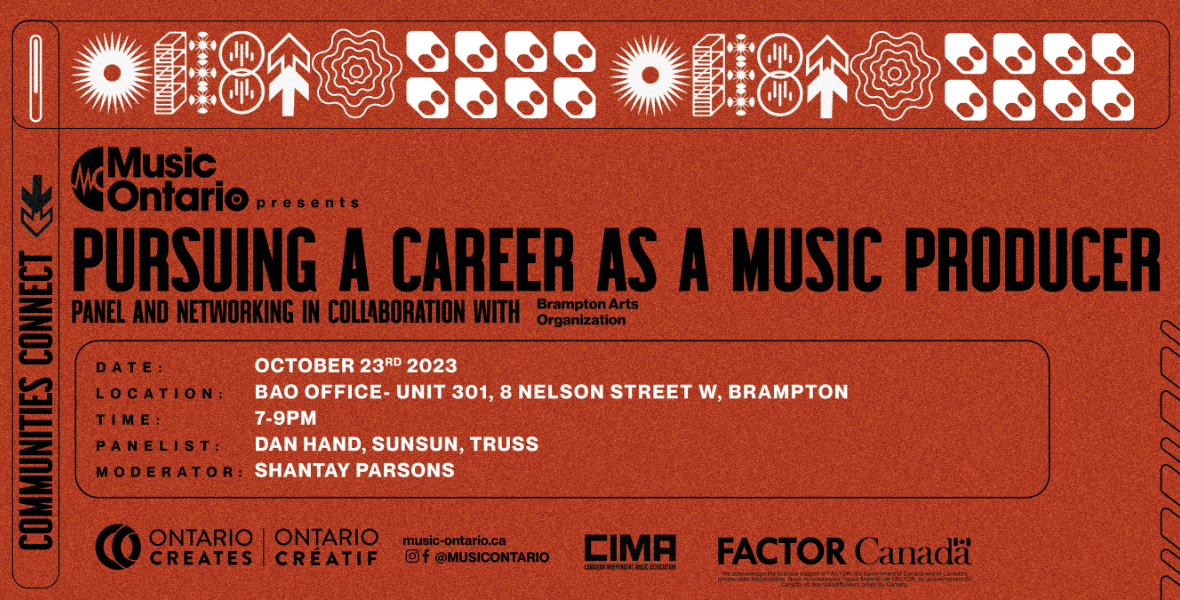 When

Mon 23rd October 2023

Where

8 Nelson Street West #unit 301 Brampton, ON L6X 1B7

Web
In the world of music production, opportunities are boundless. From collaborating with artists and embarking on tours to crafting sonic wonders in state-of-the-art studios and securing sync licensing deals, there are numerous avenues to generate income as a music producer. Now, it's time to uncover the strategies and insights that can help you transform your passion into a thriving and lucrative business.
At this event, you'll have the chance to learn directly from a diverse group of industry professionals who have successfully navigated the music production landscape. They will share their experiences, tips, and invaluable advice on how to build a sustainable and profitable career in music production.
Join us for an evening that promises to equip you with the knowledge and connections you need to excel in your music production journey. Whether you're just starting out or looking to take your career to the next level, "Pursuing a Career as a Producer" is an event you won't want to miss.
About the Panelist
Etobicoke brown, Brampton raised, Truss found his sound at an early age. A multi-talented musician, Truss not only produces music using programs such as Logic and Ableton, but he's also been playing the piano and drums since he was 13. Truss is well-known for providing the soulful, sultry lyrics atop his own melodic and solid production. Truss has been both in front and behind the scenes, working with artists such as Junia-T, Nicole Chambers, Mighloe, Julian Stephen, Malaika Khadijaa, and his own band, TRP.P. His writing and production has afforded him the opportunity to open for artists such as Mumu Fresh, Kehlani, Ashanti, Nelly, Ti and Gabriel Garzón-Montano. Truss has also produced music for season one of CBC/HBO Max's "Sort Of" and has worked audio for commercial and local documentaries. His inspirations include Pharell, Timbaland, J. Dilla, Kanye West, 9TH Wonder and D'angelo.
Sun Sun is a Toronto based DJ, producer, member of rap-electro, dub hop group Above Top Secret and Witch Prophet. She has opened for and shared the stage with amazing acts like Shabazz Palaces, A Tribe Called Red, Lido Pimienta, JPEG MAFIA and many more.She is also the Vice President & Co- CEO of Caledon based label Heart Lake Records Inc.
Dan Hand is a passionate music manager. With over 15 years in the music business, he has professional experience in management, marketing, tour managing and A&R at both independent and major record labels, there's nothing Dan can't handle. His involvement has culminated in gold records, millions of streams, Juno award nominations, music video awards, partnerships with labels, touring around the globe, among many other professional and personal accomplishments. When he isn't giving it all working with his clients, he's a proud father and family man, and can usually be found drinking the tallest coffee, listening to records and/or geeking out over guitar pedals.
About the Moderator
Shantay Parsons, a Digital Project Manager at Corus Entertainment, has a multi-scoped career expanding past her corporate role; Besides sitting on the board of the Ageless Film Festival - She is the visionary founder of Black Creative Alliances (BCA), a non-profit organization focused on uplifting local talent. Under her guidance, BCA has established immersive event spaces, providing emerging artists with platforms to cultivate and showcase their talents. Shantay's dedication to inclusivity shines as she collaborates with companies and cities advocating for essential resources and improved access for creatives, particularly those identifying as Black. Her commitment extends to moderating events such as ROOTS, Black Leaders of Tomorrow, and GTA workshops, fostering a more supportive and inclusive environment. Shantay Parsons is an industry trailblazer, recognized for her profound impact on entertainment. Her work with BCA empowers artists and creates spaces where creativity and healing flourish.