Tune Up Toronto: Focus on Latin & World Music - Rights & Royalties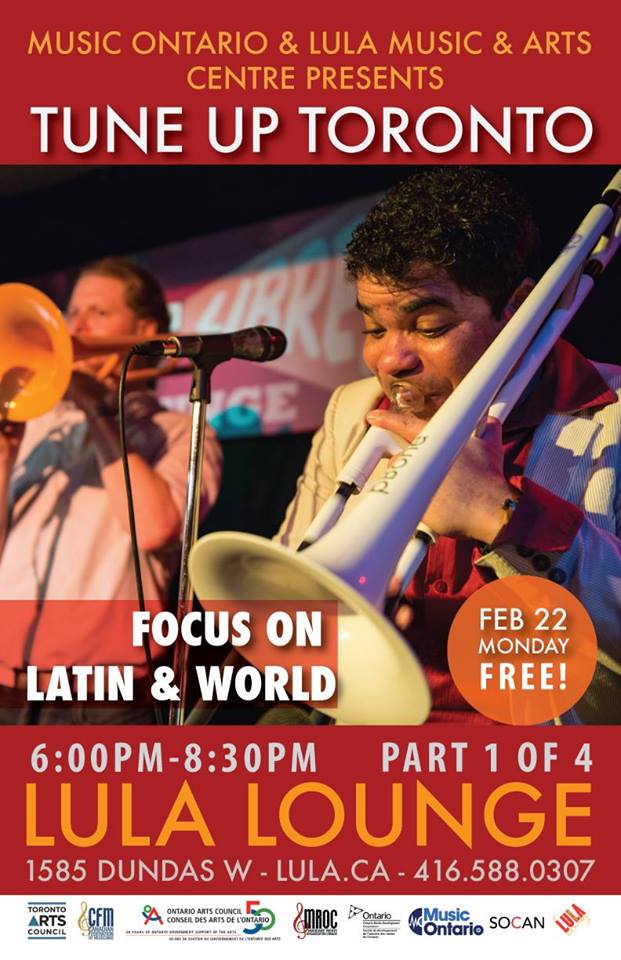 TUNE UP TORONTO: FOCUS ON WORLD/LATIN RIGHTS AND ROYALTIES: A STEP-BY-STEP GUIDE TO GETTING PAID
February 22, 2016, 5:30-8PM @ LULA LOUNGE (1585 Dundas St. W) FREE entry - RSVP HERE
Tune Up Toronto
is a MusicOntario workshop series designed to cater to the needs of local music communities by genre, for artists and emerging music professionals alike. For most musicians, the complex world of music rights, royalty rates, copyright and the roles of the various collective bodies is tricky to make sense of and apply to one's own situation. In this interactive workshop, speakers from CFM, MROC, and SOCAN will walk you through their registration processes and answer any questions you may have along the way. FACTOR and UNISON Benevolent Fund will also be on hand to provide information about their programs and how they can benefit musicians.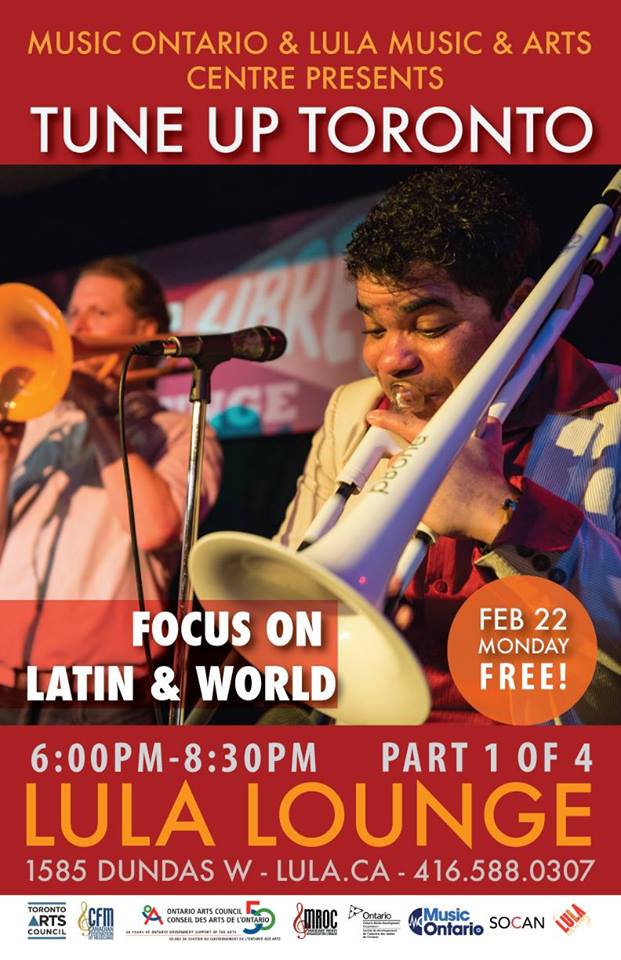 PANELISTS
Allistair Elliott (Canadian Federation of Musicians) web: www.cfmusicians.org // twitter: @cfmusicians Born and raised in the UK, Allistair Elliott re-located to Canada in 1988. His background (BFA Jazz Studies) quickly opened doors to the musical community in Calgary where he has established roots since settling in Canada. His versatility as a commercial trumpet player has afforded him opportunities to travel and record in various genres. His work as a recording artist is frequently heard on tv and radio commercials, as well as two Canadian made movies. His second CD, Urban Nights, brought national and international recognition culminating in a 2008 Canadian Smooth Jazz Award. Allistair spends much of the year travelling across Canada representing musicians and their interests in his position of international Representative from Canada, as well as continuing to record his third CD.
Michael Batruch (Musicians Rights Organization Canada) web: musiciansrights.ca // twitter: @mroc_canada Mike has been in most shoes when it comes to the Canadian Music Scene. Coming from a performer background playing in bands he has put on DIY shows at various venues in Toronto and in the GTA previously doing so at The Central, featuring local punk and hard rock shows. Completing his studies at Trebas Institute in the Entertainment Management program he began contributing online reviews on releases and performances by bands including Sick of it All, Beach Slang, The Penske File and Anti-Flag among others on the website Punknews.org. Currently he is at MROC (Musicians' Rights Organization Canada) a Neighbouring Rights and Private Copying Collective where he collaborates with members and assists with their repertoire, researching and updating the database along with some outreach to the music community informing the importance of Performer's Rights to musicians, producers and managers alike.
Bruce Landon (SOCAN) web: socan.ca // twitter: @SOCANmusic Bruce Landon is an A&R Researcher for SOCAN - the Society of Composers, Authors and Music Publishers of Canada. He has been working on behalf of Canadian songwriters with SOCAN for the past 5 years providing valuable assistance as part of SOCAN's effort to maximize performance royalties and music revenue for SOCAN members. Bruce is an important facilitator in recruiting and retaining Canada's emerging music and songwriting talent on behalf of SOCAN. Before joining the Membership department, Bruce worked with the Concert Distribution department in a role that bridged Membership and Licensing operations. Bruce's love of music led him to try his hand a being a singer-songwriter until his career path steered him to working on behalf of artists through many roles at music retail and now at SOCAN.
Brian Hetherman (MusicOntario & Curve Music) web: curvemusic.com // twitter: @curve_music