MusicOntario's Town Hall at CMW 2016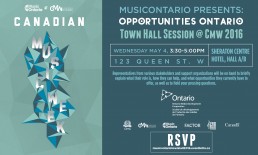 When

Wed 4th May 2016

Where

Sheraton Centre Hotel (123 Queen St W), Toronto, Ontario

Tagged as
MusicOntario's Canadian Music Week 2016 Town Hall meeting is designed to engage various constituents from across the province to discuss ideas, troubleshoot common concerns and brainstorm mutually beneficial opportunities to connect the greater community. Join us during one of the most electrically charged weeks in the music industry during to connect with your provincial community. This session is for you if your goals are to:
Break into the biz or expand outside of your region
Meet the players and the people who turn the screws in the Ontario music business
Learn about the opportunities in Ontario that are accessible to you
Learn about the funding bodies, collectives, rights organizations and trade associations in place to help you manage your career trajectory and intellectual property
Connect your local community resources to your neighbours in Ontario's many music markets
Representatives from various stakeholders and support organizations will be on hand to briefly explain what their role is, how they can help, and what opportunities they currently have to offer, as well as to field your pressing questions. An unprecedented opportunity to connect Ontarians in the biz!
PANELISTS
Alka Sharma (Folk Music Ontario) Erin Benjamin (Music Canada Live) Jacqueline Norton (Hamilton Music & Film Office) Michael Warner (Toronto Public Library) Janice Lambrakos (Ontario Arts Council) May 4, 2016, 3-5pm @ Sheraton Centre Hotel, Hall A/B (123 Queen St. W) RSVP:
musicontariotownhall2016.eventbrite.ca