Summerfolk Music Biz Tune Up: Developing a business plan 101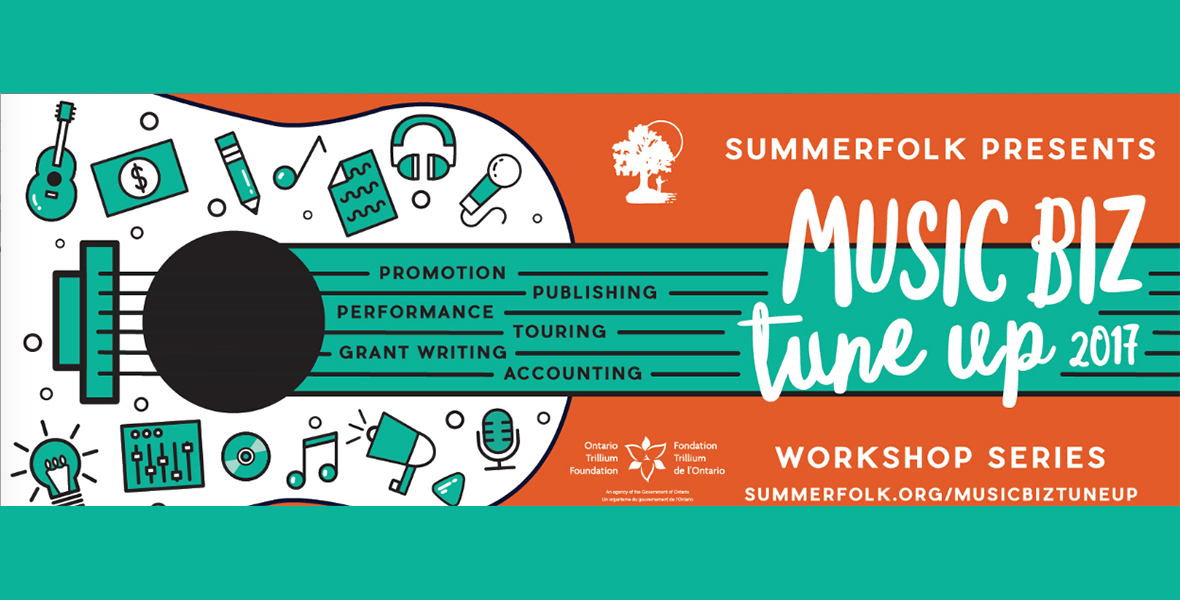 When

Sat 23rd September 2017

Where

Harry Lumley Bayshore Community Centres, Owen Sound, ON
SUMMERFOLK MUSIC BIZ TUNE UP: DEVELOPING A BUSINESS PLAN 101 September 23, 2017, 9:15am @ Harry Lumley Bayshore Community Centre (1900 3rd Ave. E., Owen Sound, ON)
MusicOntario Communities Connect
is all about bridging the gaps between Ontario's vibrant music markets! During our Community Development Research Project (CDRP), we asked musicians, artists and industry professionals across the province what types of support and education they hoped to have access to regionally (you can read the full results at
www.music-ontario.ca
). The Georgian Bay Folk Society and Summerfolk have programmed monthly "Music Biz Tune Ups" in 2017 to cover various pertinent topics for those building their careers in music. Remember your musician friends who learned four chords and started telling people they were going to be rock stars? It turns out that having a successful career is more complicated than that. The Music Business is an industry that you have to be strategic and think about long-term in order to succeed. Rosalyn Dennett and Emy Stantcheva will share their expertise to help you to understand the various facets of it that you need to master as you build a business plan, so that you can turn dreams into reality.
SPEAKERS
Emy Stantcheva (Manager, MusicOntario) web: http://www.cimamusic.ca & music-ontario.ca // twitter: @_CIMAmusic & @musicontario Emy is the Manager of MusicOntario, and has served as both the Canadian Independent Music Association and MusicOntario's Marketing and Events Coordinator for four years. Previously, she worked in artist management, publicity, and marketing with a music consulting firm.
Rosalyn Dennett (Artist & Licensing Coordinator, Canadian Federation of Musicians) web: http://www.cfmusicians.org // twitter: @cfmmusicians Rosalyn is an independent artist, is currently the Licensing Coordinator at the Canadian Federation of Musicians, and has worked at the Canadian Independent Music Association, Music Canada, Music Canada Live and MusicOntario. She is also a founding member of the acclaimed Winnipeg band Oh My Darling.
Conference Schedule: September 23rd, 2017
9:00 – 9:15 AM – Welcome 9:15 – 10:45 AM – Workshop 1 10:45 – 11:00 AM – Break 11:00 – 12:30 PM – Workshop 2 12:30 – 1:30 PM – Catered Lunch 1:30 – 3:00PM – Workshop 3 3:00 – 3:15 PM – Break 3:15 – 4:45 PM – Workshop 4 4:45 – 5:00 PM – Break 5:00 – 6:30 PM – Workshop 5 6:30 PM – Late – Wrap Up, Dinner, and Jam