MusicOntario at Indie Week 2017 - showcase & panels!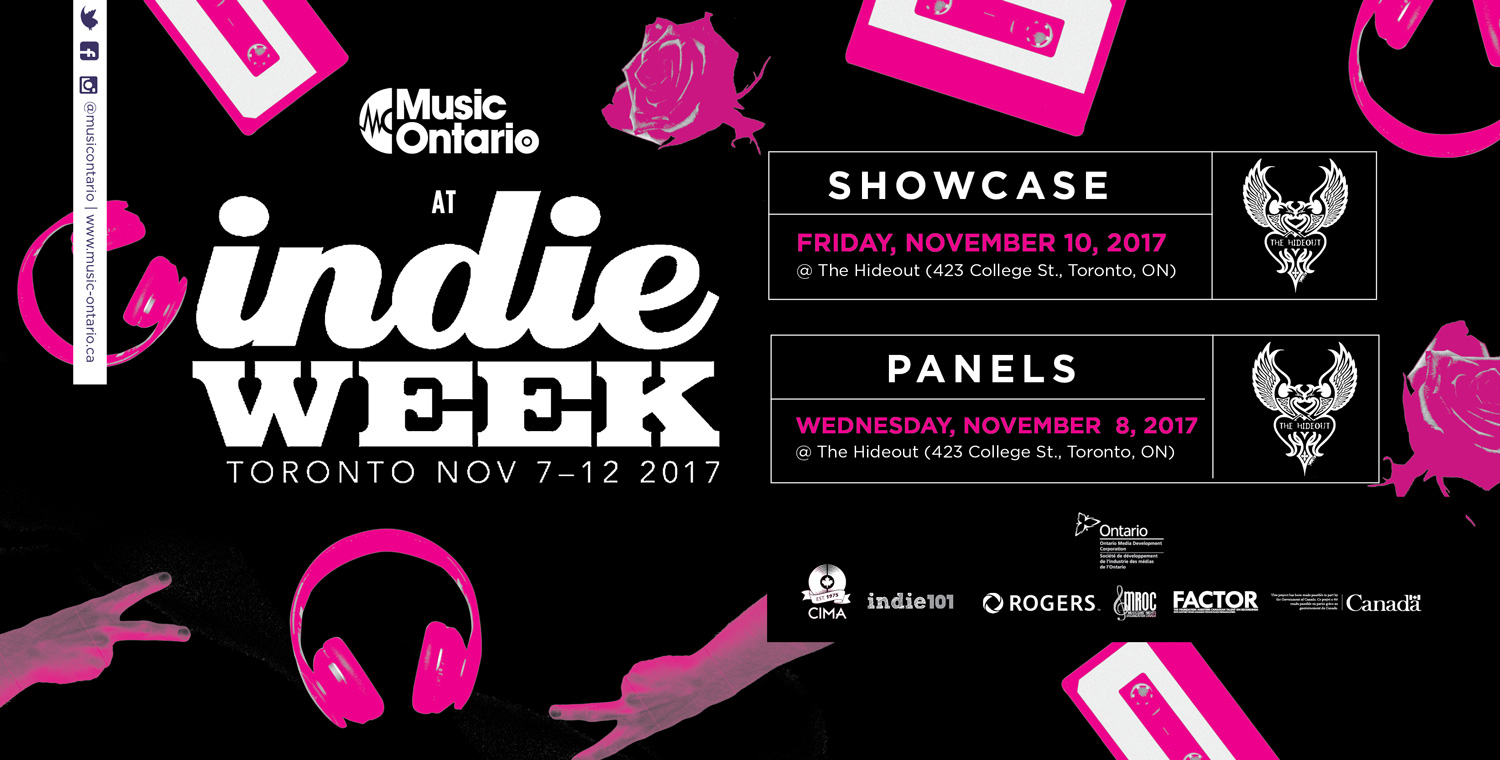 When

Tue 7th - Sat 11th November 2017

Where

The Hideout & Kensington Hall, Toronto, ON

Web
MUSICONTARIO AT INDIE WEEK 2017 – PANELS & SHOWCASE
November 8 & 10, 2017 @ The Hideout (423 College St., Toronto, ON)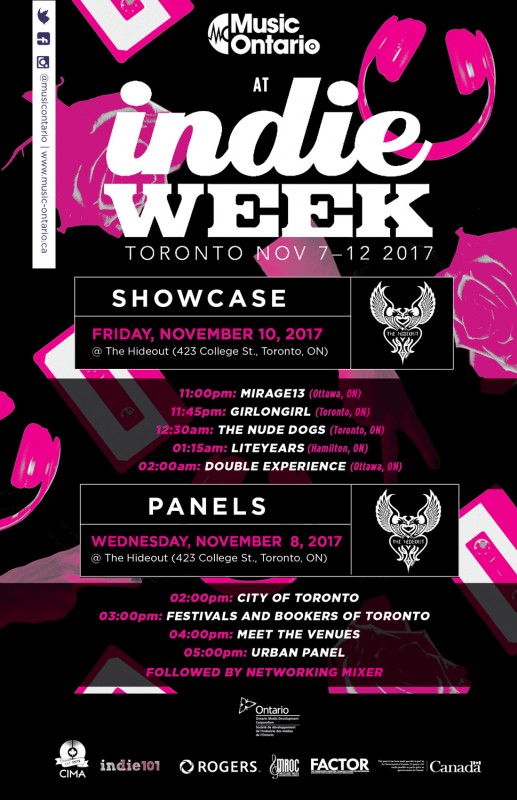 PANELS
Wednesday, November 8, 2017 @ The Hideout (423 College St., Toronto, ON)
2:00 – 2:40 PM City of Toronto: Meet the Industry: Toronto's Bookers, Festivals and Venues
Toronto has always been a city known for live music but recently there have been some issues. This will be an open discussion with those in the know to how we can make things even better.
PANELISTS
• Andreas Kalogiannides (Toronto Music City)
• Dante Berardi (A Full Grown Bear)
• Josh Colle (City of Toronto Councillor)
• Mike Tanner (City of Toronto) – Moderator
• Spencer Sutherland (Toronto Music Advisory Council)
Wednesday, November 8, 2017 @ The Hideout (423 College St., Toronto, ON)
3:00 – 3:40 PM Festivals and Bookers of Toronto
If you want your band to play these are people you will need to impress and get to know. They are the ones who will book you for their festivals and get you on the right bill at the clubs.
PANELISTS
• Andrea England (Four Chords & The Truth)
• Dan Burke (Independent)
• Jheanelle Henry (Rebel Wailer)
• Mar Sellars (Mar On Music)
• Noel Copeman (Underground Garage) – Moderator
• Yvonne Matsell (Independent)
Wednesday, November 8, 2017 @ The Hideout (423 College St., Toronto, ON)
4:00 – 4:40 PM Meet the Venues
There is lots of competition for live music in Toronto and these local venue owners and operators will give you the tips you need to know to perform at their clubs.
PANELISTS
• Japheth Ryan Maw (Sneaky Dee's + Hard Luck)
• Kristina Redd (Phoenix)
• Matt Groopie (Cherry Cola's)
• Nicky Potter (The Painted Lady)
• Shaun Bowring (The Garrison) – Moderator
Wednesday, November 8, 2017 @ The Hideout (423 College St., Toronto, ON)
5:00 – 6:00 PM Urban Panel
Being an independent artist trying to make it in Canada, it's vital to know the steps you need to take to get to where you want to be. With talented producers that have worked with big names, an entertainment lawyer, PR Publicist, and owner of a robust Advertising Management agency like Rebel Wailer Inc, these are the layers you have to peel back to gain the ultimate knowledge bank in order to succeed.
PANELISTS
• Akeel Henry (Producer: Fast and the Furious Soundtrack, DVSN (OVO), Roy Woods (OVO), Kid Ink, Ty Dolla $ign)
• Alarm Diaz (Block Trade Music (Rochester label team))
• Ariel Baptiste (DZY Hustle)
• Chedo (The Come up Show – Urban Press)
• Clifton Reddick (Rebel Wailer)
• Dalton Higgins (PR: Jazz Cartier (CDN PR), Kardinal Offishall)
• DZY Hustle (Producer: Roy Woods (OVO), T.I., Lil Simz, Ty Dolla $ign, Kevin Gates)
• Prezident Jeff (Producer: Lil Simz , Roy Woods (OVO), Majid Jordan (OVO))
Wednesday, November 8, 2017 @ The Hideout (423 College St., Toronto, ON)
6:00 – 8:00 PM Music Ontario Mixer
A chance to network with the delegates and speakers, talk business, swap business cards and make new connections.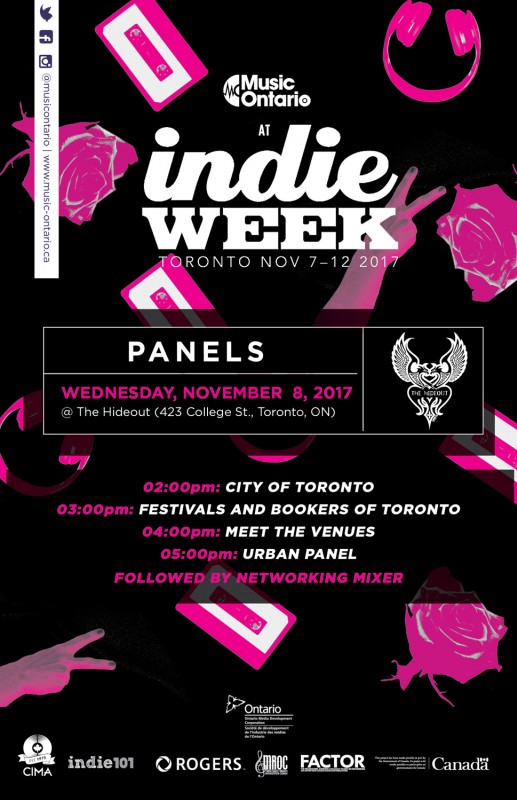 SHOWCASES
Friday, November 10, 2017 @ The Hideout (423 College St., Toronto, ON)
Doors: 7:00PM – MusicOntario Showcase
FEATURING:
11:00: Mirage13 - http://www.mirageband13.com/
Who are we? Well, Mirage is a group of three humans inspired by fuzzy distorted guitar, loud bass scales, heavy drum fills and intense vocals. Dubbed by listeners as a mix of 90's grunge, alt. rock and punk, Mirage self describes our music as underground rock (rumbling so super deep below the earth's surface you could basically call it seaweed level). The band was created 4632 hours into 2013 by Pike & Brick, who are sisters that write music to express themselves and dive out of reality. Intensified by Chris, smashing in with dynamic beats, the trio is hugely inspired by all kinds of music…and sounds…and art…and experiences. They love to play live and loud. So to catch them doing just that, click the shows tab.


11:45: girlongirl - https://gong.bandcamp.com/
Heenan has been part of the music scene dating back almost 10 years when she was first discovered by Al Joynes (Q107 – Toronto's Rock FM station) in a talent contest and performed at local open mics in Whitby, Ontario with The Stellas.
2016 was a big year for the band, playing at CMW, winning Toronto's Best Indie Band at the prestigious Toronto Independent Music Awards – as selected by jury members; (Alan Cross, Nicole Fiorentino/The Smashing Pumpkins, Tyler Tasson/A&R at ole — among others). In the summer, the band released a 3 track EP.

12:30: The Nude Dogs - https://thenudedogs.bandcamp.com/
The Nude Dogs are a four-piece garage-punk band from Toronto. Members include Kali-Ann Butala (vocals/rhythm guitar), Katelyn Molgard (lead guitar), Jessica Maxwell (bass), and Eva Moon (drums). They incorporate heavy licks, intense energy, and strong satire to create songs like Fuck this! and We're Girls. The Nude Dogs as a collective, strive to create an empowering, inclusive and positive environment at their shows. They encourage women and anyone who feels misrepresented to get loud and be proud.

1:15: LITEYEARS - http://liteyearsmusic.com/
LITEYEARS is a pop band hailing from Toronto, Ontario. The band is comprised of university music graduates, music scene veterans, well-worn touring musicians, and recording engineers/studio owners. This combined experience ultimately dictates the thought, care, and personal standards each band member expects not only from each other, but, most importantly, the music as well.

2:00: Double Experience - http://www.2xexperience.com/
As an independent act, Double Experience have accomplished hundreds of shows across 16 countries and released critically-acclaimed music which landed the band within top 10 of Canada's Loud Charts in 2016. Additionally, Double Experience have shared their adventures and business acumen at hundreds of high-schools, colleges and pop-culture conventions in North America and the UK in an endeavor to empower young artists.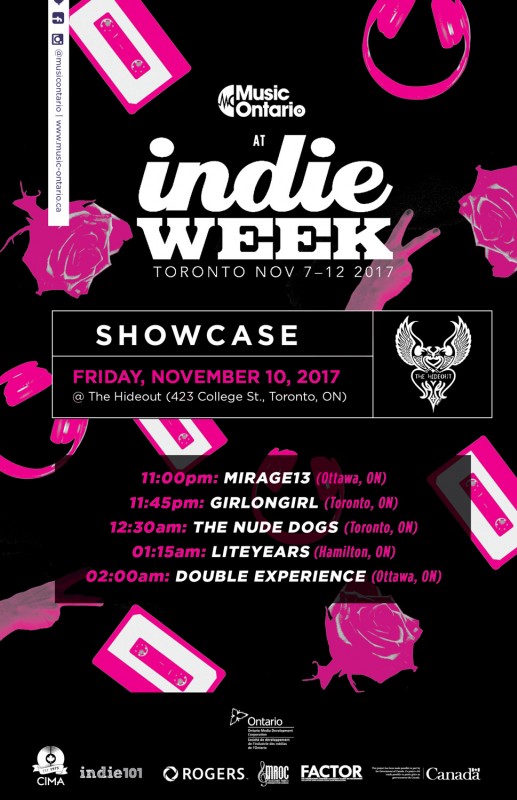 Thank you to our partners and supporters for making these showcase and professional development opportunities possible!


Keep Up To Date