Humber College & MusicOntario seeking emerging, DIY bands for a Marketing project!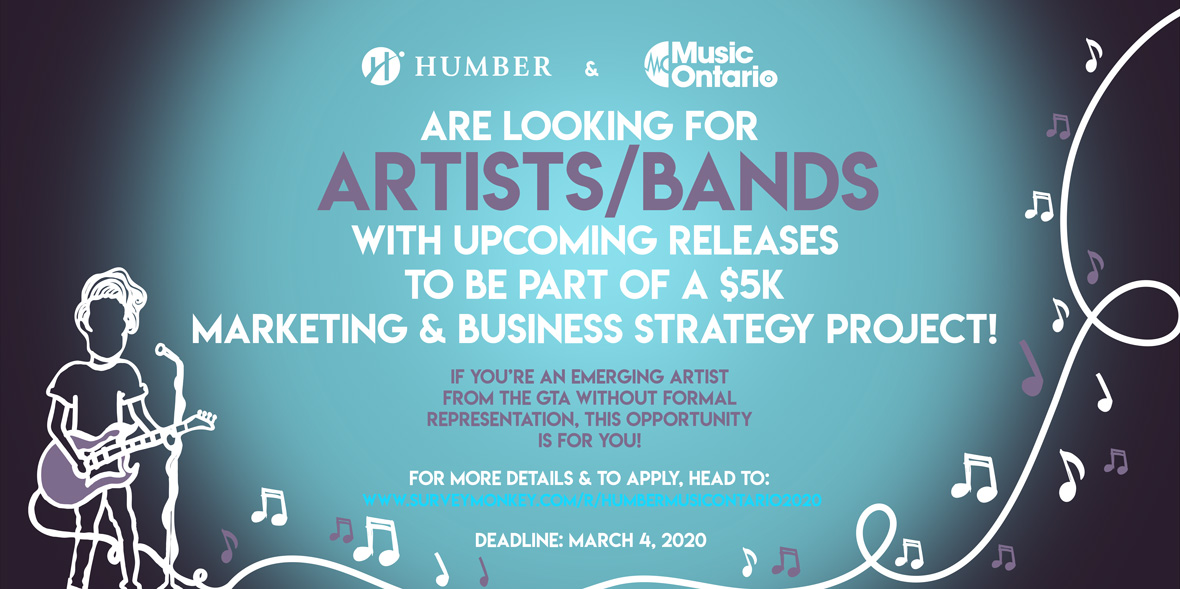 Posted on

February 9, 2020
Are you an emerging artist/group based in the GTA who does not yet have formal management or representation? This opportunity may be for you!
MusicOntario is teaming up with Humber College to find two artists/groups to participate in the capstone project for their Music Business Program.
In this mutually beneficial exchange, post-graduate students will apply their skills, knowledge and a modest budget towards strategizing, marketing, promoting and the research and writing of funding applications for your upcoming release, be it single, EP or LP. This allows the students to engage with real releases and emerging artists - not hypothetical situations ripped from the pages of a textbook! Each successful applicant will have a team of up to 25 Humber Music Business working on their release – all supervised by Humber's professional staff. This project comprises a substantial portion of the student's final grade. DEADLINE TO APPLY: TUESDAY, MARCH 3, 2020 We are seeking applications from artists looking to boost their careers, learn about the music industry, and work collaboratively with a team to promote an upcoming release through this opportunity.
Suitable artists are:
• Based in Ontario (ideally the GTA, or able to travel to the GTA).
• Working toward a summer 2020 release in a contemporary genre (Rock, Hip Hop, Rap, Pop, Folk, Indie, etc.)
• Willing to work closely with a group of music business students who have a budget a $5,000per artist to spend on strategizing the professional roll out of your release. It's important to be flexible, open, and communicative.
• Able to meet (or designate a rep) in person at Humber College every second week (3199 Lakeshore Blvd., Etobicoke, ON) between May and August. Phone calls suffice where scheduling conflicts arise.
• Able to perform for the class on or before May 15, 2020, and to showcase at a TBA venue on August 10 or 11, 2020.
The Process:
• MusicOntario and Humber will select two artists to participate in this project in 2020.
• Applications are due no later than 11:59 pm, Tuesday, March 4, 2020.
• Short-listed artists will be contacted by representatives of MusicOntario and/or Humber .
• Contact will be made no later than March 15, 2020.
• Final selections will be made no later than April 10, 2020.
• MusicOntario and Humber wish to thank all artists who apply to this project, but due to the number of applicants, only those artists advancing to the short-list will be contacted.
About Humber's Music Business Program:
Humber's Music Business graduate certificate program is a condensed summer program, running between May and August, followed by a 300-hour internship, September through December. Music Business has prepared many of our graduates to find employment across a wide swath of the music industry; major and minor record labels, licensing firms, marketing and promotional companies, agencies in the public sector as well as artist management.
The course offers a unique combination of theoretical and practical knowledge of the music industry, as well as entrepreneurial, business and project management skills. Our students study the structure of the Canadian music industry, artist and venue management, manufacturing, contracts, licensing and copyright, national and international distribution, marketing, promotion, and sales. Throughout, the students gain music business expertise with an emphasis on communication and interpersonal skills in order that they can respond to industry demands for professionals who can interact with diverse teams and audiences.
About MusicOntario:
MusicOntario delivers programs, services, events and initiatives that assist in nurturing, developing, promoting, and sustaining growth within the provincial music sector. MusicOntario supports and develops both the emerging and established independent industry in all markets province-wide. Between 2013 and 2019, MusicOntario delivered more than 300 events, ranging from workshops, panels, B2B and peer mentorship sessions, to showcasing (domestic and international), networking and professional development, whether in the form of free, low cost or subsidized programming. More than 33,000 artists, emerging and established industry professionals, stakeholders and music fans have taken part in or attended MusicOntario events in 37 cities across seven provinces/states, six countries and two continents! Annual attendance has risen from 708 in 2013 to 7557 in 2018, and we have proudly showcased more than 400 Ontario performers across the world in that time.
Create your own user feedback survey