#TheShowMustBePaused because Black Lives Matter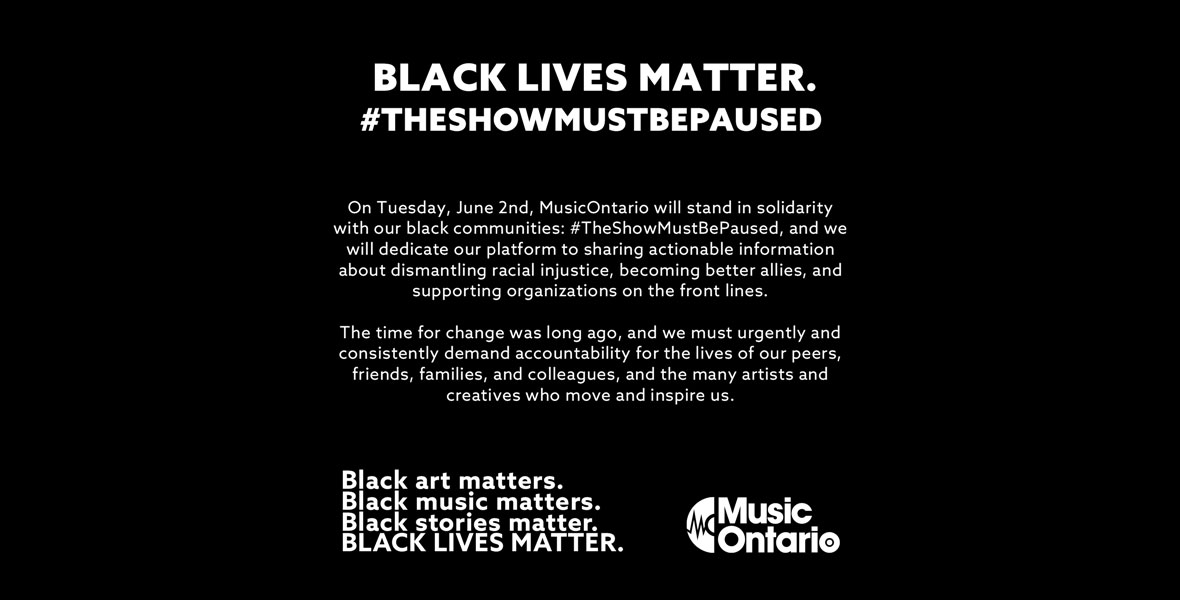 Posted on

June 1, 2020
On June 2, 2020, MusicOntario participated in #BlackOutTuesday to stand in solidarity with our families, friends, artists, leaders, colleagues and all of the Black communities globally and across Canada that endure racial injustice every day. Our organization and employees spent this time learning how to become better allies and exploring resources that we know are just the tip of the iceberg to better educate ourselves of the systemic issues that marginalize and endanger Black lives on a daily basis.
We will continue to consult with our membership, Advisory Councils, and stakeholders in Black communities on how best to leverage our platform, and invest more time and resources into professional development and mentorship opportunities that will elevate and champion Black voices both on stage and behind the scenes.
We know there is a lot of work to be done and are open to your comments and suggestions on how we can best fulfill our role as advocates and representatives of the Ontario and broader Canadian music industries.
We have much work to do, and are open to questions, comments, and suggestions. info@music-ontario.ca | emy@music-ontario.ca | samr@music-ontario.ca | matt@music-ontario.ca
---
BLACK LIVES MATTER.
#THESHOWMUSTBEPAUSED

Black art matters.
Black music matters.
Black stories matter.
BLACK LIVES MATTER.

On Tuesday, June 2nd, MusicOntario will stand in solidarity with our black communities: #TheShowMustBePaused, and we will dedicate our platform to sharing actionable information about dismantling racial injustice, becoming better allies, and supporting organizations on the front lines. The time for change was long ago, and we must urgently and consistently demand accountability for the lives of our peers, friends, families, and colleagues, and the many artists and creatives who move and inspire us.
If you are able to donate to organizations working with communities on the front lines, there are many options. We deeply encourage you to dive into anti-racism resources.
We will observe Black Out Tuesday by continuing to listen to the voices of black communities, by learning what true allyship means, and by exploring how we can leverage the privilege of our platform to move the needle on true change in the music community in Ontario and beyond.
Here are some of the resources we have been digging into:
Anti-Racism Resources: bit.ly/ANTIRACISMRESOURCES. "This document is intended to serve as a resource to white people and parents to deepen our anti-racism work. If you haven't engaged in anti-racism work in the past, start now. Feel free to circulate this document on social media and with your friends, family, and colleagues." Compiled by Sarah Sophie Flicker, Alyssa Klein in May 2020.
More anti-racism resources, including English and French versions, with Canada-specific information and calls to action. Compiled by Naakita Feldman-Kiss.
Why you need to stop saying "All Lives Matter" by Rachel Elizabeth Cargle for Harper's Bazaar. "Let me be clear: stating that black lives matter doesn't insinuate that other lives don't."
We will be consulting with our membership and stakeholders in black communities to raise awareness about the origin of #TheShowMustBePaused, and to create educational opportunities to unlearn and learn within the music industry. We will continue to use our platform and budgets to work toward professional development and mentorship opportunities for marginalized communities, in consultation with those living, working, creating in those communities. We have much work to do, and are open to questions, comments, and suggestions. info@music-ontario.ca | emy@music-ontario.ca | samr@music-ontario.ca | matt@music-ontario.ca