MusicOntario & Music Publishers Canada are Surveying the needs of the Trans Community in Canada's Music Industry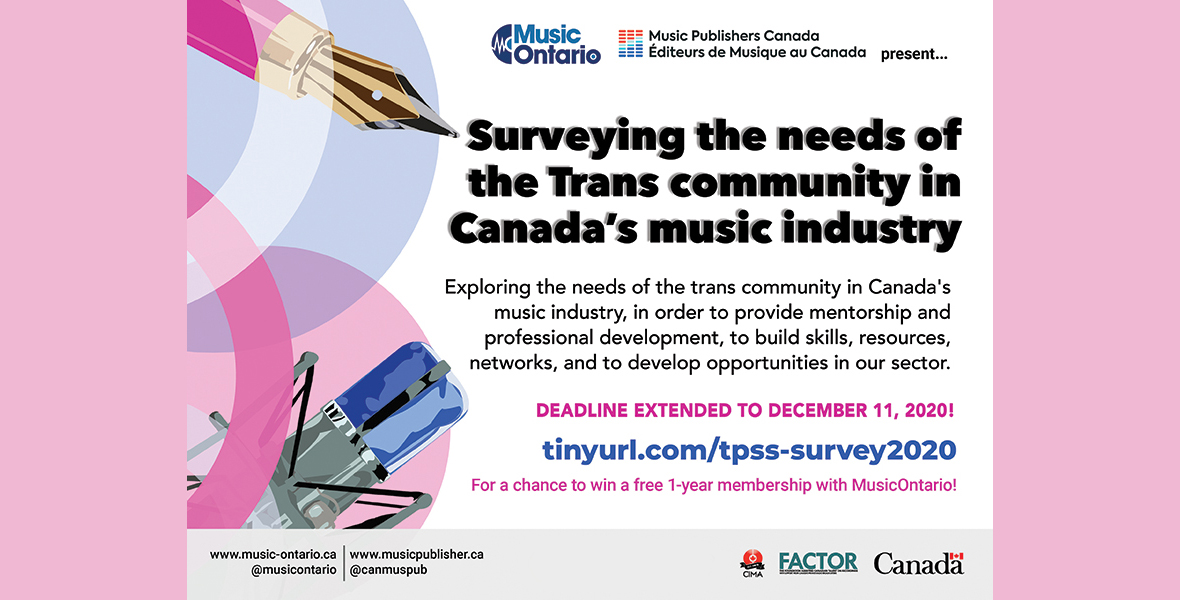 Posted on

November 10, 2020
MusicOntario and Music Publishers Canada are surveying the professional needs of Canada's Trans music community. We are doing this in order to develop community led, low-barrier programming that will build skills, resources, networks, and opportunities and for non-cis creators and professionals in Canada's music industry at all levels in their careers.
Through a collaborative survey, we are inviting emerging Trans songwriters, producers, and music professionals to help us guide the development of future programs by sharing which professional areas they are looking to explore and expand. This program, the first of its kind through MusicOntario and Music Publishers Canada, will be flexibly and collaboratively tailored to applicant-identified needs, and will help us to better advocate for the community's needs through our channels and programs. Our first offering, 'Trans Producers and Songwriters in the Studio' will launch virtually in early 2021, drawing from these very results.
How did this program come to be, and what inspired it?
MusicOntario's PRISM Advisory Committee, which aims to support 2SLGBTQIA+ artists & professionals in Ontario's music industry, convened in May 2020 for a meeting, and this idea was brought forward by one of its members, T. Thomason. With T.'s insight and consulting, MusicOntario and Music Publishers Canada have been working together to bring this project to life. While we are eager to roll out a formal curriculum, this preliminary research is crucial in order for programming to be beneficial to those who participate.
From T.:
About a year ago, a friend of mine in the music industry pointed out that my single HOPE might be the first song by an openly trans Canadian artist to have hit Top 40 Radio.
I knew my friend meant the point as an accomplishment to be proud of, but it stuck in my head and it made me sad. I wondered why, in 2019, was I potentially "the first", and where were all the other amazing Canadian artists who are also openly and proudly part of the trans community? How could I make sure I was the first of many? How could we move towards the guarantee that being openly trans in music is not a recipe for being pigeon-holed, tokenized, or overlooked, so that more artists feel able to be their authentic selves?
It frustrated and exhausted me that as I grew my career there was no trans representation in the more established songwriters and producers I was being directed towards. It confirmed to me that trans people in music are of course facing versions of the same issues we face everywhere - lack of representation, lack of opportunities, and lack of support needed to self-determine what the future for trans creators in the music industry looks like (among many others).
This is when the seed of the Trans Producers/Songwriters in the Studio (TPSS) was planted. Now, I am so excited to be working with MusicOntario and Music Publishers Canada to make this program a reality, our first step being the Trans Musicians & Music Professionals National Needs Assessment Survey.
Though TPSS was inspired by my experiences in the pop/radio world, the program will allow songwriters and producers across all genres to enhance their skills, deepen their understanding of self-selected topics, and build their network/community with relevant mentors who may otherwise be difficult to access.
I dream of a Canadian music industry which values the voices of trans artists, producers, and songwriters by actively helping to nurture our talents, giving us the tools and opportunities to share our work on a larger scale, and by learning alongside us as we all discover what making space for trans people in the music industry looks like. I don't think this is an unreasonable dream. I hope that TPSS is a small step of many that we will take together in that direction.

Create your own user feedback survey
About MusicOntario:
MusicOntario is a non-profit, membership-based provincial Music Industry Association (MIA), whose mission is to provide professional development, education, information, and support to the music industry of Ontario. The association's mandate is to nurture, elevate, and empower emerging companies and artists in Ontario's indie music sector. We help.
www.music-ontario.ca
About Music Publishers Canada:Music Publishers Canada is a membership-based organization, founded in 1949, that ensures the views of music publishers working in Canada are heard. It is our mission to create business opportunities for our members and to promote their interests and those of their song writing partners through advocacy, communication, and education.
Music Publishers Canada ensures that the value and contribution of music publishers, music publishing, and copyright management is understood by artists, the music industry, users of copyrights, governments, and the general public. www.musicpublisher.ca

About T. Thomason:
T. Thomason is a pop artist living between Halifax and Toronto. T. has impressed fans with his emotional and highly energetic live performances throughout his 11 year music career at festivals like The Great Escape, FOCUS Wales, Parliament Hill's Canada Day, POP Montreal, Pride Toronto, Reeperbahn Festival, Canadian Music Week, Milwaukee Summerfest, and more.

The lead up to the release of T.'s self-titled album in September 2019 was a roller coaster. He was a winner on season 2 of CTV's The Launch, which landed his launched single "Hope" on top 40 radio, Spotify Editorial playlists like New Music Friday Canada, and put T. on stage at the Bell Centre with Quebec's reigning pop queen and his mentor, Marie-Mai.

T.'s recent self-titled album was described by Halifax's The Coast as "equal parts scar tissue and sparkles". Deeply vulnerable and honest, it is a must-hear for anyone who's wondered who they are and what's to come.

In 2020 T. released his "Part II Project", a series of reimagined versions of singles from his album, featuring mentors and champions of his career. Rose Cousins (King of Spades Part II), Ria Mae (Loser Part II), Ivan Coyote (Birdsong Part II), and Sarah McLachlan (Bliss Part II) each lent their unique talents to the project. The singles have garnered praise from Tom Power on CBC's Q, American Songwriter Magazine, and CTV's eTalk. www.t-thomason.com
About the PRISM Advisory Committee:
In 2018, MusicOntario established the PRISM Advisory Committee in order to help direct and shape the organization's outreach and programming for artists and entrepreneurs who identify as 2SLGBTQIA+, with the long-term goal of creating change-making awareness surrounding cultural and institutional barriers that are oppressive to those intersecting communities. The committee strives to address barriers within our sector through discussion, consultation, advocating for safer spaces, support, and programming, and will be composed of and driven by an ever expanding group of artist and industry community leaders.
About Erin Carroll, chair of the PRISM Advisory Committee:
Erin is the manager of Publicity Services at Cadence Music Group/ Fontana North! They have managed several press campaigns for artists including Sam Roberts Band, The Trews, Martha Wainwright, Lido Pimienta (Canada), k-os, Like A Motorcycle, Brittany Howard (Canada) and more! Outside of their role at Cadence, Erin also manages T.Thomason, and is the chair and co-founder of MusicOntario's PRISM advisory committee advocating for LGBTQ2S+ musicians and music industry professionals! www.music-ontario.ca/about-us/advisory-committees