Call for Submissions: 2021 Canadian Songwriter Challenge - Ontario Edition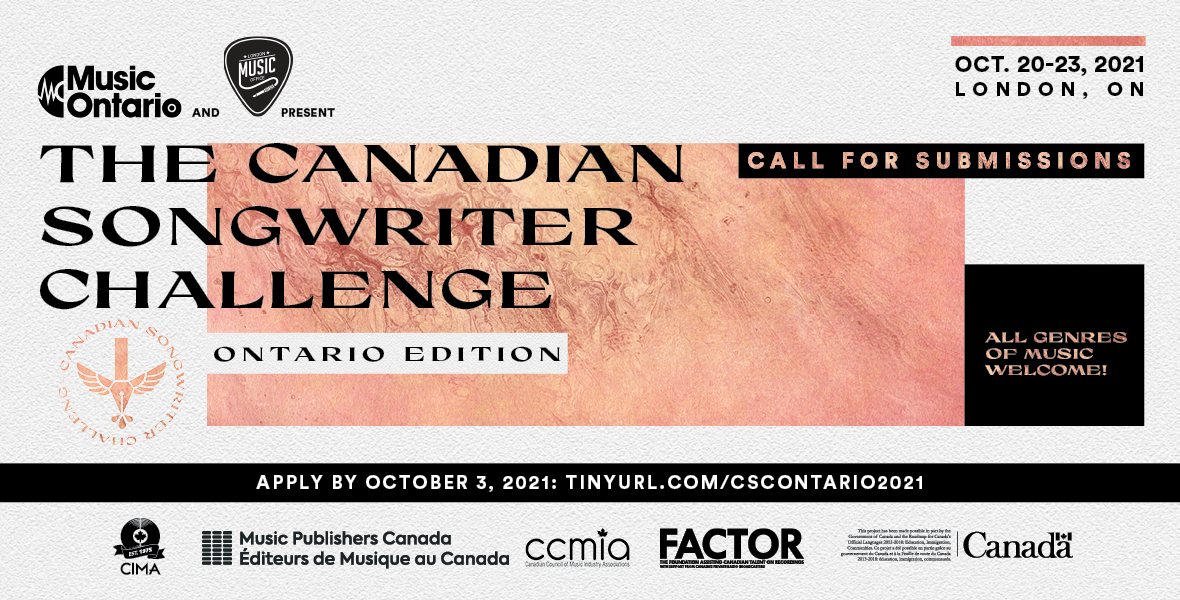 Posted on

September 27, 2021
MUSICONTARIO & LONDON MUSIC OFFICE PRESENT:
THE 2020 CANADIAN SONGWRITER CHALLENGE
October 20, 21, & 22, 2021 in London, ON
Welcome to the seventh annual Ontario edition of the Canadian Songwriter Challenge, in partnership with the London Music Office, the Council of Music Industry Associations (CCMIA), and Bell Media! The Canadian Songwriter Challenge invites Music Industry Associations from each province to program unique songwriting retreats to develop the skills of local songwriters.
Each year, the MusicOntario hosts a group of emerging songwriters and pairs them with experienced mentors, producers, and engineers to co-write and record demos, participate in workshops on the business of music, and network and build relationships over the course of 2-5 days. We have hosted more than 100 artists over the years, producing 60+ recordings, many of which went on to be released as singles, included on albums, and chart on radio!
This year's Challenge will highlight one of Ontario's major hubs for studios, producers, and production: London, ON! London is a music production hub with world renowned music education facilities at Fanshawe College, Western University and Ontario Institute of Audio Recording Technology (OIART). These schools educate 1,000+ music students with a major focus on audio production – it's truly a progressive music city.
SCHEDULE:
October 19 or 20: Arrive in London
October 20: in studio, 10am-6pm
October 21: in studio, 10am-6pm
October 22: in studio, 10am-6pm
October 23: Sync Summit & Music Video Screening + Networking
While you do not have to be a resident of London, ON to be eligible for this program, please note that you will have to be able to be present in London for the duration of the Challenge, whether than means you're staying in town, or commuting in each day. Eligible applicants must reside in Ontario – if you do not live in Ontario, check out the CCMIA's website to learn more about what the other provinces and territories are doing for their own editions of the Canadian Songwriter Challenge.
We very much hope to host this program in person, much like we have for the previous six years, so that we can showcase some excellent spaces across London, ON. However, we will continue to take all cues from Public Health officials and will be in full compliance with COVID safety protocols.
We welcome all genres of music and writing/composition styles; the purpose of this challenge is to learn from one another and explore the craft of songwriting through the shared perspectives of a fast-paced and eclectic group setting.
Past mentors include Adrian X, Gavin Brown, Moe Berg, Terra Lightfoot, Adaline, Bijan Amir, Jordon Manswell, Liz Rodrigues, Robyn Dell'Unto, Julian Taylor, Donovan Woods, Nathan Ferraro, Mike Wise, Bill Bell, Shobha, Casey Marshall and Rob Wells.
Deadline for submissions is October 3, 2021. Applications will be reviewed and assessed by an independent talent committee.Check out MusicOntario's SoundCloud to hear past demos to come out of this program!